Observations: Kentucky owns college basketball; Iowa St. primed
Kentucky loses in the national title game but is still all the talk of college basketball. Also, Jon Rothstein says, Iowa St. and Maryland could be primed for a big year.
• 7 min read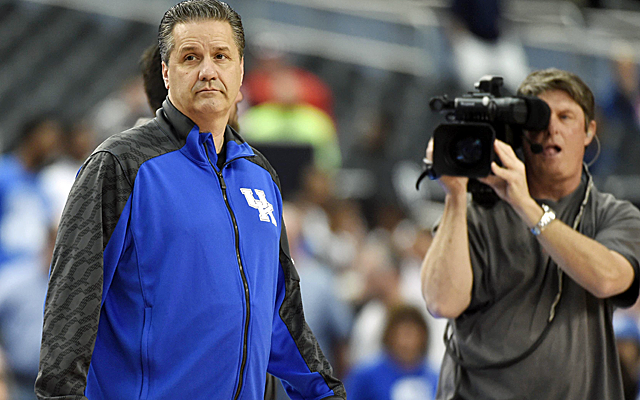 Latest in hoops: NBA Early Entries | Latest News | Coaching Changes
1. The addition of UNLV's Bryce Dejean-Jones should give Fred Hoiberg his most complete team since he's been at Iowa State.
The Mayor has had the Cyclones in three consecutive NCAA Tournaments but next season may be his best chance of winning the Big 12 regular-season title. Iowa State's addition this week of Dejean-Jones (13.3 points last season) should give Hoiberg the best all-around starting five since he's been back at his alma mater. Monte Morris will be back as a sophomore at point guard after leading the nation in assist-to-turnover ratio as a freshman, and Dejean-Jones looks to step in at shooting guard and be the next transfer under Hoiberg that goes from program castoff to resurrection phenomenon.
Iowa State's frontcourt is also exceptionally deep next season. Dustin Hogue is back at the three after a breakout NCAA Tournament and Georges Niang, along with Marquette transfer Jameel McKay (eligible after nine games), will round out a frontcourt that could match up with any opponent in America. The 6-8 McKay is the first true rim protector that Hoiberg has had at Iowa State and should provide the Cyclones with a different dynamic since he can block shots and protect the front of the goal.
2. Win or lose, Kentucky is dominating college basketball.
It's been a little more than 10 days since UConn beat the Wildcats for the 2014 national title but since that moment, Kentucky has still been the one team that's dominated virtually every headline in the sport. Maybe it's because the Wildcats have so many players debating whether or not to leave Lexington early for the NBA Draft. Maybe it's because John Calipari has been on literally every media outlet possible in the past week to talk about his team's season and promote his new book -- "Players First." Or maybe it's just because right now Kentucky will always be the dominant storyline in college basketball.
Before last season, we all wanted to know if the Wildcats would truly live up to their preseason billing. During the season, Kentucky struggled and was a constant point of conversation because it simply wasn't living up to expectations. Then, in the NCAA Tournament, Calipari did arguably the best coaching job of his career as he led a team with five freshman starters to consecutive wins over Wichita State, Louisville, Michigan and Wisconsin only to come up short in the title game against UConn. Now? Everyone wants to know which players are staying, which players are going, and more importantly, how the players that return will mesh with the Wildcats' loaded freshman class next season. There's no doubt which program is dominating college basketball -- it's Kentucky. And it's not even close.
3. Maryland's recent personnel defections will make the Terps a more cohesive basketball team in 14-15.
Normally when you have multiple players transfer after a season it's a bad thing for your program. That's not necessarily the case for Maryland. The Terps announced last week that Roddy Peters, Shaquille Cleare and Nick Faust will all continue their college basketball careers elsewhere next season, and while many initially took that news as a negative, nothing could be further from the truth. You need elite talent to win at the highest levels of college basketball but you also need elite chemistry. Had Peters, Cleare and Faust all remained in College Park for another season, that would have been very difficult for Maryland to achieve.
With the defections of those three players, the Terps' role allocation and cohesiveness should be vastly improved a year from now simply because this team may have had too many players if everyone returned. Mark Turgeon brings in a star-studded recruiting class next fall headlined by guards Romelo Trimble and Dion Wiley, two first-year players who should be immediate factors in Maryland's rotation next season. Had Peters and Faust returned to College Park, it would have been exceptionally more difficult to give Trimble and Wiley the type of instant roles they will likely now receive.
The combination of those two players, Seth Allen, Dez Wells and Jake Layman give Turgeon the type of perimeter he needs to compete with most teams in the Big Ten, and fellow freshman Jared Nickens should also have a chance to play immediately because of his ability to extend the defense with his shot-making ability. Cleare never blossomed at Maryland and was constantly left behind in the rotation by burly big man Charles Mitchell, who will now anchor the Terps' front court with Evan Smotrycz, sophomore Damonte Dodd and a pair of 7-foot freshman in Trayvon Reed and Michal Cekovsky. This is a top-30 team on paper. Maryland is heading into uncharted waters in the Big Ten but Turgeon finally has the depth, experience, and most importantly, the balance needed to make the NCAA Tournament. That may not have been possible if Peters, Cleare and Faust hadn't exited the Terps' program.
4. Alex Poythress needs to be able to play some small forward next season.
Because if he can't, he's going to have a hard time getting expanded minutes in Kentucky's loaded frontcourt. The Wildcats will return both Willie Cauley-Stein and Marcus Lee up front next season as well as Dakari Johnson, who has still yet to make a decision on whether not he's going to declare for the NBA Draft after a breakout NCAA Tournament. Kentucky will also bring in two blue-chip freshman in Trey Lyles (6-10) and Karl Towns (6-11) that will arrive in Lexington with big expectations. That's five players in addition to Poythress in the Wildcats' frontcourt that are competing for two spots.
For Poythress to ensure he's going to get the type of burn he's hoping to get if he returns to school for his junior season, the 6-9 forward has to refine his face-up game and tighten his handle so he can play more minutes at the three. Poythress averaged 5.9 points and 4.5 rebounds this past season.
5. "Staying ahead of the posse" is an important thing to master if you want longevity as a college head coach.
All coaches want to win, but you know what all coaches want more? To be employed. And sometimes it's difficult to stay employed if you stay at a certain place for too long. Cuonzo Martin did one heck of a job this year at Tennessee and took the Vols all the way to the Sweet 16. But he saw the writing on the wall. Tennessee was losing its three best players in Jarnell Stokes, Jeronne Maymon and Jordan McRae and were certain to take a step back next year in the SEC. He got out and took the Cal job. Frank Haith lost Jordan Clarkson and Jabari Brown to the NBA after an NIT season and left Missouri to go to Tulsa. Is Tulsa as good a job as Missouri? Not even close. Is it a good job in a solid league with a solid nucleus returning from an NCAA Tournament team? Absolutely. If you want to have longevity, you have to sometimes "stay ahead of the posse." If you don't, there's a strong chance you could be looking for work sooner than you'd like to.
THIS AND THAT 
• SMU will play Indiana in Bloomington next December, sources told CBSSports.com. No official date has been set yet.
•  Jordan Goodman (Harcum College) will visit New Mexico this weekend. The 6-8 forward was a highly touted recruit coming out of high school and will be an immediate contributor next season. La Salle and Temple have also shown major interest.
• Kentucky is likely to officially introduce Barry "Slice" Rohrssen as an assistant coach in the next few days. Rohrssen will replace Orlando Antigua, who left Lexington last month to take the head coaching position at South Florida. The hire is an impactful one by John Calipari, who now has one of the top recruiting assistants in college basketball on his bench to sell the most powerful program in the sport. If anyone wondered if the Wildcats could ever get any stronger in recruiting, they just did by hiring Rohrssen, who spent last season as an assistant at Pitt under Jamie Dixon.
•  Colorado coach Tad Boyle said on Wednesday that Buffs guard Spencer Dinwiddie is "really torn" about whether or not to return to school for his senior season. The 6-6 guard only played 17 games last year after suffering a torn ACL in January and likely would have been a first-round pick if he was healthy. If Dinwiddie returns to school, Colorado will likely be a Top 15-20 team and a legitimate challenger to Arizona in the Pac-12.
•  Cincinnati's non-conference schedule next season is beyond arduous. The Bearcats will host VCU and San Diego State, travel to NC State and Nebraska, face Xavier on a neutral court, and also play in the Emerald Classic in Florida along with Creighton, Ole Miss and Middle Tennessee.
CBS Sports HQ Daily Newsletter
Get the best highlights and stories - yeah, just the good stuff handpicked by our team to start your day.
Please check the opt-in box to acknowledge that you would like to subscribe.
Thanks for signing up!
Keep an eye on your inbox for the latest sports news.
Sorry!
There was an error processing your subscription.
When Bill Self steps away from the Jayhawks, who might replace him in Lawrence?

Who's Next: Will UNC stay 'in the family' again when it eventually has to replace Williams...

Pitino wanted to bring a 'spirit of optimism' to Twitter, but the Twitterverse had other plans...
Weathers is accused of stealing a wallet containing credit and debit cards at a bar in Sti...

James is the highest-rated prospect to commit to the Vols since Rick Barnes was hired in March...

Who's Next: What will happen when the Wildcats have to replace John Calipari?