Observations: Key backcourt additions boost Kentucky, UCLA
Sam Singer, Cal's only real PG option, has to step up for the Bears to make noise in the Pac-12 while UCLA looks like a legit threat to Arizona after adding Jon Octeus.
• 6 min read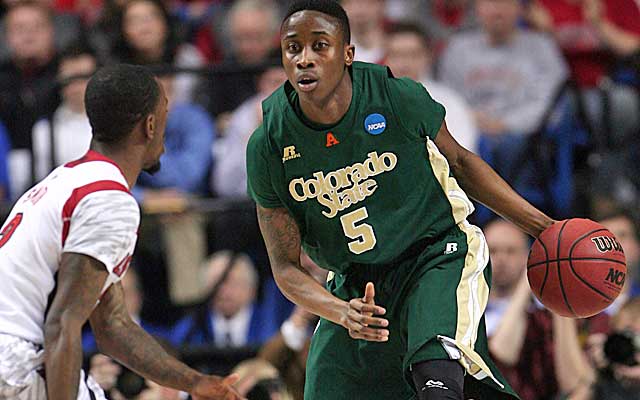 1. Tyler Ulis is facing less pressure than any incoming PG John Calipari has had since Willie Kemp.
But that doesn't mean he's not going to have a major impact for Kentucky next season. In fact, the early word I'm hearing out of Lexington is that Ulis has been terrific for the Wildcats so far this summer. The 5-foot-9 floor general is a pass-first player who knows where to get his teammates the ball and has the rare chance to play big minutes for Calipari as a freshman but not have to be immediately inserted into the starting lineup. With Andrew and Aaron Harrison both deciding to bypass the NBA and return to school for their sophomore seasons, Kentucky is now actually operating like a normal college program where veterans start and freshman come along at their own pace as reserves. Since Kemp took the baton for Calipari at Memphis during the 2006-07 season, the list of point guards that have played for the most powerful coach in the sport goes as follows: Derrick Rose, Tyreke Evans, John Wall, Brandon Knight, Marquis Teague, Ryan Harrow, Andrew Harrison. Harrow (17.8 points last season), who left Lexington after one year to transfer to Georgia State, is the only player on that list not to have immediate success under Calipari. Everyone else in that group is currently in the NBA and Harrison figures to be there a year from now. There's a different dynamic surrounding Ulis compared to his recent predecessors, but that doesn't mean he's not going to have an incredibly productive career for the Wildcats.
2. The addition of Jon Octeus could make UCLA the Pac-12's top challenger to Arizona.
The Bruins desperately needed a quality fourth guard when Jordan Adams changed his mind to enter the NBA Draft, and Octeus provides Steve Alford with just that. The 6-4 guard averaged 13.4 points last season at Colorado State and will be immediately eligible for UCLA next season since he has already graduated. With Octeus, Norman Powell, Bryce Alford, and freshman Isaac Hamilton, the Bruins should have enough perimeter pop to hang with any other back court in the Pac-12. UCLA also brings in three highly rated freshmen up front in Kevon Looney, Thomas Welsh, and Jonah Bolden to go with incumbent starting center Tony Parker. Power forward Wanaah Bail, at 6-9, was injured much of last season as a freshman but figures to be healthier as a sophomore and could also be a productive piece in the front court. This team has never played a season together but has all the requisites to be a pretty solid squad by the middle of league play. The Pac-12 has looked like Arizona and then everybody else heading into next season, but don't be surprised if the addition of Octeus makes the Bruins the Wildcats' top in-league challenger during the 14-15 season.
3. UMass is again challenging itself with a vicious non-conference schedule.
Playing an arduous slate prior to the Atlantic 10 allowed the Minutemen to earn a No. 6 seed in last year's NCAA Tournament and Derek Kellogg is again providing his team with plenty of stern tests prior to league play. Next season UMass will host Siena, Northeastern, and Manhattan, face Boston College in the TD Banknorth Garden, travel to Harvard, Providence, LSU, and Brigham Young, while also playing neutral site games against both Notre Dame and <span data-shortcode= State" data-canon="Florida Gators" data-type="SPORTS_OBJECT_TEAM" id="shortcode0"> in the Hall-of-Fame Tip Off Classic at Mohegan Sun. The Minutemen are also in discussions with Iona about a potential game in Amherst, but that's yet to be finalized according to multiple sources. That's 11 potential games against teams that either have a chance to play in some sort of postseason event or come from a BCS conference. UMass lost do-everything guard Chaz Williams but returns a strong veteran quartet of Derrick Gordon, Trey Davis, Maxie Esho and Cady Lalanne, while adding West Virginia transfer Jabarie Hinds. The 5-11 Hinds was a consensus top-50 recruit out of high school who should flourish in the Minutemen's high-octane attack. He averaged 7.4 points during each of his two seasons in Morgantown.
4. Sam Singer will be the X-Factor for Cal during the 14-15 season.
And that's primarily because he's the only real option the Bears have at point guard. Savvy veteran Justin Cobbs exhausted all of his eligibility after last season so Cal will need a solid season from Singer if it is to compete for a spot in the top half of the Pac-12 in Cuonzo Martin's first season in Berkeley. The 6-4 sophomore isn't a great athlete but still possesses great size for his position and boasts an unbelievable IQ. A timely passer with a strong feel, Singer just needs to set the table for the Bears' talented trio of wings --- Jabari Bird, Jordan Mathews, and Tyrone Wallace --- while managing each game with the precision of a surgeon. The Miami native averaged 1.3 points and 1.4 assists in 9.4 minutes last season as a backup behind Cobbs.
5. UNLV needs to get back to distributing the basketball.
The Runnin' Rebels were third in the country in assists when Oscar Bellfield was their point guard during Dave Rice's first season in 2011-12. Then two years ago, UNLV's assist totals fell to 10th nationally. Last season? The Runnin' Rebels were 125th in the country in assists. Rice was well aware of this issue and wisely addressed it by adding a pass-first point guard in San Francisco transfer Cody Doolin. A grizzled floor general, the 6-2 Doolin has a career assist-to-turnover ratio of better than two to one and may very well be the most important player Rice added in his 2014 recruiting class. UNLV has been loaded with talent over the past few seasons, but the missing ingredient has been an unselfish leader like Bellfield who could calm the game with his presence. If Doolin can fill that void, the talents of freshmen Rashad Vaughn, Dwayne Morgan, and Goodluck Okonoboh along with sophomore Christian Wood have a better chance of shining on a regular basis. Talent isn't the issue with this team. The Runnin' Rebels need to augment their trust, patience, and willingness to sacrifice. It says here they have a better chance of achieving that with Doolin initiating their offense.
This and That
• Kansas transfer Andrew White told CBSSports.com that he visited Notre Dame this week. He also recently visited Nebraska. The 6-6 wing will have two years of eligibility remaining and averaged 2.4 points and 1.2 rebounds last season for the Jayhawks.
• Florida will start a home-and-home series with Miami beginning next season in Gainesville. There will be a return game in Coral Gables during the 2015-16 season.
• Looking for an under-the-radar freshman in the SEC? Try Arkansas' Anton Beard. Word out of Fayetteville is that the Razorbacks are looking to play Ky Madden more off the ball next season and that will be easier to do if Beard can contribute immediately. The 6-5 Madden led Arkansas last season in both scoring (12.7 points) and assists (2.8).
• George <span data-shortcode=" data-canon="Washington Huskies" data-type="SPORTS_OBJECT_TEAM" id="shortcode0"> will face Charlotte and Georgetown will play Towson in a doubleheader at the Verizon Center on Dec. 12, sources told CBSSports.com.
• Former UCLA coach Ben Howland recruited three players --- Kyle Anderson, Jordan Adams, and Zach LaVine --- who were selected as first-round picks in last week's NBA Draft. Is this guy really still unemployed?
Was there contact? 'Everybody saw it,' UK coach John Calipari said

After losing its second game this week, a deep NCAA Tournament run looks far-fetched for U...

Coach K shows he is on on top of his game by landing the best three prospects in the Class...
The Buckeyes and Boilermakers continue to assert their dominance in the Big Ten

The 5-star phenom was thought to be headed to Clemson, but was swayed to the Blue Devils

The nation's No. 3 player will commit Saturday and here's his impact on each of his finali...