Observations: Kilpatrick, Russ Smith deserved AAC honors too
Jon Rothstein takes a look at the last 24 hours in college hoops, and looks ahead to what will be a frenzied day in college basketball.
• 3 min read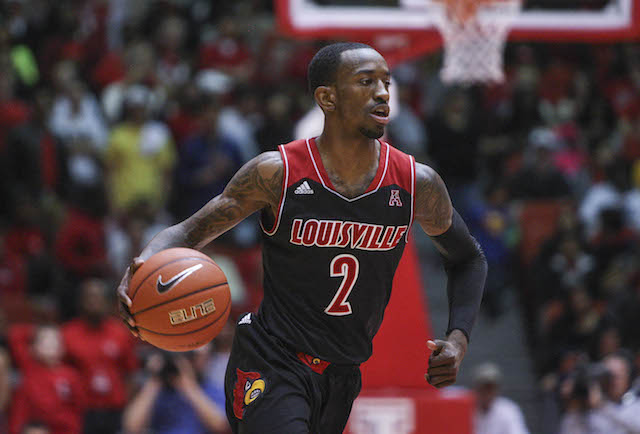 1. The American should have split conference Player of the Year among Sean Kilpatrick, Shabazz Napier, and Russ Smith.
I know that's not possible, but it's the only logical conclusion I can come up with after it was announced on Wednesday that Napier took home the honor. All three of these players had terrific seasons and all three anchored their teams' current success. Napier led UConn in virtually every major statistical category this season and made a plethora of big shots throughout the year. Kilpatrick made himself into one of the best guards in America and was the best player on a Cincinnati team that won a share of the league. Smith? He polished his game from the end of last season to this one like very few players do in collegiate athletics. Meanwhile, for a player who used to be known as erratic and out of control, Smith has now become reserved but deadly -- opportunistic but still efficient. How do you pick one of these players over the other for American player of the year? You can't. Napier won the award, but Kilpatrick and Smith are just as deserving.
2. Thursday's quadruple-header at the Big 12 Tournament will be one of the best days college basketball has seen in one venue this season.
The best league in college basketball has four terrific showdowns lined up in Kansas City. A quartet of quarterfinal games will highlight the Big 12 and should provide 160 minutes of non- stop action. Iowa State and Kansas State kick things off and they'll be followed by a highly- anticipated rubber match between Kansas and Oklahoma State. The story of the tournament is that the Jayhawks won't have the services of their starting center Joel Embiid due to a back injury and that should open the door for the Cowboys to continue to look like the team nobody wants to play moving forward. The night cap features a showdown between Texas and underrated West Virginia, along with a quality tilt pitting Baylor against second-seeded Oklahoma. Basketball junkies everywhere should get comfortable. Thursday will be one heck of a day in Kansas City.
3. Oregon's Jason Calliste has emerged. 
Calliste has scored in double figures in seven of Oregon's last eight games, and the Ducks have won all eight. The Detroit transfer has evolved into a terrific scoring sub for Dana Altman and is thriving in a "microwave" type role off the bench. Calliste has made 23-of-40 three-point shots during Oregon's eight-game winning streak and is averaging 13.5 points during that span. The Ducks are a team to watch moving forward and Calliste is a big reason why. Oregon faces UCLA Thursday in the Pac-12 tournament in Las Vegas.
4. Mike Brennan has done as a good of a job as any first-year coach in America.
The former Georgetown assistant has been unbelievable in his inaugural season at American. The Eagles were 10-20 last year and were picked ninth in the Patriot League's preseason poll. Brennan installed his Princeton philosophies at the start of fall practice and American hasn't looked back since. After starting out 10-0 in conference play and baffling opponents with his offensive concepts, Brennan again showed his prowess Wednesday night by executing a flawless game plan in the league title game against Boston University. American made calculated cuts on offense, switched alignments on defense, and shot an impressive 55.9 percent from the floor in a 55-34 victory. A year ago, Brennan was an assistant at Georgetown. 12 months later, he's led American to a 10-game improvement and a berth in the NCAA Tournament. Pretty impressive, huh?
5. Jeremy Ingram is a name to remember over the next few weeks.
North Carolina Central has won 18 games in a row and Ingram is a major reason why. The 6-3 senior has been the go-to scorer for the 26-5 Eagles and is averaging 20.5 points. Ingram had 30 points last night in North Carolina Central's 92-46 win over Howard in the first round of the MEAC tournament, and has the look of a player that could be a real difficult matchup if this team reaches the field of 68. In three games earlier this season against Cincinnati, Wichita State, and NC State, Ingram averaged 31 points. This kid is a gamer. 
The 10th-ranked Jayhawks end a four-game Morgantown losing streak with a big second half

Gary Parrish, after being questioned, explains why he writes the Poll Attacks each Monday

The Blue Devils looked like a team in need of a reboot against Miami, then they morphed into...
Providence's Ed Cooley suggests to the refs that vampires, not contact, made his player bl...

The Big 12 reprimanded WVU player Wesley Harris for hitting a Texas Tech fan who rushed the...

'History in the Astrodome: UCLA vs Houston 1968' looks at the game that changed college ba...