Observations: Kris Jenkins will be outside shooter Villanova needs
Expect Kris Jenkins to be the outside shooter Villanova needs in a rough and tumble Big East. And North Carolina's Isaiah Hicks will also make a big leap.
• 5 min read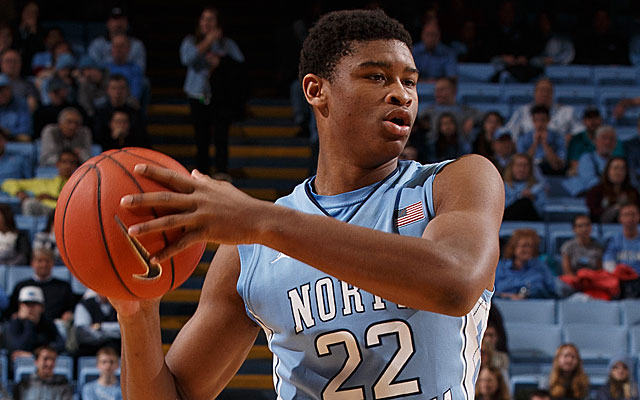 1. Kris Jenkins is a critical piece for Villanova
Jenkins, a 6-foot-6 forward, was a quality reserve for the Wildcats last season as a freshman and his role should be significantly augmented as a sophomore.
One of the major reasons why Villanova was able to win 29 games last year was because coach Jay Wright's team got great offensive spacing from James Bell at power forward when the Wildcats went to a smaller lineup featuring JayVaughn Pinkston at center. With Bell now gone to graduation, Jenkins is the player most likely to inherit his minutes at the 4, and the Maryland native seems more than up to the task.
After arriving on campus a year ago with his body fat at 20 percent, Jenkins is now down to under 12 percent and is coming off a foreign tour in Europe where he averaged more than 20 points. Villanova's staff has said repeatedly that they believe Jenkins is the best shooter in their program, and his ability to consistently make outside shots will be a major key to this team having a chance to win back-to-back Big East regular-season titles. Jenkins averaged 4.1 points as a freshman while shooting 37 percent from 3-point range.
2. North Carolina's Isaiah Hicks will make a major jump as a sophomore
The former McDonald's All-American only averaged 7.3 minutes a year ago as a freshman and that number should go up dramatically next season. The Tar Heels need to find a productive replacement for James Michael McAdoo up front and Hicks fits the bill.
Often playing out of position at times last year at small forward due to a lack of perimeter depth, the 6-8 sophomore is primed to return to his natural position and flourish. Last year as a freshman, Hicks didn't once reach double figures in scoring. That won't be the case in 2014-15. This will be one of the breakout performers in all of college basketball.
3. Bruce Pearl could have Auburn in position to compete for an NCAA bid by 2015-16
The Tigers have been the talk of college basketball over the past week and their momentum on the recruiting trail could put them in the NCAA bubble discussion by March of 2016.
Auburn's recent additions -- Danjel Purifoy, Horace Spencer, T.J. Dunans and Trayvon Reed -- should all be immediate contributors when they step foot on campus next fall, and they'll join a returning nucleus headlined by JUCO power forward Cinmeon Bowers. Marshall transfer Kareem Canty (16.3 points, 5.5 assists) will also be in the fold for the 2015-16 season, and the New York native is the type of electric point guard that Pearl craves to accelerate the tempo on each and every possession.
The Tigers still have a minimum of two more scholarships to give for the 2015 recruiting class and will look to add one or two high level wings to go with Purifoy and Dinans.
4. Small ball is coming to Berkeley
But will that be enough to make Cal a legitimate factor in the Pac-12 in coach Cuonzo Martin's first season on the West Coast?
The Bears will enter next season low on depth but loaded with perimeter players and plan to use 6-5 junior Tyrone Wallace (11.3 points, 4.1 rebounds, 2.7 assists) as their starting power forward. Cal will surround Wallace with a perimeter of Sam Singer, Jabari Bird and Jordan Mathews with 6-10 senior David Kravish (11.4 points, 7.7 rebounds) anchoring the low post as this team's sole hope in the pivot.
The Bears don't have much in reserve after those five players and the key to their entire season may be Wallace's ability to exploit mismatches at the four. Opposing power forwards in Pac-12 play are going to be bigger and stronger than the crafty southpaw, but how will teams that play Cal deal with Wallace's quickness and ability to get to the tin off the bounce? If Wallace has an all-conference type season, the Bears could be better than people anticipate.
5. The fall recruiting period is the perfect appetizer for the start of the regular season
Basketball junkies like myself crave games as soon as kids get back on college campuses, but following the fall recruiting period is the perfect thing to whet the appetite for the season ahead.
Starting this weekend, prospects will go on official visits and dominoes will start falling with commitments shortly thereafter. Recruiting is the lifeblood of any college basketball program and the daily buzz surrounding of who is going where for the current senior class is the ideal way to get people's juices going for the 2014-15 season.
This and that
• Cincinnati's Octavius Ellis may be the best junior-college transfer that no one is talking about heading into next season. The 6-10 Ellis had 15 rebounds in 17 minutes in the Bearcats' lone exhibition game during their foreign tour of the Bahamas and should start for Mick Cronin's team at center.
• UNLV will have five new starters next season and an arduous non-conference slate prior to league play in the Mountain West. The Runnin' Rebels face Stanford in the Coaches vs. Cancer Classic at Barclays Center and then the winner/loser of Duke vs. Temple the next day. UNLV will also host Arizona, travel to Kansas and Arizona State, and face Utah in a neutral site game in Las Vegas on Dec. 20. Wow.
• George Mason coach Paul Hewitt said junior guard Patrick Holloway averaged 18.0 points during the Patriots' recent trip to Spain. The 6-1 Holloway averaged 8.7 points last season as a sophomore and will have to take on a bigger offensive load for George Mason this season after the departures of both Bryon Allen and Sherrod Wright.
• Looking for an under-the-radar breakout guy in the ACC? Try Florida State's Jarquez Smith. The 6-9 power forward averaged just 2.4 points and 1.5 rebounds in 10.1 minutes last season as a freshman but could be poised to start for the Seminoles at power forward as a sophomore. Leonard Hamilton loves Smith's athleticism, length and ability to get into passing lanes on defense.
• Fordham coach Tom Pecora has used sophomore guard Jon Severe as the Rams' sixth man during the Rams' foreign trip to Canada. The 6-2 Severe averaged 17.3 points last season as a freshman and was fourth in the Atlantic 10 in scoring, but could be used as a spark off the bench in his second season of college basketball.
It appears he's more than happy to pay up, given the circumstances

Lithuania seems ready for the Ball era to begin

The Sun Devils make a big jump and the Jayhawks slide after ASU pulls the big upset
Arizona's big man from the Bahamas balled out against two talented teams

Coach Shaka Smart doesn't expect him to be out for an extended period of time

Jackson isn't showing the Sun Devils much respect after beating KU