Observations: Maine transfer Edwards to have big impact at K-State
Maine transfer Justin Edwards is termed K-State's 'best player' by Bruce Weber, and adds punch as the Wildcats figure to move uip in the Big 12.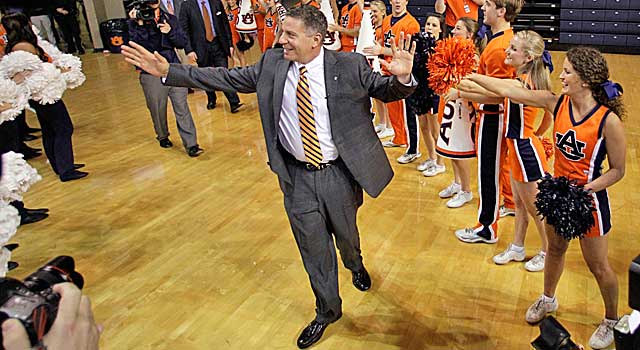 Latest in hoops: NBA Early Entries | Latest News | Coaching Changes
1. Justin Edwards to be major factor for K-State: Just ask Marcus Foster. The Wildcats' star freshman led his team in scoring last season (15.5 ppg), but he's well aware of the impact Edwards could have in 2014-15. "People asked Marcus [Foster] who's going to lead us in scoring next year and he tells them Justin Edwards," Kansas State coach Bruce Weber told CBSSports.com. "There were times last year when Justin was our best player. He's really going to add some explosiveness." A transfer from Maine, the 6-4 Edwards averaged 16.7 points two seasons ago and sat out last year as a redshirt. Coaches always seem to have a knack to say that a transfer who sat out was a team's "best player," but it's safe to say Edwards will add firepower for the Wildcats. Expect Kansas State to compete for a spot in the top half of the Big 12 next season.
2. Pearl's fingerprints already all over Auburn: Bruce Pearl's NCAA show cause penalty, which prohibits him from recruiting, may not expire until August, but that hasn't stopped him from upgrading Auburn's talent. Since being hired in March, the former Tennessee coach has signed two impact transfers who can play next season -- Antoine Mason (Niagara) and K.C. Ross-Miller (New Mexico State) -- as well as the nation's top junior-college prospect, Cinmeon Bowers. Pearl also received a commitment from Marshall transfer Kareem Canty (16.3 points, 5.5 assists last season), who must sit out next season. I won't be shocked if the Tigers are a player in the SEC because it's easier to make a jump in the SEC than any other BCS conference. The SEC is wide open after Kentucky and Florida. While Georgia, Arkansas, and LSU look to be next in the pecking order, none are cemented there. When Pearl took over Tennessee in 2005, he led the Volunteers to a 2-seed in the NCAA Tournament the following season. He's yet to coach an Auburn game and can't talk to recruits for another couple of months, but Pearl's imprint is already on another SEC program.
3. UCLA needs to identify a 4th guard for next season: The Bruins looked like a legitimate top 20 before Jordan Adams decided to leave early for the NBA Draft. Now, Steve Alford needs to find a fourth perimeter player to take his place. UCLA returns a quality point guard in Bryce Alford (8.0 ppg, 2.8 apg last season) along with two solid wings in freshman Isaac Hamilton and veteran Norman Powell (11.4 ppg last season), but this team still needs a fourth guard. One candidate could be Noah Allen, who only played 38 minutes last season because of a face injury. The Bruins frontcourt is set with a strong first-year trio of Thomas Welsh, Kevon Looney and Jonah Bolden along with two returning veterans in Wanaah Bail and Tony Parker. But to move to the top of the Pac-12, another guard is needed.
4. Seton Hall fans should temper expectations on incoming class: There's been a palpable buzz in South Orange since Isaiah Whitehead committed to the Pirates last fall. That doesn't mean he and the other freshmen that coming aboard are necessarily better than what the Pirates had last season. Kevin Willard's team loses four of its top five scorers, including two fifth-year seniors -- Eugene Teague (11.2 ppg, 7.2 rps last season) and Brian Oliver (85 made 3-pointers last season) -- along with one of the best players in the Big East in versatile wing Fuquan Edwin (14.5 ppg last season). Veteran forward Patrik Auda also left, and the Pirates return only Sterling Gibbs, Jaren Sina and Brandon Mobley as players who logged significant minutes last season. Whitehead and rugged forward 6-8 Angel Delgado are two first-year players who should contribute immediately, but Seton Hall fans will need to be patient with the rest of this recruiting class. It takes freshmen time to adjust, even at places like Kentucky. Seton Hall likely will have five first-year players in the initial rotation and will be tested early. The Pirates host George Washington and Rutgers, travel to South Florida, Georgia, and Wichita State, and also play in the Paradise Jam before conference play. That's eight games early vs. quality competition for an inexperienced team.
5. Wayne Tinkle comes out swinging at Oregon State: You're not going to make the Beavers a top-tier Pac-12 program with conventional recruiting methods, and Tinkle has been far from conventional since arriving in Corvallis. According to a report Wednesday night in The Oregonian, Tinkle is set to hire Stevie Thompson Sr. as an assistant coach. Thompson's son, Stevie Thompson Jr., is a 2015 top 75 recruit. That likely addition along with Tinkle's son Tres, a 2015 top 50 recruit, gives the Beavers two potential foundation pieces. You're going to have to be creative to have a chance to win at Oregon State and Tinkle is doing just that.
This and That
•Wichita State's Gregg Marshall hired Lousiana Tech's Isaac Brown as an assistant. He will replace Chris Jans, who took the Bowling Green head coaching job. Brown was on Mike White's staff since 2011 and worked predominantly with the backcourt.
• Oklahoma State, Auburn, Oregon State, and Tulsa will play in a four-team tournament at the MGM Grand in Las Vegas on November 24th and 26th.
• Providence transfer Josh Fortune is hearing from Colorado, Cal, Valpo, Purdue, Dayton, Minnesota, and Virginia, his mom said. The 6-5 Fortune averaged 8.4 points last season and will have two years of eligibility remaining.
• Baylor and Texas A&M will begin a home and home series beginning on Dec. 9 in Waco. There will be a return game in College Station during the 2015-16 season.
• Oklahoma State's Michael Cobbins could rejoin workouts as early as mid July, Travis Ford said. The 6-8 big man started the first 13 games before suffering a torn Achilles' to end his season. Cobbins averaged 4.5 points and 4.3 rebounds last season.
Marvin Bagley, if eligible at Duke this season, projects as the country's top power forwar...

The Big Ten Tournament is a week earlier than usual, so the regular-season schedule may look...

Arizona, Grand Canyon and Tulane are also in Barcelona and have reported to be accounted for...
The Kansas forward is no longer accused of walking out on an $88 tab

Cavaliers basketball coach tapes statement on behalf of his university and his city

Gary Parrish and Matt Norlander discuss all things Marvin Bagley and his immediate future