Observations: Maryland has ace in the paint for first season in Big Ten
Look for Michal Cekovsky from Slovakia to be the Terrapins' starting season once Big Ten play rolls around.
• 5 min read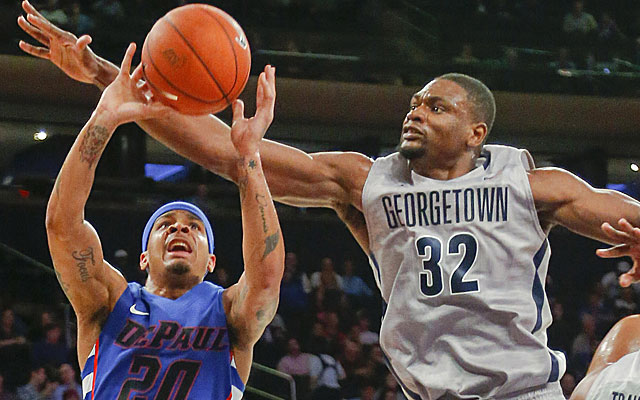 1. Michal Cekovsky was a major steal for Maryland
Romelo Trimble, Dion Wiley, Jared Nickens, and Travon Reed are all known commodities when it comes to Maryland's 2014 recruiting class. Michal Cekovsky is not. but he probably won't stay that way for long.
From his practice at Maryland this past week, it's clear that the Slovakia native has an accurate touch from the foul line and terrific foot work in the paint. The 7-footer also has a ready-made face-up game and finishes through contact at the rim.
Armed with unbelievable hands and a high IQ, Cekovsky is more skilled than Alex Len was at this stage and is different than Len in the sense that he's not your typical back-to-the-basket post player. There's a good bet that this freshman will be the Terps' starting center once Maryland begins Big Ten play next season.
2. Kethan Savage is a forgotten player nationally
Savage may sneak up on some people next season as a junior. The 6-foot-3 guard was one of the most improved players in the country last year as a sophomore for George <span data-shortcode=" data-canon="Washington Huskies" data-type="SPORTS_OBJECT_TEAM" id="shortcode0">, but suffered a broken left foot in January that forced him to miss the remainder of the season.
Savage went from averaging just 3.1 points two seasons ago as a freshman to averaging 13.4 points through the first 18 games of last year prior to injury. The Colonials went 9-6 down the stretch of last season without him, but people seem to forget that Mike Lonergan's squad lost a double-figure scorer in the middle of last year because they still wound up in the NCAA Tournament.
With Maurice Creek gone to graduation, look for Savage to become a major offensive threat for George Washington as the Colonials look to advance to the field of 68 for the second consecutive year.
3. Wyoming is a legitimate contender in the Mountain West if Larry Nance Jr. is healthy
If the 6-8 Nance was at full strength there's a good chance he'd be the Mountain West Conference's Preseason Player of the Year. Nance averaged 15.4 points and 8.6 rebounds last season before suffering a torn ACL on Feb 18 that forced him to miss the rest of the season. Wyoming had won eight of its last 11 games at the time of the injury and was 17-9 overall and 8-5 in league play.
Assuming Nance is back at the level in which he showed prior to the knee injury, coach Larry Shyatt should have a team that's more than capable of challenging for a place atop the conference standings.
In addition to Nance, the Cowboys return a borderline all-league player in 6-2 guard Josh Adams (12.7 points in 13-14). The junior scored 21 or more points in his final four Mountain West games of last season and should hit the ground running as a junior.
Wyoming boasts seven juniors and seniors and that should give it a distinct edge over certain other programs in the conference. There's no reason why the Cowboys can't be right in the mix with the other teams in this league trying to challenge San Diego State.
4. Georgetown transfer Moses Ayegba is going to give Nebraska a different dimension
The Cornhuskers went to the NCAA tournament last year thanks to unbelievable chemistry and the ability to exploit mismatches on the offensive end of the floor. Nebraska had a true pick and pop five-man in Walter Pitchford, who regularly brought the opponent's center away from the basket. The 6-10 Pitchford made 48 three-point shots and shot 41 percent from downtown, proving that being unconventional at center can work.
But that doesn't mean that having the ability to be conventional is a bad thing either and that's what Ayegba will provide. The 6-9 big man now gives Tim Miles a legitimate rim protector that can allow his fellow defenders to push up more on the ball defensively. Ayegba only blocked 0.7 shots last season for the Hoyas, but his presence alone will change the way teams attack Nebraska when they're on offense.
While Ayegba's role for the Cornhuskers may be under the radar heading into the start of fall practice, it could wind up being pivotal if this team is able to take a step forward defensively in 2014-15.
5. The CAA will be wide open
It's amazing that it was just three years ago that this league had three teams in the NCAA tournament. But with the departures of strong programs like VCU, George Mason and Old Dominion, the makeup of the CAA has drastically changed. This is no longer a multi-bid mid-major, but rather a league that lacks a flagship program.
Reigning champion Delaware lost its entire core from last year's team that reached the NCAA tournament and Towson will also be starting a new era after the departure of do everything forward Jerrelle Benimon. Northeastern and Drexel are two well-coached programs that are perennial CAA contenders while William & Mary may have the conference's best player in guard Marcus Thornton (18.7 PPG in 2013-14).
The wild card to watch next season? Hofstra. Joe Mihalich's team hasn't proven it can win consistently, but the Pride add three potential starters in transfers Juan'ya Green (Niagara), Ameen Tanksley (Niagara) and Brian Bernardi (SMU).
This and That
• NC State coach Mark Gottfried said Beejay Anya has dropped 52 pounds since the end of last season and is down to 297 pounds. The 6-9 sophomore averaged 2.1 points, 2.1 rebounds and 1.4 blocks last year as a freshman in 11.8 minutes.
• The annual Holiday Festival at Madison Square Garden is slated for Dec. 14. The doubleheader will be Saint John's vs. Fordham and Manhattan against Rutgers.
• The road trip to Utah and Colorado is going to be a brutal back-to-back for visiting teams during Pac-12 play. The Utes and Buffaloes are expected to be two of the top four teams in the conference and both play at a different altitude than opponents are used to on their home floor. It will be interesting to see how many visiting teams come away with victories next season when they travel to Salt Lake City and Boulder.
• Pitt's Josh Newkirk averaged less than a turnover per game (0.8) last season as a freshman in 17.0 minutes. The most amazing thing about that stat? The 6-1 guard (4.6 points in 2013-14) plays the game at a break-neck pace and has good speed in the open floor. Put this kid on your list of ACC breakout players for next season.
• UNC's Nate Britt will shoot right-handed in 2014-15 after shooting left-handed during all of last season as a freshman. The 5-11 point guard averaged 5.1 points and 2.4 assists. The one thing Britt drastically needs to improve on? Outside shooting. The Maryland native made just three three-point shots during his first year of college basketball.
Gary Parrish and Matt Norlander spend some time on the SEC, too

Having shocked Kansas at Allen Fieldhouse, Duke legend Bobby Hurley is coaching the Sun Devils...

Jay Wright's undefeated Wildcats are now No. 1 in the Top 25 (and one)
Coach K's Blue Devils are the fourth preseason top-10 team to lose to a sub-75 KenPom team

TCU, which downed Nevada late Friday, continues to flourish under second-year coach Jamie...

The fans rushed the floor and celebrated after Taylor University scored its 10th point of the...