Observations: NCAA Tournament sets up well for Calipari, Kentucky
Expect Louisville and Michigan State (both four seeds -- really?) to be trendy NCAA picks, SMU gets hosed by the committee and Kentucky is in a great spot in the Midwest.
• 2 min read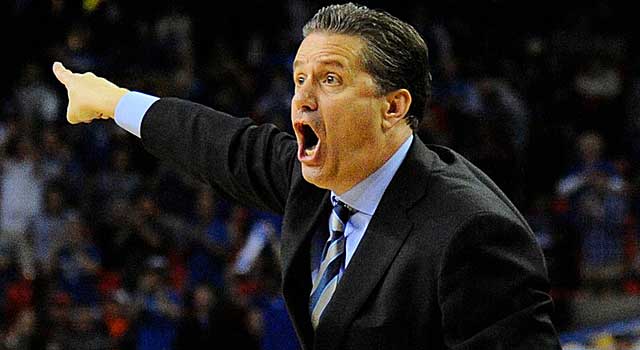 More NCAA hoops: Tournament bracket | More on NCAAs | Official NCAA 1-68
Some Observations after taking in Selection Sunday:
1. Two No. 4 seeds (Louisville, Michigan State) will be trendy picks: How many times have we been able to say that? The Cardinals and Spartans both finished the season on an absolute tear and are arguably playing as well as any team in the country other than Florida. Another thing about these two teams? They have the "it" factor because they're coached by two Hall of Famers. Rick Pitino and Tom Izzo have won a combined three national titles and know as well as anyone what it takes to win in March. Are Louisville and Michigan State really No. 4 seeds? Yeah, I can't believe it either.
2. The Midwest is a perfect setup for John Calipari: And that makes for a better NCAA Tournament. Why? College basketball is much more intriguing when Calipari and Kentucky have a chance to do be a major factor in the field of 68 and that's just how this bracket lines up. Despite losing 61-60 in the SEC title game Sunday, the Wildcats were impressive against Florida. You get the feeling this team could be a nuisance to play on a neutral court. Kentucky opens against a very good Kansas State team in the Midwest and then could potentially play Wichita State in the round of 32. Who would Kentucky play if it makes it to the Sweet 16? Probably Louisville. In Indianapolis. March is good folks. March is really, really good.
3. SMU deserved to be in: Did Larry Brown's team lose a few games it shouldn't have? Absolutely. The Mustangs fell to Houston in the American conference tournament last week in Memphis and also lost regular-season games at South Florida and Temple. But this team still had two wins over UConn along with victories over Memphis and Cincinnati. Not only were the Mustangs good enough to make the NCAA Tournament, they were good enough to win in the NCAA Tournament. It's decisions like this that make you wonder whether or not the committee really respects the eye test.
4. You have to feel for Steve Masiello and Manhattan: Mid-major coaches only get so many opportunities to reach the field of 68 and Masiello's first trip as a head coach to the NCAA Tournament will be a difficult one. A six-year assistant under Rick Pitino at Louisville before earning his current post, the third-year coach will now face his mentor as a No. 13 seed in the Midwest Region. Masiello has molded the Jaspers program as a watered down version of the Cardinals and it's simply amazing that's who they will wind up facing in Manhattan's first NCAA appearance since 2004.
5. People continue to sleep on Virginia: The Cavaliers won the ACC regular-season and tournament titles and still people don't show them any respect. Tony Bennett's team is the top seed in the East and already people are picking just about every other team in the region to go to the Final Four. I'm not implying that I fully believe that this team will get to Dallas, but I won't be shocked if it does. This is a solid squad that focuses on the team rather than the star. In today's day and age, that doesn't seem to be trendy.
This and That:
Round of 64 upset: North Dakota State over Oklahoma.
Don't be surprised if: Baylor reaches its third Elite Eight in the past five years.
Final Four: Kansas, Michigan State, Arizona, Louisville.
Title game: Louisville over Kansas.
The Tar Heels, No. 4 in the CBS Sports Top 25 (and one), are 10-1 after beating Tennessee.

Oklahoma and Arkansas are new additions to Sunday's Top 25 (and one)

Gary Parrish and Matt Norlander discuss a wild Saturday of college basketball
Ball left the program earlier this month and has since signed with a Lithuania professional...

Sooners beat third-ranked Shockers while Florida and FSU lost in upset fashion to unranked...

The Hoosiers grow up before our eyes, and Miller has his first signature victory as Indiana...