Observations: Pac-12 could use a strong finish
Jon Rothstein offers five observations from the past week in college basketball, also serving up five games he'll have an eye on this weekend.
• 6 min read
Check below for five observations from the week and five games I'll be watching this weekend...
Five observations from the week...
1. The Pac-12 has been somewhat disappointing.
A big reason for this is injuries. Arizona would be the clear favorite to win the national title if it hadn't lost Brandon Ashley for the season and Colorado would have been a Sweet 16 team if Spencer Dinwiddie hadn't torn his ACL. But the teams in this league other than those two and UCLA have been incredibly inconsistent. Cal and Stanford have both shown flashes of brilliance but haven't been the same team each time they've taken the floor. The Bears are the only team in the country that's beaten Arizona but they're also the only team in the Pac-12 that's lost to USC. Oregon, meanwhile, looked like a potential challenger for the conference title early in the year but has lost four league games by a combined eight points and is now 3-8 in Pac-12 play. I came into the season thinking multiple teams from this league would be able to play their way into the second weekend of the NCAA tournament. Right now I'm not sure if that's possible for any Pac-12 team other than Arizona.
2. Creighton can't beat elite teams without production from Ethan Wragge.
The more and more you watch the Bluejays, the more and more it's becoming apparent that Wragge is the guy that opponents are trying to take away. Doug McDermott is the best player in college basketball and will always put up numbers (25.3 points, 7.1 rebounds per game), but for Creighton to be a real factor in March, it needs Wragge to regularly stretch the defense. I've seen this team in person three times this season and it's very clear Wragge is this squad's x-factor. In the Bluejays' past two games, Wragge is 1-8 from the field and has scored a combined eight points. That's not going to be enough if Creighton is going to get where it hopes to go. The 6-foot-7 sniper has made 82 3-pointers this season and is averaging 11.3 points.
3. Buzz Williams is again grinding it out at Marquette.
The Golden Eagles may not make the NCAA tournament but don't be surprised if Williams has them knocking on the door. Marquette has serious limitations in the backcourt but has still managed to win three of its past four games and is 14-10 overall and 6-5 in Big East play heading into Saturday's game vs. Xavier. Williams has made his reputation over the past few years by maximizing his team's talent and that's just what his aiming to do with this group of Golden Eagles, who only have one legitimate point guard on their roster in Derrick Wilson (4.1 assists per game). To have a meaningful March, Marquette has to do something with its next two games. In addition to Saturday's tilt vs. Xavier in Milwaukee, the Golden Eagles also host Creighton next Wednesday.
4. Tubby Smith is quietly doing a terrific job at Texas Tech.
The Red Raiders' victory over Oklahoma State last Saturday was swept under the rug after the ugly incident involving Marcus Smart, but Texas Tech's road victory at Oklahoma on Wednesday night ensured that this program won't be forgotten for the second time in the same week. Smith has made the Red Raiders into a solid basketball team that's capable of competing with just about anyone in the Big 12. Texas Tech (13-11, 5-6) has now beaten Baylor, Oklahoma State and Oklahoma in league play and heads to Iowa State on Saturday with a three-game winning streak. Many people forget that Smith won an NCAA tournament game last year at Minnesota before being let go after the Gophers were beaten by Florida in the Round of 32. The guy can obviously still coach. And that's what everyone in the Big 12 is quickly finding out.
5. Tim Cluess has made Iona one of the elite mid-major programs in America.
And he has done it despite losing great players after each of the past two seasons. Two years ago, the Gaels reached the NCAA tournament behind the dynamite one-two punch of Scott Machado and Mike Glover and lost to BYU in the First Four. Last year, Momo Jones led Iona back to the field of 68 where they fell to Ohio State. Despite losing a combined three all-league players the past two seasons, Cluess again has Iona in first place in the MAAC standings with a 13-2 record in league play and a 16-8 mark overall. Cluess isn't a self- promoter, but an old school coach who doesn't focus on anything besides being in the gym. In his 3½ seasons at Iona, Cluess has an overall record of 86-42 and has taken the Gaels to back-to-back NCAA tournaments.
Five games I'll be watching this weekend...
Memphis at UConn (Saturday, noon ET)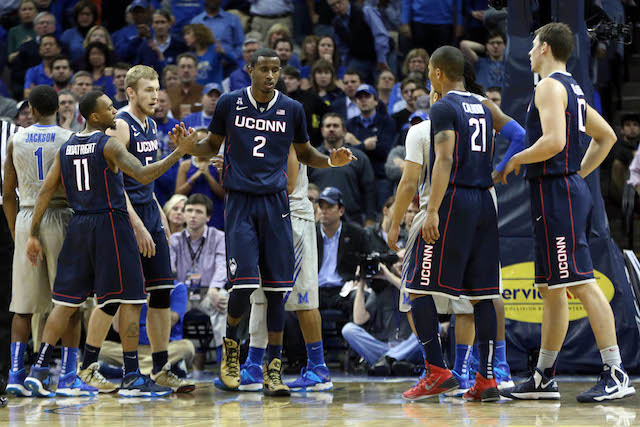 Remember when the American Athletic Conference was supposed to be the "other league"? Yeah, those days are over. Twenty percent of last week's Top 25 consisted of teams from the AAC and two of those teams were the Tigers and the Huskies. In the first meeting between these two teams, Memphis had absolutely no answer for UConn's DeAndre Daniels (23 points, 11 rebounds) and he will again be the x-factor for Kevin Ollie's team. Look for the Tigers to use rugged forward David Pellom in expanded minutes in an effort to deny Daniels in pick- and-pop situations.
Pitt at North Carolina (Saturday, 1 ET, CBS)
You know what the Panthers need to win this game? A short memory. Pitt did everything possible to beat top-ranked Syracuse on Wednesday night only to fall victim to a 35-foot buzzer beater by Orange freshman Tyler Ennis. Jamie Dixon's team has yet to beat a team that's a lock for the NCAA tournament, but that doesn't mean the Panthers aren't capable of being an absolute nuisance to play in March. It all starts with getting a little better each day. If Pitt can refine a few things and make two or three more plays down the stretch than it did against Syracuse, the Panthers should be in prime position to beat the Tar Heels in Chapel Hill.
VCU at Saint Louis (Saturday, 2 ET)
A battle between the two best teams in the Atlantic 10 is the first of two meetings between these programs this season. The Billikens were able to handle the Rams' pressure twice last season and wound up winning the conference's regular-season and tournament titles. Last year, Saint Louis was able to use veteran forward Cody Ellis as a safety net in the middle of its press break to get through VCU's pressure and it will be interesting to see how the Billikens attack HAVOC without him. Expect Jim Crews to regularly use a three-guard lineup featuring Jordair Jett, Mike McCall and Austin McBroom in an effort to put an extra ball handler on the floor against Rams' relentless full-court attack.
Florida at Kentucky (Saturday, 9 ET)
A great team meets great talent. Billy Donovan meets John Calipari. Sounds enticing, right? It has been very hard to get a gauge on these two programs since conference play began, because right now the Gators and Wildcats are the only two teams in the SEC that clearly look like they're going to be playing in the NCAA tournament. Florida may not possess a first-round pick on its roster, but it still looks like arguably the most complete team in college basketball. Kentucky, meanwhile, has several potential lottery picks but has yet to look nearly as cohesive as the Gators. This one should be great fun at Rupp Arena.
Villanova at Creighton (Sunday, 5 ET)
The two best teams in the Big East square off in what is easily the conference's most anticipated game of the season. The Bluejays made 21 three-point shots in their first meeting with the Wildcats on Jan. 20 and beat Villanova by 28 points. I have a feeling that won't be the case in the rematch. The Wildcats are somewhat under the radar nationally despite being 22-2, and this is Jay Wright's best team since he led Villanova to the Final Four in 2009. They'll be more than ready Sunday afternoon in Omaha.
The Wildcats' resume doesn't seem too impressive right now

Was there contact? 'Everybody saw it,' UK coach John Calipari said

After losing its second game this week, a deep NCAA Tournament run looks far-fetched for U...
Coach K shows he is on on top of his game by landing the best three prospects in the Class...

The Buckeyes and Boilermakers continue to assert their dominance in the Big Ten

The 5-star phenom was thought to be headed to Clemson, but was swayed to the Blue Devils