Observations: Pitt can silence doubters; Hawkeyes in free fall
Kansas misses its injured big man Joel Embiid big-time, but the Jayhawks show they have the depth to win without him. Also, Iowa is in trouble and Pitt can make a statement.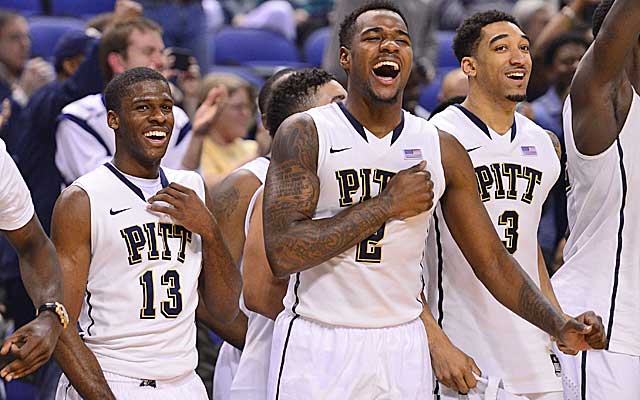 More college hoops: Top 25 (and one) | Updated projected bracket | Bubble Watch
1. Kansas still has plenty of front court options without Joel Embiid.
The Jayhawks don't have the same ceiling without their starting center, but it's not like they don't have capable pieces to fill his minutes. With Embiid sidelined for the Big 12 Tournament and beyond due to a back injury, Bill Self turned to a front court triumvirate of Perry Ellis, Tarik Black, and Jamari Traylor against <span data-shortcode= State" data-canon="Oklahoma Sooners" data-type="SPORTS_OBJECT_TEAM" id="shortcode0"> on Thursday. How did the trio respond? Ellis, Black, and Traylor combined for 22 points and 29 rebounds in the overtime win over the Cowboys and proved that Kansas still has the elements to win in the NCAA Tournament without their star in the pivot. If Embiid was healthy, the Jayhawks would be my pick to win the national championship. Without him, they've still got plenty of ability to do some damage.
2. Pitt can make a real statement Friday against North Carolina.
We know the deal with the Panthers. They've beaten everybody they're supposed to beat and only have one quality win against a team that's a lock for the NCAA Tournament (Stanford). With all that said, Pitt is still 24-8 overall heading into today's ACC tournament quarterfinal game against North Carolina. Jamie Dixon's team hasn't scored the ball as well as it did early in the season before sixth man Durand Johnson was lost for the year with an ACL injury, but this team is still better than people are giving it credit for. The Panthers are two plays --- yes two --- from being 26-6 overall and a team that everyone is talking about as being underrated heading into the NCAA Tournament. Pitt lost on the final possession against Virginia on February 2 and then lost to Syracuse 10 days later on a half-court buzzer-beater by Tyler Ennis. Why am I bringing all this up? If the Panthers are good enough to be in those situations, then they're good enough to be in the NCAA Tournament and have a puncher's chance. How do they convince the nation of just that? Take North Carolina to the wire today in Greensboro.
3. Monte Morris is one of the least appreciated freshmen in college basketball.
And that's amazing considering he plays for a top-20 team in Iowa State. The Michigan native has run the Cyclones' offense with the poise of an upperclassmen and was flawless Thursday against Kansas State, dishing out 10 assists and only committing a single turnover. Morris has an assist-to-turnover ratio of nearly five to one on the season and plays more like a redshirt junior than a freshman. This will be a terrific four-year program guy for Fred Hoiberg.
4. In the last month, Iowa has fallen from Final Four sleeper to potential 10 seed.
This has been an amazing tailspin for Fran McCaffery's squad. The Hawkeyes were incredibly consistent through the first few months of the season but have dropped six of their last seven since Feb. 22. Iowa has had defensive issues all season but in its last two defeats against Illinois and Northwestern, the Hawkeyes were stymied offensively against teams that played at a slower pace. There was one point in the season where I really felt like this was a team that could be the type of four or five seed that could get to Dallas. That's obviously not the case anymore.
5. Despite a strong February run, St. John's season has to be chalked up as a disappointment.
The Red Storm have clearly had the most talented roster in the Big East all season long and while they've showed flashes of dominance in the middle portion of the season, this team is too talented and has too much depth not to be in the field of 68. St. John's has the makeup of a team that opposing squads would fear in the NCAA Tournament. Instead this squad will likely play in the NIT for the second consecutive season. It would probably be easier for Red Storm fans to stomach this disappointment if the Big East performed at a higher level. Nobody expected the new formation of this conference to be on par with what we saw in the past, but this league may wind up with only three or at the most four teams in the field of 68.
Emanuel 'Book' Richardson, Chuck Person, Lamont Evans and Tony Bland have been arrested

The UConn women's basketball coach stepped in to offer up a solution in an education budget...

Duke and North Carolina players will skip ACC Operation Basketball because of new NCAA pol...
After a close game against Michigan, Air Force is playing San Diego State with some moment...

Quickley played for John Calipari this summer with USA Basketball

A revamped Erwin Center is part of a $4.25 million upgrade to the Longhorns' hoops facilit...