Observations: Poythress already showing signs of a breakout season
Alex Poythress looked like a one-and-done when he arrived at Kentucky a few years ago. But now this 'glue guy' seems poised for a monster year.
• 6 min read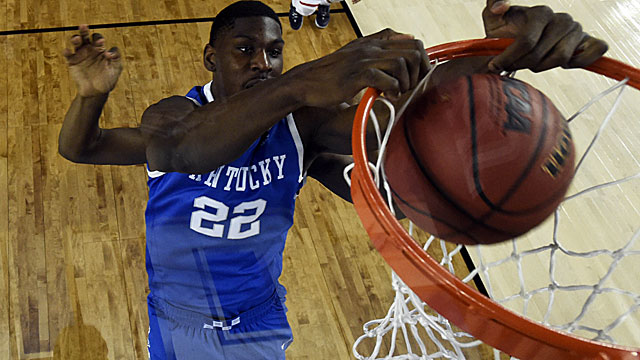 Relateds: Cats giving back | 2015 recruiting rankings: UK No. 28| Top 25: UK No. 1
1. Alex Poythress looks like he's going to be an All-Star role player for Kentucky
The 6-foot-7 forward has been terrific in the Wildcats' first few games during a foreign tour in the Bahamas (13.6 PPG, 8.0 RPG) and appears primed for a monster junior season. Poythress came to Lexington a few years back with the looks of being a one-and-done player, and now he seems ready to be one of the better "Glue Guys" in college basketball. The bouncy forward isn't going to be the first guy that NBA scouts rave about when they evaluate the Wildcats, but Poythress' experience, defensive prowess, and ability to win "50-50" plays make him a pivotal piece for John Calipari's squad. One thing to remember though about Poythress when watching him during this trip in the Bahamas? He's primarily playing power forward and it's not guaranteed that he's going to be playing that position exclusively during the upcoming season. Kentucky has played this entire trip without both Trey Lyles and Willie Cauley-Stein --- two players who will be certain to log significant minutes up front during the upcoming year. With the additions of Lyles and Cauley-Stein to this team's rotation along with the presence of front court players like Dakari Johnson, Karl Towns and Marcus Lee, Poythress may see more time on the wing when the season starts then at the "4", even though that clearly looks like his most productive position. It remains to be seen whether Calipari will keep Poythress at power forward for long stretches when his entire team is healthy or play him more on the perimeter in an effort to get all members of his front court playing time on a regular basis.
2. Kentucky's eventual second unit would likely be ranked in the Preseason Top 10
It's still yet to be determined who Calipari will start when he has all hands on deck, but there's a good chance that the Wildcats' second unit would be ranked among the top 10 teams nationally when this team is at full strength. It remains to be seen what group of big men Calipari opts to play together when he starts a game at the beginning of the season. But based on experience, let's say Kentucky's first five is the Harrison twins, Poythress, Cauley-Stein and Johnson. That means the Wildcats' second unit would be freshmen Tyler Ulis and Devin Booker with Lyles, Lee, and Towns rounding out the unit. The scary part about all of this? Kentucky's likely 11th and 12th men --- Derek Willis and Dominique Hawkins --- would be really good players at most BCS programs.
3. Providence's Ben Bentil will be in the mix for Big East Rookie of the Year
The 6-9 power forward is built like an adonis and should have an immediate impact for the Friars. Ed Cooley has to replace some of the shot making he lost after last season with the departures of Bryce Cotton, Josh Fortune and Kadeem Batts, and Bentil should be more than able to help fill some of that void. The Delaware native has a potent pick-and-pop game to go with his relentless motor and looks more like a body builder than a basketball player. Expect Cooley to close out games with Bentil and LaDontae Henton in the front court during the upcoming year for Providence, which should be picked somewhere in the middle of the Big East's preseason poll. Bentil will be one of the better first-year players in the conference along with Seton Hall's Isaiah Whitehead and Xavier's Trevon Blueitt.
4. Hiring assistant coaches in exchange for players has become a major part of college basketball
This sport goes in cycles and one thing that's been constant over the past few years is that college programs are hiring assistant coaches with the expectation that the coach who's hired delivers a player or two down the line. The days of grinding it out in the film room may work for certain people, but in the times that we're in now where coaches are only getting four years to turn around a program, the onus that's put on securing elite talent has reached an all-time level over the past few seasons. A coach once told me that "the plays work great when you have great players" and he's absolutely right. Coaches will take copious notes at clinics, spend hours scouting their potential opponents, and spend more hours trying to perfect what plays they're going to run during out-of-bounds plays. You know what? None of that really matters if your personnel doesn't give you a chance to win. When you think about it, college basketball is really a simple game. First you need to get good players. Then you need to get them to defend. And lastly, you need them to put the ball in the basket. You know what the hard part is? Getting the players and that's why a big part of the sport's culture today revolves around certain people getting hired in order for an elite prospect to commit to a certain school.
5. Returning players are much more important to a program than incoming ones
Recruiting is the lifeblood of every program in America, but despite the hype and sizzle that always seem to surround college freshmen, one of the most forgotten things involved with a college basketball season is that returning players are much more important than incoming ones. First-year players can energize a program but that doesn't mean that's going to lead to winning meaningful games in March. A year ago, Kentucky was thought to have the best recruiting class in the history of college basketball and it wound up as an eight seed heading into the NCAA Tournament. Now with that said, the Wildcats got things together at the right time and made it all the way to the title game, but that was allegedly the best first-year group that had ever been assembled and they were a team that struggled for the first four months of the season. Freshmen can help programs but veterans ultimately will always make the difference in programs where it matters most --- the win-loss column.
This and That:
• NC State's Trevor Lacey has dropped 22 pounds and is now 208 after arriving in Raleigh a year ago at 230. The Alabama transfer has all the chops to be one of the better scorers in the ACC next season. The 6-3 Lacey averaged 11.3 points two seasons ago for the Crimson Tide.
• An under-the-radar SEC freshman to put on your radar? South Carolina's Marcus Stroman. The wiry point guard is a legitimate 6-2 and should be able to immediately contribute for the Gamecocks as a quality reserve behind Ty Johnson, Duane Notice and Sindarius Thornwell.
• Manhattan has a chance to again be one of the better mid-major teams in the nation with the addition of Cincinnati transfer Jermaine Lawrence. The 6-10 forward only averaged 2.8 points and 2.8 rebounds last season, but he'll be a part of a starting lineup that features three other BCS players in forwards Emmy Andujar and Ashton Pankey along with combo guard Rich Williams. Steve Masiello's team will upset at least one team during its non-conference schedule which features road games at Pitt, Florida State, and UMass.
• Iowa coach Fran McCaffery said this week that he expects his team's depth next season will be comparable to what it was last year when the Hawkeyes regularly used 10 or 11 players. Iowa was 19-6 and 8-4 in the Big Ten on February 15th but lost seven of its final eight games of the season en route to being knocked by Tennessee in the First Four.
• Rhode Island is the trendy pick to make a jump in the Atlantic 10 and the Rams have a huge six-day stretch in November. Danny Hurley's squad will host Nebraska on Nov. 22 and then face Kansas in the first round of the Orlando Classic on Thanksgiving Day. A split in those two games could go a long way in this team's at-large hopes come March.
NCAA issues led to the McDonald's All-American never actually playing for KU

John Calipari's Wildcats, 0-2 against teams ranked in the Top 25 (and one), are in need of...

Our advanced computer model simulated Saturday's Xavier-Seton Hall game 10,000 times
Zack Cimini has been on a roll in college basketball and locked in a play for Texas-West V...

Zack Cimini is on a college basketball heater and just locked in a strong pick for Saturda...

Our advanced computer model simulated Saturday's Arizona-Stanford game 10,000 times