Observations: Rankings still a shaky enterprise
North Carolina's win over Michigan State underscores the shaky nature of rankings, and Ohio State continues to prove it's a major national player.
• 8 min read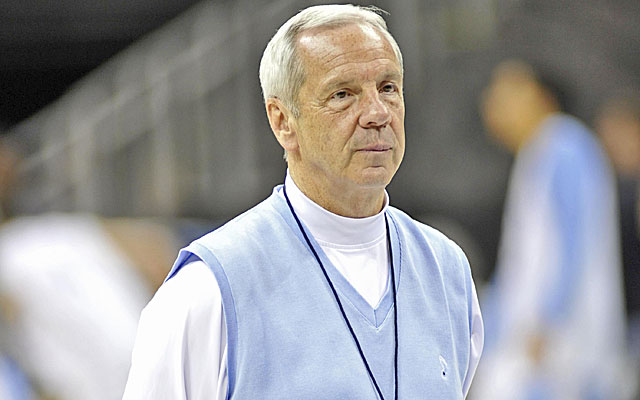 My five observations from the week, and the games I'll turn my attention to this weekend:
Five observations from the week...
1. Rankings continue to be a less-than-perfect barometer in college basketball.

In spite of my colleague Gary Parrish's fine points about the merits of rankings, I've never understood why so many people care who's ranked from week-to-week in a sport that's decided by a 68-team tournament in March. This isn't football. The great part about college basketball is that the national champion is annually decided on the floor. The only time I've felt rankings even remotely begin to matter is in February when NCAA seeding really starts to come into play. Gonzaga was ranked number one late in the season last year but never came close to resembling the best team in the country. Nevertheless, the first month of this particular season has again proved that the number that's next to a team's name has absolutely no bearing on the result of a given game. North Carolina lost at home to Belmont as well as at UAB and then went to East Lansing on Wednesday night and beat number one ranked Michigan State with ease. Parity will again dominate college basketball.
2. As long as Ohio State has Thad Matta and Aaron Craft, they're going to win 25 games and advance to the NCAA Tournament's second weekend.

The Buckeyes are completely locked in. The biggest thing I noticed about this team during its 76-60 win over Maryland on Wednesday night in the ACC/Big Ten Challenge? The only thing that matters is the final score. Ohio State has no one looking for their own offense and a big reason for that is Craft's presence. The Buckeyes' floor general directs his team on both sides of the floor like a maestro conducting a symphony in Central Park. He knows exactly when to get his teammates a touch on offense or when to attack things from a certain angle a defense to create a turnover. With Matta's terrific defensive principles in tact and Craft at the core of everything on both sides of the ball, Ohio State looks once again like they'll right in the mix at the top of the Big Ten. Last year people wondered how this team would replace Jared Sullinger and William Buford and they reached the Elite Eight. Now this season, people question how they're going to fill the void left by Deshaun Thomas and they've responded early by having six different players averaging 9.0 points per game or more. Another thing about the Buckeyes? They're getting solid mileage out of both of their five-men -- Amir Williams and Trey McDonald.
3. Temple is quietly improving.
The Owls may only be 4-3 but after watching them practice multiple times before the start of the season, I'm impressed with where they are considering it's only the first week in December. Fran Dunphy's team got some quality momentum with a solid showing at the Charleston Classic and then earned a nice victory at home on Wednesday night against Big 5 rival Saint Joseph's. If you haven't seen Will Cummings this year, you're missing out on one of the most improved players in college basketball. The 6-2 point guard is averaging 17.9 points, 4.6 assists, and 3.3 rebounds per game and has clearly separated himself as Temple's best all-around player. Cummings only averaged 5.8 points per game last year as a sophomore and now needs the rest of his supporting cast -- Anthony Lee, Daniel Dingle, Quenton DeCosey -- to reach the level of consistency he's achieved. The Owls play Texas Saturday at the Wells Fargo Center.
4. No freshman is as important to their team as Tyler Ennis is to Syracuse.
Now, Kentucky doesn't have another Julius Randle, Kansas doesn't have another Andrew Wiggins, and Duke doesn't have another Jabari Parker, but those programs still have enough talent on their roster to still win games by tweaking things according to the rest of their personnel. That's not the case with Ennis and Syracuse. The 6-2 point guard has been flawless recently for the Orange and is by far their most indispensable player. Syracuse has two big-time pieces in C.J. Fair and Jerami Grant, but Ennis is the only true floor general on Jim Boeheim's roster. In Syracuse's last four games, Ennis only committed three turnovers and is averaging 17.0 points, 6.5 assists, and 4.0 steals per contest. The big difference between Ennis and the other elite freshmen in the country is the Orange have no one else on their roster that can come remotely close to producing at the level he does for his position. As he goes, so will the Orange.
5. Florida's Casey Prather should be a model for college athletes everywhere.
It's refreshing to know somebody can actually still stick with the process because collegiate athletes no longer want to see things through. They transfer, make excuses, and refuse to look in the mirror. That's not the case with Prather. A role player throughout his first three seasons at Florida, Prather averaged just 6.2 points per game last year as a junior but has taken a massive leap this season as a senior. Through eight games, the 6-6 forward is leading the Gators in scoring 19.1 points per game and playing over 30 minutes per game. There was no magic trick done here. This is an example of a guy continuing to work hard and stay the course. Hopefully programs across the country will use Prather as an example for years to come. This guy didn't do anything special. He just never stopped working. In today's day and age, that's not as common as you think.
Five games I'll be watching this weekend...
1. Kentucky vs. Baylor (Dallas), Friday
Another week, another high profile game for the Wildcats. John Calipari told me last weekend he's never had a team at Kentucky like the group he has this season, given its collective inexperience. How will they handle playing in an 80,000-seat venue when they take on Baylor at AT&T Stadium (aka "JerryWorld") on Friday night in Dallas? TBD. Freshman guard Aaron Harrison has emerged for the Wildcats over the past few games on both sides of the ball and Kentucky will need both he and his brother Andrew to play up to their capabilities if they're going to beat a team as talented as Baylor. The Bears have a loaded front line with Cory Jefferson and Isaiah Austin along with two veteran guards in Brady Heslip and Gary Franklin. Scott Drew's team won't be short on talent, but they also won't have a player like Wildcatsfreshman Julius Randle. If the walking double-double can assert himself against Baylor's front court, he can do it against anybody.
2. UCLA at Missouri (CBS, Saturday 12:30 ET)
Are the Bruins legit? We'll know after they visit Columbia. Missouri has a hidden gem in Tulsa transfer Jordan Clarkson and he'll push UCLA on every possession defensively. Both of these teams are perimeter-oriented on offense and this game has the potential to be incredibly entertaining thanks to the bevy of talented scorers that are on both rosters. The combination of Clarkson, Jabari Brown, and Earnest Ross should provide a stern test for the Bruins' high scoring perimeter trio of Jordan Adams, Kyle Anderson, and freshman Zach LaVine.
3. Kansas at Colorado, Saturday
Will Boulder's altitude have an effect on the young Jayhawks? It's quite possible. Even though it is an exceptionally talented team, Kansas is still very much a work in progress. Colorado meanwhile is a team that's trying to cement itself as an elite program. The Buffaloes have gone to two straight NCAA Tournaments under Tad Boyle and in order to reach a third, they're going to have to settle in defensively. Colorado has more offense than they've had the past two seasons, but they're still not the same on defense since they lost Andre Roberson. This will be a good litmus test as to where they stack up against one of the more talented rosters in all of college basketball.
4. BYU vs. UMass (CBS Sports Network, Saturday 1:30 ET)
If you dig offense, this game is for you. The Cougars play every possession like they're going cross country skiing and are one of the more potent scoring teams in the country. BYU's backcourt of Matt Carlino (17.4 points, 5.4 rebournds, 5.3 assists per game) and Tyler Haws (23.6 points, 5.4 rebounds per game) deserves to be mentioned among the best in the sport and they'll have to be at their best against a UMass team that's been absolutely terrific to start the season. The Minutemen have the experience, explosiveness, and role allocation to win the Atlantic 10. A key player to watch in this game for UMass? Derrick Gordon. A pit bull defensively, Gordon's physicality on the perimeter will be beyond important if Derek Kellogg's team wants to slow down BYU's high-octane attack. There's also a good matchup in the middle between Cougars' freshman Eric Mika and the Minutemen's Cady Lalanne, whose playing like an All-Atlantic 10 first-team player (17.0 points, 11.4 rebounds, 2.7 blocks per game).
5. Oregon at Ole Miss, Sunday

This will be the Ducks' toughest game since their opener versus Georgetown in South Korea. Andy Kennedy's team has a veteran perimeter headlined by Marshall Henderson and enough capable role players to be a solid SEC squad that competes for an NCAA bid. Oregon is still finding itself even though it's undefeated (7-0) and still playing without Dominic Artis and Ben Carter, who have two games remaining on their early season suspension. As usual, Dana Altman has mixed and matched different lineups in hopes of putting his best players on the floor and while the Ducks don't have many traditional big men, they've identified two productive athletic front court players in junior college transfers Elgin Cook and Richard Amardi. Oregon is by far the more explosive team in this game. For Ole Miss to have a chance to earn a quality home win, they have to control the pace with their guards -- Jarvis Summers and Derrick Millinghaus -- and force the Ducks to grind rather than sprint.
Junior point guard was the subject of a Title IX investigation launched by the school last...

Creighton AD Bruce Rasmussen answers questions about some of the committee's grouping metr...

Guy, the leading scorer for the No. 1 Cavaliers, had a big weekend even though UVA didn't...
The stigma of being the first men's Division I team to vacate a title will be difficult to...

The Quicken Loans Confidence Builder focuses on Syracuse, Butler and Florida

Rhode Island can clinch a share of the A-10 regular season title with a win on Tuesday