Observations: Rebuilding guru Ben Howland a perfect fit for Oregon St.
Ben Howland is itching to get back into coaching. And based on his experience rebuilding programs, he'd be perfect for Oregon State.
• 8 min read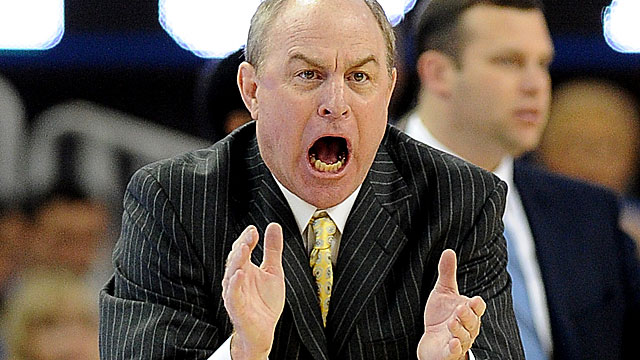 1. Ben Howland needs Oregon State and Oregon State needs Ben Howland.
Let's face it, Howland isn't happy unless he's heading to a gym every day. The former UCLA coach who took the Bruins to three consecutive Final Fours from 2006-08 has no interest in developing a second career in the media. He wants to coach. He wants to be around players. He wants another chance to build a program at the BCS level. Howland was in the mix at Marquette before the Golden Eagles hired Steve Wojciechowski and after both Missouri and Tennessee opted to go in different directions, it looked like Howland was going to have to sit out of coaching for a second consecutive season. But when Oregon State opted to terminate Craig Robinson on Monday, it presented an interesting dynamic for both Howland and the Beavers. Multiple sources have told CBSSports.com that Howland is the clear front runner for the vacancy in Corvallis and while he may have had initial reservations about taking over a rebuilding situation, the position with Oregon State does represent an opportunity to get back on the sidelines in a BCS conference at a school that's located on the West Coast. With the wide open landscape in the Pac-12 right now behind Arizona, the situation at Oregon State might not be as arduous for Howland compared to other people because he's already had experience rebuilding programs at both Northern Arizona and Pitt. This is the type of opportunity that Howland needs and wants. For Oregon State, this provides the school a chance to make the type of impact hire that would bring national attention to Corvallis. Think about this for a second. If the Beavers hire Howland, they will be the only program in the Pac-12 to have a coach that's taken a team to the Final Four. Kinda crazy, right?
2. Romelo Trimble may be the most important freshman in the country next season.
By no means am I saying that Trimble will be the best first-year player in America in 14-15, but I'm not sure if there's a freshman that will have a more important role for his respective team considering the circumstances. With Seth Allen's decision to leave Maryland last week and transfer, Trimble now all of a sudden becomes the only option for Mark Turgeon at point guard heading into next season. The 6-2 Trimble was expected to have an immediate impact for the Terps but now he's going to be counted on to produce and produce regularly for Maryland at the most important position on the floor. The Terps looked like a legitimate Top 25-30 team on paper with Allen but his departure now completely shifts focus onto Trimble. This is trial by fire for a player who will now be forced to lead Maryland into the Big Ten in a year in which the Terps aim to return to the NCAA Tournament for the first time since Gary Williams' second to last season in 2010.
3. LSU's back court could have a much different look in 14-15.
And that could be the difference in whether or not the Tigers will reach in the NCAA Tournament next March. JUCO transfer Josh Gray should be an immediate contributor at point guard and already has a year of Division One experience under his belt since he started his career at Texas Tech during the 2012-13 season (9.3 points, 3.2 assists). Meanwhile, UNC-Asheville transfer Keith Hornsby has good size at 6-4 and will be a fourth-year junior after sitting out last season. Hornsby averaged 15.0 points, 4.2 rebounds, and 3.1 assists two years ago while shooting 37.9% from three-point range. Those two give Johnny Jones an extremely seasoned look on the perimeter and should give LSU a little bit more offensive firepower out of the back court than it's had the past few seasons. Both Gray and Hornsby along with sophomore forwards Jarell Martin and Jordan Mickey and 6-11 freshman Elbert Robinson give the Tigers a strong nucleus heading into next season with quality role players like Anthony Hickey, Tim Quarterman, and Malik Morgan ready to embrace their places in reserve. The SEC is wide open after Kentucky and Florida and LSU figures to be at the top of the next tier of teams that's ready to challenge for a place in the upper part of the conference standings.
4. The Gavitt Tipoff Games will raise the entire profile of the Big East.
The league needed an event like this to elevate its status in the non-conference portion of the schedule and the Gavitt Tipoff Games should provide the Big East with the type of early season forum it desperately needs to make national statements on a regular basis. Starting in the 15-16 season, the Big East and the Big Ten will begin a yearly event that will feature four games between the two conferences played on college campuses during the first week of the season. Several Big East programs would have had an extremely difficult time getting home and home series' with high-level schools in the Big Ten and this event now provides an avenue for the Big East to establish itself early in each season. The new version of the Big East struggled last year to be a true factor nationally as a league and one of the biggest reasons why was because the conference didn't perform at the highest level in November and December. That directly affected the type of games bubble teams were getting during conference play in February and early March. If you're not building an NCAA resume with quality wins in November and December, it makes it that much harder to move the needle when you're a team fighting for a bid during the heart of your conference schedule. The Gavitt Tipoff Games should now give all Big East teams involved a game against a quality opponent that can turn into a resume type of win for the entire season.
5. Division One Athletic Directors are getting more comfortable hiring head coaches who come from lower levels.
The University of Maine hired a Division III head coach to fill its vacancy this week in Rhode Island College's Bob Walsh and Missouri hired a Division II coach a few weeks ago in Central Missouri's Kim Anderson. Why are more and more administrators doing this at all levels of Division One? It's real simple. Basketball is not a complex game. If you can coach, you can coach. Everyone needs great players and a capable staff to win, but the game in between the lines doesn't change much when you switch levels and that's just what history has proven when you look at coaches who have come to the highest levels of college basketball from lower ranks. Wisconsin's Bo Ryan spent 15 seasons at Division III Wisconsin-Platteville and then spent two years at Milwaukee before landing his current post in Madison. Iona's Tim Cluess was 98-23 in four years at Division II C.W. Post (now LIU Post) before being hired by the Gaels in 2010 and since his arrival in New Rochelle, Iona has been to the NCAA Tournament twice and has an overall record of 92-45. If you can coach, you can coach. Period.
This and That:
-- Kentucky will have a a minimum of five high-level games in its non-conference schedule next season. The Wildcats host North Carolina and Providence at Rupp Arena, travel to Louisville, face Kansas in the Champions Classic in Indianapolis on 11/18, and also take on UCLA in the inaugural CBS Sports Classic on 12/20 in Chicago.
-- Washington's Jernard Jarreau has gained 20 pounds and is now a legitimate 6-10, 240. The bouncy big man missed all of last season with an ACL injury but should be the Huskies' starting power forward in 14-15. The combination of Jarreau and Fresno State transfer Robert Upshaw will give Lorenzo Romar's squad a new look on the baseline next season since neither player played last year. The 6-11 Upshaw sat out last season but averaged 4.1 points and 3.8 rebounds two years ago for Fresno State and was a highly touted prospect coming out of high school. Washington finished 17-15 last season and posted a 9-9 mark in the Pac-12.
-- Creighton and Oklahoma will begin a home and home series next season in Omaha, sources told CBSSports.com. The Bluejays will return the game in Norman during the 2015-16 season.
-- Rhode Island will receive a major boost if 6-10 big man Jordan Hare returns to the program this summer as expected. Hare took a leave of absence from the Rams last October and never returned despite being one of the team's best players when Dan Hurley's squad went to Italy last summer. Hare averaged 5.2 points, 4.0 rebounds, and 1.8 blocks in 19.6 minutes two years ago as a freshman. Rhode Island is also very much in the mix for former Oklahoma State commit Jared Terrell. The 6-3 Terrell is ranked in the Top 75 in most national recruiting services and will either play next season for the Rams or Boston College. Rhode Island went 14-18 last season but return two of the Atlantic 10's best young players in E.C. Matthews and Hassan Martin.
-- Newly minted Tennessee coach Donnie Tyndall made some major noise on the recruiting trail earlier this week when the Vols received a commitment from former Top 50 recruit Detrick Mostella. The 6-3 guard should be an immediate factor for Tennessee and pair with red shirt freshman Robert Hubbs and veteran Josh Richardson to give Tyndall a strong triumvirate of wings for next season. Tennessee likely won't be an NCAA caliber team next season, but the late additions of Mostella, JUCO transfer Kevin Punter, and 6-7 forward Jabari McGhee should help give Tyndall the type of length and quickness he needs to make this team an absolute nuisance to play on a nightly basis.
The Wildcats have had a dramatic season off the court; without Trier, their Final Four chances...

Porter Jr. is a projected top 10 pick but has played just two minutes all season

Our advanced computer model simulated Friday's IUPUI vs. Wright State game 10,000 times
Dawn Staley was accused of promoting an atmosphere that induced racial slurs toward Mizzou...

KU can clinch at least a share of its 14th straight Big 12 title with a win Saturday over Texas...

Larry Hartstein is a perfect 5-0 picking for or against the Utes and locked in a play for...