Observations: Several Big 12 teams could make deep run
Kansas might be the conference's lone Final Four contender, but the Big 12 could potentially have seven teams in the Big Dance. Also Cincinnati's Sean Kilpatrick is deserving of first-team All-American consideration.
• 7 min read
Check below for five observations from this week in college hoops, and five games I'll be watching this weekend...
Five observations from the week ...
1. Sean Kilpatrick is playing like a first-team All-American.
And that was never more apparent than Thursday night when Cincinnati played UConn. Operating with the focus of a surgeon, the fifth-year senior had arguably his best game of the season and scored 26 points, grabbed 12 rebounds, and handed out six assists in the Bearcats' 63-58 win. If Iowa State's DeAndre Kane and Oklahoma State's Marcus Smart are being regularly talked about as first-team All-American candidates, then Kilpatrick deserves to join the conversation. His statistical production (19.4 points, 4.2 rebounds, 1.5 steals) is comparable to those two players but importantly, he's playing on a team that's 22-2 and in sole possession of first place in its respective conference.
2. The Big 12 will have several teams playing deep into the NCAA Tournament.
It remains to be seen whether or not anyone in this league can join Kansas as a legitimate contender for the Final Four, but the Big 12 itself could have several teams playing during the second weekend of the field of 68. This conference has a chance to have seven potential programs in the NCAA Tournament, and the level of competitiveness that the league has exuded this season should prove valuable when teams from the Big 12 play the rest of the country in March. Another interesting note about this conference? Six of the 10 coaches in the league have coached in the Final Four.
3. The NCAA Tournament has a legitimate chance to have something it hasn't had since 1991.
And that's a team in the bracket with an undefeated record. Wichita State is 24-0 after Wednesday night's win at Indiana State and while the Shockers don't hold the same cachet as UNLV did 23 years ago, it would still add a major element to the greatest spectacle in sports to have a team enter the field of 68 without a loss. Gregg Marshall's team still has seven more conference games and the Missouri Valley tournament to get through, but this team has certain factors that make it seem like heading into the bracket undefeated is a more than realistic possibility. The Shockers' hardest potential road game was against the Sycamores on Wednesday night in Terre Haute and they escaped with a win.
It's not like Wichita State needs to learn what it's like to deal with attention because they've been getting it as a program since last March when they were a few possessions away from playing for a national title. Another thing to remember? The Shockers' perimeter trio of Fred VanVleet, Tekele Cotton, and Ron Baker is formidable enough to make an impact in any league in America. No one in the MVC will have a backcourt that can come close to matching up with that triumvirate in regards to decision making, perimeter defense, or overall toughness. College basketball is and always will be a guard-oriented game. That's the biggest reason why Wichita State has a real chance to give us what we haven't had since 1990-91 -- a team announced for the field on Selection Sunday that owns a perfect record.
4. Melvin Ejim may be the least appreciated "18 and 8" guy in college basketball history.
Eighteen points and eight rebounds. The same thing Jim Boeheim used to pencil in for Derrick Coleman when he played at Syracuse. That's what Iowa State is getting on a nightly basis from Ejim (18.3 PPG, 8.1 RPG). Yet, when people talk about the best players in the Big 12, they rarely mention the versatile 6-6 forward. It's no longer an oversight. It's a flat out insult. Ejim has been a major part of the Cyclones' success over the past few years under Fred Hoiberg and will be the first Iowa State player in a long time that's played in three consecutive NCAA Tournaments. Skilled, athletic, and incredibly tough, the Toronto native is also shooting 50 percent from the field and 36 percent from deep. Underrated? Not anymore. Underappreciated? Absolutely.
5. Kevin Stallings is quietly coaching his tail off at Vanderbilt.
One of the sport's elite tacticians is doing one of his best coaching jobs despite having resources that are beyond limited. The Dores looked like an NCAA Tournament team during the offseason but have since lost 80 percent of their expected starting lineup. The anticipated starting perimeter -- Kedren Johnson (suspended for season), Eric McClellan (dismissed), and Kevin Bright (signed professionally in Germany) -- is no longer with the team and Vandy's starting center Josh Henderson was lost last month with an ACL tear. Nevertheless, Stallings continues to do more with less and has Vanderbilt at 13-8 overall with an impressive 5-4 mark in SEC play. Ask yourself this question: how many coaches in America could lose 80 percent of their anticipated starting lineup and still be above sea level?
Five games I'll be watching this weekend
Michigan at Iowa (Saturday, 2 ET)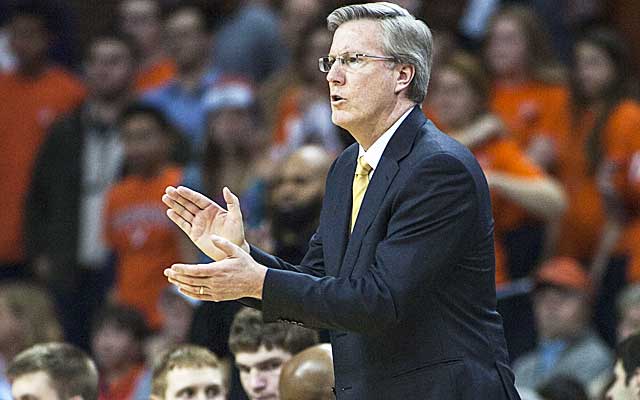 This is the perfect opportunity for the Hawkeyes to get their mojo back. Iowa has lost back-to-back home games to Michigan State and Ohio State and needs to get back to the offensive form it was showing early in the season. Expect this game to feature brilliant offense, a heightened number of possessions, and several high-octane plays. Both of these squads have the ability to play into the second weekend of the NCAA Tournament, and both are at their best when they're attacking in transition. I've said all year long that Fran McCaffery's team is capable of beating anyone in the Big Ten. We'll see if the Hawkeyes can do against the Wolverines what they couldn't against the Spartans and the Buckeyes.
West Virginia at Kansas (Saturday, 4 ET)
Are the Mountaineers back? Maybe not as we knew them a few seasons ago but they're certainly on their way back to being nationally relevant. Bob Huggins has West Virginia back in the mix at the top of the Big 12 after Wednesday night's overtime win over Oklahoma and will now lead his team into Phog Allen Fieldhouse to play a Kansas team that's going to be one of the favorites to win the national title in March. Keep an eye on the point guard matchup in this game between the Mountaineers' Juwan Staten and the Jayhawks' Naadir Tharpe. Both are playing at an extremely high level and both are critical to their team's short and long term success.
Saint Louis at La Salle (Saturday, 5 ET)
Any chance you have to watch the Billikens play is an opportunity to take notes on what it takes to dominate opponents with regularity. Saint Louis is off to a 21-2 start this season and is undefeated in Atlantic 10 play thanks to a perfect blend of toughness, experience, and selflessness. No one on the Billikens' roster cares who scores the ball or gets any credit as long as this team continues to win. La Salle meanwhile, is at a bit of a crossroads. The Explorers didn't compete like they're capable of competing in a loss at UMass on Wednesday night and need to start building momentum if they hope to be a postseason team for a third consecutive year.
Gonzaga at Memphis (Saturday, 9 ET)
What a difference a year makes. At this time a year ago when the Tigers were playing in Conference USA, a game against an opponent like the Bulldogs would present a rare opportunity for Memphis to get a quality resume win. That's not the case anymore since Josh Pastner's squad is now in the American Athletic Conference. Nevertheless, Gonzaga presents a major opportunity for Memphis. Mark Few's team hasn't received the national attention it had last season, but the Bulldogs are still an NCAA Tournament team that has three proud veterans in Kevin Pangos, Gary Bell, and Sam Dower. Expect Pastner to use versatile fifth-year senior David Pellom on Dower, a crafty 6-9 lefty, that's done more with expanded minutes (14.6 points, 6.5 rebounds per game).
Creighton at St. John's (Sunday, 7 ET)
The Red Storm are all of a sudden on a roll and have won five of their last six games heading into this showdown with the Bluejays. Creighton has all the requisites to play deep into the NCAA Tournament, but was severely tested when it hosted St. John's a last week ago in Omaha. St. John's got off to an 0-5 start in Big East play but has recently resembled the team many thought it would be at the start of the season. Steve Lavin's squad can make a major statement with a win against one of the best offensive teams in college basketball.
Our advanced computer model simulated Saturday's Arizona-Stanford game 10,000 times

'If you want it, you're world champs,' A-Rod told the Spartans, which isn't exactly correc...

The players have the right to appeal the decision within three business days
Young is coming off his worst game as a Sooner and will try and bounce back vs. the Cowboy...

The Wildcats face a surging Stanford team that has risen as a potential Pac-12 contender

The reeling Mountaineers look to get back on track against Texas at home