Observations: SMU's Nic Moore is player of year candidate in American
The departure of so much top talent might be causing some to forget about SMU point guard Nic Moore, who should have a breakout season. Also, Bruce Pearl can finally talk to recruits at Auburn.
• 7 min read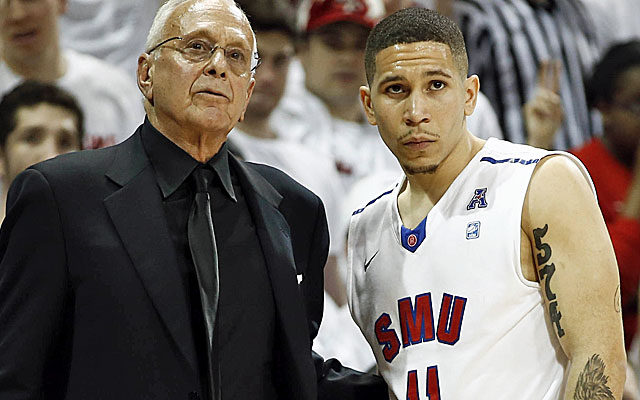 1. Nic Moore is a forgotten player nationally
The American Conference boasted three perimeter oriented All-Americans last year --- Shabazz Napier, Russ Smith, Sean Kilpatrick --- and that trio may be the reason why so many people have forgotten about Moore heading into next season. The hype surrounding SMU heading into this fall was strictly centered on incoming freshman point guard Emmanuel Mudiay, but his decision to play professionally in China along with the departures of Napier, Smith, and Kilpatrick could bring Moore to the forefront nationally.
The former Illinois State floor general averaged 13.6 points, 4.9 assists, and 2.5 steals while shooting 43.6 percent from 3-point range last year for a Mustangs team that won 27 games and lost in the finals of the Postseason NIT. SMU is still a Top 20 caliber team without Mudiay, and Moore is a big reason why. The 5-9 point guard is the "gas" in the Mustangs' engine and having two full years under Larry Brown can only enhance Moore's command of SMU's system and infrastructure. Experience matters in college basketball and this fourth-year junior seems primed to be a potential American Player of the Year candidate along with UConn's Ryan Boatright.
2. Oregon has quietly put together a solid 2014 class
And that's pretty amazing considering what the Ducks have had to deal with since the end of last season. Three of Oregon's best players --- Brandon Austin, Damyean Dotson, and Dominic Artis --- were accused of sexual assault and then dismissed from the university, putting a dark cloud over Dana Altman's program that made Eugene feel like a toxic place for any player to go to school. Nevertheless, the Ducks have methodically assembled a quality incoming recruiting class led by talented lead guard JaQuan Lyle (Huntington Prep) and JUCO big man Michael Chandler (Northwest Florida State), both of whom were committed to the school before the incident with Austin, Dotson, and Artis.
In addition to those players, Oregon added another quality floor general late in Washington native Ahmaad Rorie along with small forward Dillon Brooks. The 6-7 Brooks was originally slated to be a member of the Class of 2015 but re-classified and will instead play for the Ducks next season where he will likely compete for the starting small forward spot with JUCO transfer Dwayne Benjamin.
That's five quality players that will join a returning nucleus of forward Elgin Cook (6.7 points, 3.7 rebounds in 13-14) and Pac-12 Player of the Year candidate Joseph Young (18.9 points). Oregon doesn't have nearly the firepower it did when it boasted Austin, Dotson, and Artis, but now Altman and the Ducks have may have something next season that didn't seem possible a few months ago --- a legitimate chance to compete and be a factor in the Pac-12.
The conference pecking order is clearly Arizona and then everyone else and the combination of Lyle and Young will give Oregon two high-level scoring threats on the perimeter. Altman has always been a master at mixing and matching different lineups until he gets the right formula. While he may not have the depth or talent he anticipated heading into next season, the Ducks' late efforts on the recruiting trail give them a better chance of being successful next season.
3. Nobody knows what to expect from Arizona State
The Sun Devils lost their three top scorers from last season in Jahii Carson, Jermaine Marshall, and Jordan Bachynski while adding a slew of JUCO transfers that Herb Sendek hopes will have an immediate impact. Arizona State returns a handful of capable role players in Shaquille McKissic (9.0 points, 5.4 rebounds), Jonathan Gilling (66 made 3-point shots), Bo Barnes (4.5 points), and Eric Jacobsen (2.4 points, 2.3 rebounds), but it's pretty clear that the newcomers are going to dictate what this program does next season. The Sun Devils added a pair of 6-4 guards in Gerry Blakes (San Bernardino Valley College) and Roosevelt Scott (Indian Hills Community College) along with two JUCO front court pieces in former UNLV forward Savon Goodman and 6-7 big man Willie Atwood (Connors State College).
No one knows exactly how these different parts are going to fit together but it's pretty clear based on length and personnel that Sendek is going to have one of the longest and most athletic teams of his coaching career. Known for playing a slow and methodical style while at NC State and during his early years in Tempe, Sendek could very well press and trap with regularity next season while showcasing a versatile lineup that could feature five players on the floor between 6-4 and 6-7. How will that translate in the won-loss column? TBD.
4. The revolving door at Vanderbilt has to stop
It's hard to believe that just a few years ago that the Commodores were the SEC's third best program behind Kentucky and Florida. Vanderbilt looked like an NCAA caliber team just before last season but has since lost five separate key players for various reasons. Kevin Bright was the first to depart last summer when he opted to play professional basketball in Germany and Sheldon Jeter followed when he transferred to Pitt. In addition to those two players, Eric McClellan (now at Gonzaga) and most recently Kedren Johnson (transferred to Memphis) and Dai-Jon Parker (transferred to Division II Indianapolis) have all been dismissed from Kevin Stallings' program. What does that mean for Vandy?
They will enter the season with a slew of first-year players --- Shelton Mitchell, Riley LaChance, Wade Baldwin, Jeff Roberson, Matthew Fisher-Davis --- set to inherit every single minute played at each perimeter position on the floor. Stallings is as good an X and O coach as there is in college basketball but if Vanderbilt hopes to again be a contender at the top of the SEC, it can't endure the roster turnover it has over the past year. The Commodores lost five rotation players in that time and even though the SEC isn't one of the elite power conferences in college basketball, it's still difficult to win big in any league when a team is playing predominantly freshmen and sophomores.  
5. Bruce Pearl's show cause expires Saturday at midnight
And that's a good thing for both Auburn and the SEC. The Tigers' first-year head coach has invigorated the Alabama school since his hiring last spring but he still hasn't been able to talk directly with recruits and that will change starting this weekend when his show cause penalty with the NCAA expires.
The SEC needs a third program to emerge alongside Kentucky and Florida and Pearl's presence at Auburn could put the Tigers over the top. The former Tennessee head coach took the Volunteers to six NCAA Tournaments during his six-year stint in Knoxville and the emergence of this program is critical for the conference's future. Other than the blue bloods that exist in Lexington and Gainesville, the rest of the SEC has turned into a major crap shoot. Despite the fact that Pearl couldn't talk to recruits since his arrival at Auburn, the Tigers' staff has recruited well landing three potential starters in immediately eligible transfers Antoine Mason (Niagara) and K.C. Ross-Miller (New Mexico State) along with JUCO big man Cinmeon Bowers.
This and That
• Maryland will begin a home and home series next season with Oklahoma State starting in Stillwater, sources told CBSSports.com. There will be a return game in College Park in 2016.
• Minnesota's Carlos Morris has gained 21 pounds since arriving on campus, per Richard Pitino. The 6-5 JUCO transfer will replace Austin Hollins in the Gophers' starting lineup and could be the difference in whether or not this team follows up last season's Postseason NIT title with a berth in the NCAA Tournament.
• UNLV transfer Deville Smith committed to Tennessee-Martin this week. The 6-foot guard averaged 9.7 points and 4.7 assists last season for the Runnin' Rebels and will file a waiver with the NCAA in hopes of being immediately eligible to play during 14-15.
• An under-the-radar observation from watching Kentucky during six exhibition games in the Bahamas? Sophomore big man Marcus Lee can guard all five positions defensively. The 6-9 Lee is like a pogo stick on both sides of the ball and an exceptional athlete with extremely quick feet. The California native is just one of many options that John Calipari possesses in Kentucky's front court.
• St. John's has two dangerous games prior to conference play in the Big East. The Red Storm host Saint Mary's (12/19) and then Long Beach State (12/22) during a four-day stretch at Carnesecca Arena. The Gaels and 49ers are two well-coached, disciplined teams that should be the upper echelon of both the WCC and Big West.
Temple could be a big problem for undefeated Villanova, the No. 1 team in the Top 25 (and...

It appears he's more than happy to pay up, given the circumstances

Lithuania seems ready for the Ball era to begin
The Sun Devils make a big jump and the Jayhawks slide after ASU pulls the big upset

Arizona's big man from the Bahamas balled out against two talented teams

Coach Shaka Smart doesn't expect him to be out for an extended period of time