Observations: Temple reportedly digs up past to preserve future
Fran Dunphy's upgrading Temple talent by tapping into its past, the Big Ten is tighter than a drum (after Wisconsin) and New Mexico is doing offseason work.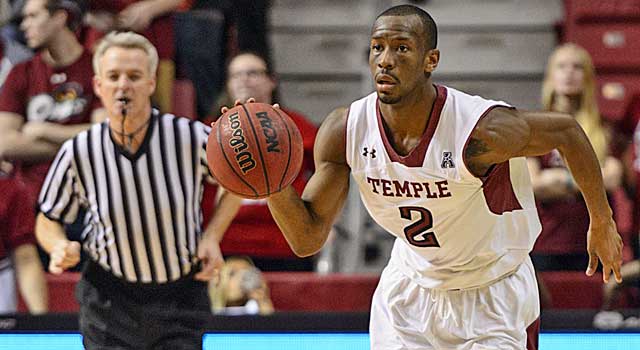 More college hoops: Coaching changes | Early Top 25 (and One)
1. Temple Owls using past to preserve future: Players win games in college basketball, and Temple coach Fran Dunphy is more than aware of it. The Owls stepped up a weight class last season to the American Athletic Conference from the Atlantic 10, and to compete with programs like SMU, UConn, Cincinnati, and Memphis, Temple must increase its talent level. It appears the Owls are ready to do just that. According to a Philadelphia Inquirer report, Dunphy will hire former NBA and Owls point guard Rick Brunson as an assistant. The kicker: Brunson's son Jalen is arguably the top point guard in the Class of 2015 and a consensus top 25 player nationally. Hiring the elder Brunson could help ensure Temple has a replacement for senior floor general Will Cummings (16.8 points, 4.8 assists last season) a year from now at the most important position on the floor. The younger Brunson would be good enough to start for the Owls immediately and would give Temple another strong piece to go with Quenton DeCosey, Daniel Dingle, Texas transfer Jaylen Bond and incoming freshman power forward Obi Enechionyia.
2. VCU Rams freshman Terry Larrier is good enough to play anywhere: Shaka Smart beat out the likes of UConn and Marquette for the 6-foot-7 forward. When you watch him play, it's easy to see why Larrier was so highly sought. Skilled, smooth and athletic, this New York native is tailor-made for the Rams' style, will excel at both forward spots and is evidence that the Rams are landing higher-profile recruits. Shooting guard Melvin Johnson was a top-100 level recruit two years ago and Larrier is a consensus Top 50 player who could have a major impact at just about any program. Smart may not immediately start his star freshman, but it's going to be tough to keep Larrier off the floor once VCU hits A-10 play.
3. The middle of the Big Ten is as close I've ever seen: Wisconsin Badgers is the clear Big Ten favorite, but the race is wide open after the Badgers. Based on history, Ohio State Buckeyes , Michigan State Spartans and Michigan Wolverines would be the next teams to watch but that may not hold true next season. Thad Matta's squad should be deeper and have more scoring than last season, but the Buckeyes must replace point man Aaron Craft -- and the Spartans and Wolverines are entering new phases. After that, Nebraska Cornhuskers and Iowa Hawkeyes return NCAA-caliber rosters, as does Minnesota Golden Gophers after last year's Postseason NIT championship. Illinois Fighting Illini is a sleeper, thanks to the addition of transfers Aaron Cosby (Seton Hall) and Ahmad Starks (Oregon State). Indiana Hoosiers , Maryland Terrapins , Purdue Boilermakers , Northwestern Wildcats , Penn State Nittany Lions and Rutgers Scarlet Knights have enough talent to beat anyone on their home floor. There is minimal separation after Wisconsin.
4. New Mexico Lobos offseason has been quietly productive: Craig Neal lost three players who attended the Chicago pre-draft camp: Kendall Williams, Cameron Bairstow and Alex Kirk. But the Lobos have methodically rebuilt their roster. New Mexico landed a commitment from JUCO wing Jordan Goodman (18.1 PPG last season) and two transfers who will sit out next season, Elijah Brown (Butler) and Tim Williams (Samford). The 6-8 Goodman should immediately bolster scoring, while Brown and Williams should be integral pieces in New Mexico's 2015-16 rotation. The 6-4 Brown averaged 6.8 points last season as a freshman while Williams is a BCS level talent at power forward who averaged 17.6 points and 7.3 rebounds last year as a sophomore. The Lobos responded to significant losses with a nice foundation heading into next year and beyond.
5. This is the perfect summer for Memphis Tigers to tour Canada: The Tigers are in transition after graduating four guards and added practice time should benefit Josh Pastner's team for next season. Memphis is still talented, but the lack of experience at point guard needs to start to be sorted out during the Tigers' trip to Canada. Redshirt freshman Rashawn "Pookie" Powell is likely to get first crack as the starting floor general and he'll be challenged by freshman Dominic Magee. While Memphis has serious backcourt questions, the Tigers are loaded everywhere else. Former Top 100 recruits Kuran Iverson and Nick King (4.9 points, 3.3 rebounds in 2013-14) are likely to start next season on the wings, and Memphis returns arguably the AAC's best power forward-center combo in Austin Nichols (9.3 points, 4.3 rebounds last season) and Shaq Goodwin (11.5 points, 6.5 rebounds).
This and that
• Rhode Island Rams starts a home and home series with Nebraska this November in Kingston. There will be a return game in Lincoln during the 2015-16 season.
• Providence Friars transfer Josh Fortune visited LSU Tigers , his mother said. Fortune also is considering Colorado Buffaloes , Dayton Flyers , and Valparaiso Crusaders . The 6-5 guard averaged 8.4 points last season and has two years of remaining eligibility.
• Kansas Jayhawks transfer Andrew White said he visited Nebraska, but hasn't cut his list of potential suitors. The 6-6 wing was a top 50 recruit out of high school and will have two years of remaining eligibility.
• Match ups are set for the Coaches vs. Cancer Classic on Nov. 21 at the Barclays Center in Brooklyn. Stanford Cardinal will take on UNLV Rebels at 7 p.m. and Duke Blue Devils faces Temple immediately afterward with the winners and losers squaring off the very next day.
• Wake Forest Demon Deacons transfer Tyler Cavanaugh visited George Washington Colonials this past week and is also considering Butler Bulldogs and Dayton. The 6-9 forward averaged 8.8 points and 3.8 rebounds last season and has two years of remaining eligibility.
It's difficult to imagine an athletic director giving the Hall of Famer another chance

The recruiting scandal has cost Rick Pitino his job as coach of the Cardinals

Pitino's lawyer fought for his client's job Monday
These teams who have the potential to pull some upsets should they make it to the Big Danc...

Gary Parrish and Matt Norlander explain how and why UNC escaped penalty

J'Raan Brooks, a top-100 player, says he's reassessing his options