Observations: UK is nation's deepest team, but Arizona has best top five
Kentucky is loaded again, but Arizona's starting five is the best in the nation. Also, Myles Turner could make Texas a legit contender and Illinois is a Big Ten sleeper.
• 9 min read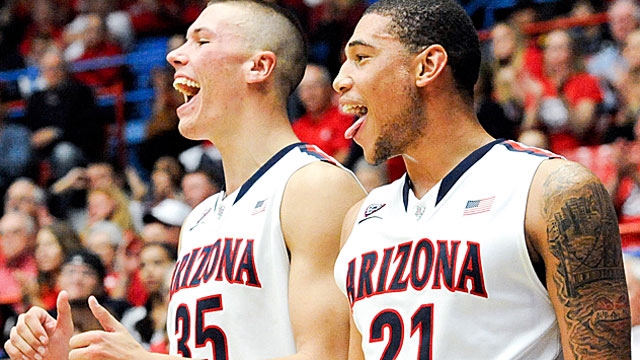 More: Preseason Top 25 (and one) | Top-five prospect Turner picks Texas
1. Kentucky is absolutely loaded headed into next season, but I'd take Arizona's starting five over any other first unit in college basketball.
 John Calipari's squad has talent on top of talent and depth on top of depth. Kentucky will have nine McDonald's All-Americans on its roster next season and the program that's been synonymous with dynamite freshmen over the past few years could very well start three sophomores next season --- Andrew Harrison, Aaron Harrison and Marcus Lee --- along with two juniors --- Alex Poythress and Willie Cauley-Stein. Calipari has always had talent but now the scary thing is next year he's going to have talent to go with experience.
With all that said I'd still take Arizona's starting five entering next season over any other first unit in America. Sean Miller's team has a fifth-year floor general in T.J. McConnell who has been through the gamut, along with a blue chip shooting guard in freshman Stanley Johnson who will be elite from day one on both sides of the ball. Arizona's front court is seasoned and talented as well. Six-foot-7 lefty Rondae Hollis-Jefferson is primed to take a major step forward as a sophomore and Brandon Ashley and Kaleb Tarczewski will form arguably the best power forward-center combination in the sport.
No one can compete with Kentucky's bench. Calipari will have four --- yes, four --- high level first-year players in reserve in Tyler Ulis, Devin Booker, Trey Lyles, and Karl Towns along with a valuable defensive specialist in Dominique Hawkins. There is no team in America that has depth like Kentucky, but as of right now there's not a team that looks like it's as complete as Arizona in terms of the first five players it will put on the floor to start a game. The hype surrounding Kentucky is warranted considering its talent, depth and experience, but people need to remember that this past year's edition in Lexington didn't click until the last month of the season. It's going to take this group a little bit of time to form their own identity post Julius Randle and James Young.
2. Texas is a legitimate top-10 team with the addition of Myles Turner.
Rick Barnes proved last season that he didn't forget how to coach. This week he proved he didn't forget how to recruit. The addition of the 7-foot Turner drastically changes the outlook for the Longhorns heading into next season. Texas now will have arguably the best front line in all of college basketball with Turner, 6-9 big man Cameron Ridley, and versatile forward Jonathan Holmes, who will now likely slide to the "three" with Turner's arrival. Texas also has two capable backups up front in pick-and-pop big man Connor Lammert and 6-foot-10 shot blocker Prince Ibeh, two post players who could start for most programs in America. With Isaiah Taylor back at point guard and Javan Felix and Demarcus Holland ready to assume veteran minutes at off guard, the Longhorns are in a legitimate position to challenge Kansas for a Big 12 title and again be a major factor nationally. 
3. The Big 12 could very well have four top-20 teams heading into next season
Kansas and Texas are now cemented as top-10 squads entering fall practice while Iowa State and Oklahoma aren't too far behind. Fred Hoiberg quietly believes that his team for the upcoming year might be the most complete squad he's had since he returned to his alma mater in 2010. The addition of UNLV transfer Bryce Dejean-Jones gives the Cyclones the type of X-factor they need at the offensive end of the floor. Oklahoma meanwhile returns four starters from a team that won 23 games last season and may have arguably the best perimeter in the conference in Jordan Woodard, Isaiah Cousins, and Buddy Hield. The 6-5 Hield emerged as an elite scorer last year (16.5 points) while Woodard did yeoman's work as a freshman point guard (10.3 points, 4.6 assists). The Sooners also return a walking double-double up front in rugged big man Ryan Spangler and add a potential impact power forward in freshman Dante Buford. The Big 12 was the best conference in college basketball last season and it wasn't even close. It says here that same trend should very well continue in 2014-15.
4. The door is open for Utah to make a major jump in the Pac-12
The Utes looked like a sure fire pick to finish in the top half of the league standings, but the early departures of UCLA's Jordan Adams and Colorado's Spencer Dinwiddie could push Larry Krystkowiak's squad into the top quarter of the Pac-12. Arizona is clearly the league favorite and both Oregon and Stanford have strong talent returning, but Utah is going to be a part of the conversation as well. Krystkowiak has two all-league caliber players back in versatile guard Delon Wright (15.5 points, 6.8 rebounds, 5.3 assists, 2.5 steals) and forward Jordan Loveridge (14.7 points, 7.3 rebounds) along with long-range specialist Brandon Taylor (64 made 3-point shots last season). The Utes are also high on red shirt freshman Kyle Kuzma -- a lanky 6-9 forward who can play multiple positions -- as well as first-year four man Brekkott Chapman. After 21 wins and a berth in the NIT last season, Utah should be in prime position to reach the field of 68 for the first time since 2009.
5. Illinois may very well be the sleeper team in the Big Ten
There were times last season where John Groce simply didn't have enough offense. That won't be a problem moving forward. After a year in which his team ranked 311th nationally in points per game (64.6), Groce will welcome in two transfers --- Aaron Cosby (Seton Hall) and Ahmad Starks (Oregon State) --- that should add some major scoring pop. The 6-3 Cosby averaged 12.6 points two years ago in the Big East and made 66 3-point shots while the diminutive Starks will give Illinois another floor general at 5-9 who can play next to Tracy Abrams in the back court. Kendrick Nunn and Malcolm Hill saw major increases in their minutes and production during the last month of their freshman seasons and both should be much more formidable as sophomores. Fifth-year senior Rayvonte Rice is back as this team's leading scorer (15.5 points) while 6-7 freshman Leron Black should add an element of nastiness at power forward that this program has been missing since Groce's arrival in 2012. Veteran big man Nnanna Egwu will anchor the middle as a senior and Western Michigan transfer Darius Paul will play both frontcourt spots at 6-8. Wisconsin is the clear alpha dog in the Big Ten and Ohio State looks like the primary challenger, but after that everything is up for grabs. With the transitional situations set to take place at Michigan, Michigan State, and Indiana, don't discount Illinois from being a major factor next season in the Big Ten.
 This and that:
 -- USC transfer Byron Wesley told CBSSports.com that will he visit Oklahoma State this weekend, Pitt next weekend (5/9-5/11), and Gonzaga the following weekend (5/16-5/18). The 6-5 Wesley averaged 17.8 points and 6.4 rebounds and will be eligible immediately after graduating in August.
-- New Mexico quietly added a major piece this week in junior college transfer Jordan Goodman. The 6-8 forward is a major offensive talent and was one of the top high school players in the country a few years ago. Goodman previously committed to both Georgetown and Rutgers before heading to Harcum College in Philadelphia and will be counted upon to be an immediate offensive factor for the Lobos. Goodman averaged 18.1 points and 6.6 rebounds last season in junior college and joins a returning New Mexico nucleus of Hugh Greenwood, Cullen Neal, and Deshawn Delaney.
-- 2014 shooting guard Elijah Stewart (Westchester High School, Los Angeles) will visit Cincinnati this weekend, sources told CBSSports.com. The 6-5 Stewart initially committed to Loyola Marymount but got out of his letter of intent after Max Good was fired. USC is also in the mix for Stewart, who is one of the top unsigned prospects left on the board in the Class of 2014.
-- Iowa State will host a pair of key transfers this weekend in Oregon State's Hallice Cooke and Boston College's Ryan Anderson. Cooke averaged 8.2 points last season and will have three years of eligibility remaining while Anderson will have just one year of eligibility remaining after sitting out in 14-15. The 6-8 forward averaged 14.3 points and 7.3 rebounds last season for the Eagles.
-- Xavier and Missouri have agreed to a home-and-home series beginning next season in Columbia. The Tigers will return the game during the 2015-16 season at the Cintas Center in Cincinnati.
-- Marshall transfer Kareem Canty will visit South Florida this weekend. The crafty point guard will visit Penn State next weekend and has already visited Auburn. Canty averaged 16.3 points and 5.5 assists last season and will have three years of eligibility remaining.
-- Maryland transfer Roddy Peters will visit West Virginia this weekend. The 6-3 point guard will have three years of eligibility remaining and was a consensus top-50 recruit coming out of high school. Peters averaged 4.1 points last season with the Terps. Virginia Tech is also in the mix for his services.
-- South Florida transfer John Egbunu visited Michigan State and Florida this past week and will visit Georgetown this weekend, sources told CBSSports.com. The 6-10, 245-pound center averaged 7.4 points, 6.2 rebounds, and 1.3 blocks this past season for the Bulls and will have three years of eligibility remaining. Arizona is also in the mix for Egbunu.
-- Villanova will enter the Big East next season beyond battle tested. The Wildcats have put together a vicious non-conference schedule featuring a game against Syracuse at the Wells Fargo Center, the Jimmy V Classic against Maryland at Madison Square Garden, and Big Five games against Saint Joseph's, La Salle, and Temple. Villanova will also play in the Legends Classic at the Barclays Center in November along with VCU, Michigan, and Oregon.
-- Looking for an under-the-radar mid-major heading into next season? Try Hofstra. Joe Mihalich's squad had three quality transfers sitting out last year in Juan'ya Green (16.5 points, 4.0 rebounds, 4.9 assists, 1.9 steals in 12-13), Ameen Tanksley (11.3 points, 6.0 rebounds in 12-13), and Brian Bernardi (41.8 percent from 3-point range in 12-13) who will all be immediate impact guys in the Colonial Athletic. Green and Tanksley played for Mihalich at Niagara and were both a part of a team that won the MAAC regular season title in 2012-13. Bernardi, meanwhile, is a long-range specialist who will have three years of eligibility remaining after transferring from SMU. That trio will join a nice returning core of sophomores Jamall Robinson and Chris Jenkins along with 6-7 big man Moussa Kone. With the personnel defections at both Towson and Delaware, don't be shocked if Hofstra is challenging for a CAA title in just Mihalich's second season in Hempstead.
Northern Colorado will be on probation through 2020 due to academic and recruiting violati...

You might not see a projected NCAA Tournament bracket quite like this one anytime soon

The Wildcats, once written off after a three game skid, appear poised to enter Pac-12 play...
The Ducks are riding a three game winning streak yet are slight underdogs against the Bulldogs...

The Hurricanes are one of only a handful of unbeaten teams left in college hoops

The Bearcats are fresh off a convincing win over previous unbeaten Mississippi State