Observations: UNC can still survive, thrive after losing McAdoo
James Michael McAdoo is leaving for the NBA, but North Carolina remains a top-five team for next season. And whichever teams gets transfer Chris Obekpa will get the best shot-blocker in the country.
• 3 min read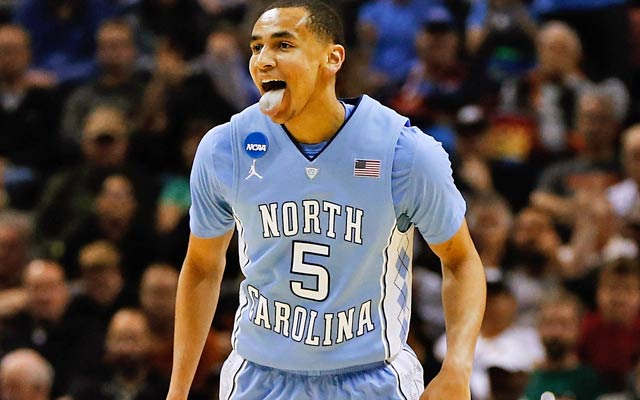 More: Obekpa leaving St. John's | UNC's McAdoo declares for NBA
1. James Michael-McAdoo is leaving North Carolina early for the NBA
 And the Tar Heels will still be a top-five team in my preseason rankings. North Carolina returns several talented pieces next year led by dynamite lead guard Marcus Paige, but Roy Williams' squad will also have several capable big men ready to fill for McAdoo in Brice Johnson, Isaiah Hicks, and Kennedy Meeks. The biggest reason to like the Tar Heels in 2014-15? They're finally getting some capable help on the wings. Incoming freshman small forward Justin Jackson wins 50-50 balls with regularity and Theo Pinson is another long, athletic player who should thrive in transition. In addition to Paige, North Carolina will also return sophomores Nate Britt and J.P. Tokoto on the perimeter. I will unveil my compete Top 25 for next season on CBS Sports Network following the national title game Monday night. 
 2. Chris Obekpa could wind up being the most sought after transfer on the market
 The best shot blocker in America got his release on Thursday from St. John's and he instantly became the hottest commodity on the market during college basketball's free agency process. The 6-foot-9 Obekpa played six minutes per game less this past season than he did as a freshman, mostly because the Red Storm had to also find time for Orlando Sanchez. Nevertheless, Obekpa still averaged 2.9 blocks in 20.1 minutes after averaging 4.0 blocks in 26 minutes as a freshman. With two years of eligibility remaining, Obekpa will single-handedly change the fortunes of whatever college program he next plays for because he can protect the rim better than any other player in the sport.
 3. The late signing period is now incredibly critical for St. John's
 The Red Storm have nobody signed for 2014 and have already lost Max Hooper (transfer), Obekpa (transfer), and JaKarr Sampson (NBA) since the end of the season. Steve Lavin now only has seven players on his roster heading into next season, and this next recruiting stretch in April and May could very well determine how competitive the Red Storm are able to be next season. St. John's had the most talented roster in the Big East last season but just missed the NCAA Tournament. In order even to be close to that same situation in 2015, Lavin needs to add several capable players over the next month-and-a-half. 
4. Boston College AD Brad Bates made an extremely bold hire with Ohio University's Jim Christian
 Is this the guy Bates really wanted to hire after he fired Steve Donahue? I'm not questioning Christian's ability to X and O. He did a terrific job at Kent State and won 49 games during the past two years at Ohio after he succeeded John Groce. But he hasn't come close to having the same type of success that Donahue did in the NCAA Tournament when he went to the Sweet 16 in 2010 with Cornell. Bates was never going to get Tommy Amaker to come across town from Harvard, and in hindsight that was probably the only hire that would have "moved the needle" with the Eagles. Christian is a good coach and a good guy, but he's jumping into a situation that's simultaneously the break of his career and a very risky move. This will be an interesting story to follow on Chestnut Hill.
 5. Jimmy Patsos has quietly done one heck of a job in his first year at Siena
 The Saints won eight games a season ago and Patsos has Siena at 19 victories heading into Saturday's CBI rubber match game with Fresno State (11:30 AM ET, CBS Sports Network). After taking over Loyola (Maryland) after it won one game in 2003, Patsos led the Greyhounds to the NCAA Tournament in 2012 and now has proven he's capable of turning around multiple collegiate programs after the job he's done this year at Siena. Look for the Saints to be one of the favorites in the MAAC next season with a strong returning core of point guard Marquis Wright, sharpshooter Rob Poole, and burgeoning glue guy Brett Bisping.
The Sun Devils started 12-0, but since then are 2-4 after Wednesday's loss to Washington S...

Andrew Jones is Texas' second leading scorer

Oklahoma's star freshman has a father who has been there and done that
Kentucky now is at risk of slipping out of the Top 25 (and one)

Cherry's commitment gives ASU a top-20 recruiting class and its highest rated pledge since...

Matt Norlander is on a 11-7 run in college basketball picks and shares his best bets for W...