Observations: Valentine helping carry Spartans
Jon Rothstein takes a look at Michigan State secret weapon Denzel Valentine, the up-for-grabs nature of Conference USA, and previews an intriguing weekend in Friday's observations.
• 6 min read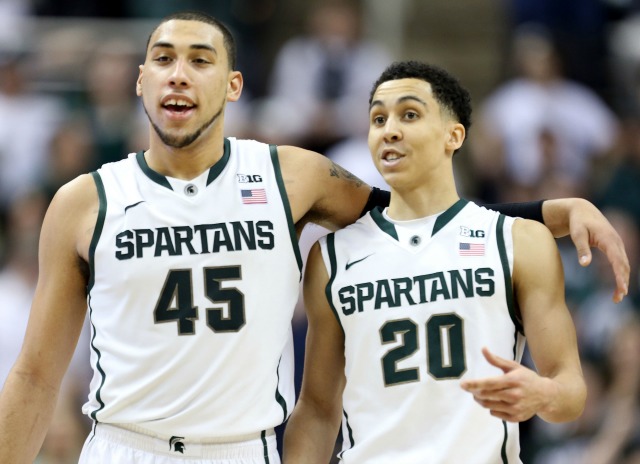 Check out below for five observations from the week in college basketball as well as five games I'll be watching this weekend ...
Five observations from the week ...
1. Denzel Valentine has turned into one heck of a player for Michigan State.
While much of the focus this season has been on the guys who aren't in the lineup for the Spartans, Valentine has remained healthy and developed into a steady utility player for Tom Izzo. The 6-foot-5 sophomore had 13 points, nine assists, and six rebounds in Thursday night's win over Iowa and has really developed into one of the better "glue guys" in college basketball. Valentine is currently averaging 8.3 points, 6.2 rebounds, and 4.0 assists.
2. Mike Moser is playing like a guy who knows he has a few weeks left in his college basketball career.
Oregon will take a six-game winning streak into Saturday's game in Eugene against Arizona, and Moser's recent dominance is a main reason why. The fifth-year senior has taken things to a different level over the past few weeks and is averaging 18.3 points and 11.3 rebounds during the Ducks' past six contests. Moser was dominant two years ago when he was at UNLV, but struggled last season and has revitalized his career this season at Oregon. Dana Altman's team is currently 21-8 overall and 9-8 in the Pac-12 heading into this weekend's huge matchup against the Wildcats.
3. Conference USA is still a mystery.
We all wondered what this league would look like once it lost Memphis. The truth of the matter is it's still one big question. Four teams -- Louisiana Tech, Southern Miss, Middle Tennessee and Tulsa -- all tied for the Conference USA regular-season title with a 13-3 league record. UTEP, which finished right behind those teams with a 12-4 league mark, hosts the conference tournament. Any one of five of these could wind up in the field of 68 and many of the league's coaches also feel that UAB is a very capable sleeper. It should be an interesting couple of days next week in El Paso.
4. Seton Hall could be a nuisance to play in the Big East tournament.
The Pirates are much better than their 15-15 record. Seton Hall has lost games this year at home to St. Peter's, Fairleigh Dickinson and Butler along with a road game at DePaul. That's four results the Pirates would like to have back, but this team has dealt with different people coming in and out of the lineup all season long due to injuries and various off the court issues. Kevin Willard suspended fifth-year seniors Brian Oliver and Eugene Teague for the Feb. 13 game against St. John's and Seton Hall wound up losing by a point. Willard then suspended starting point guard Sterling Gibbs for a game two weeks ago at Creighton and the Pirates again lost by a point. What am I getting at here? When Seton Hall is fully healthy and on the same page, it can beat any team in the Big East. The Pirates have swept both Xavier and Georgetown this season and will be an interesting team to watch next week at Madison Square Garden.
5. Dayton's win at Saint Louis on Wednesday night likely means the Atlantic 10 will have six teams in the NCAA Tournament.
There will be plenty of bubble teams sweating over the next nine days, but none of the them should be from the Atlantic 10. VCU, Saint Louis, UMass, Saint Joseph's, George Washington and Dayton all have strong enough résumés to warrant at-large bids to the field of 68. That's beyond remarkable considering what this conference lost. Xavier, Butler, Temple and Charlotte all left the Atlantic 10 after last season when the league got five teams in the NCAA Tournament. The mere thought of this conference getting six teams in the field of 68 is easily one of the most amazing stories we've seen this year in college basketball.
Five games I'll be watching this weekend ...
Kentucky at Florida (Saturday, noon ET, CBS)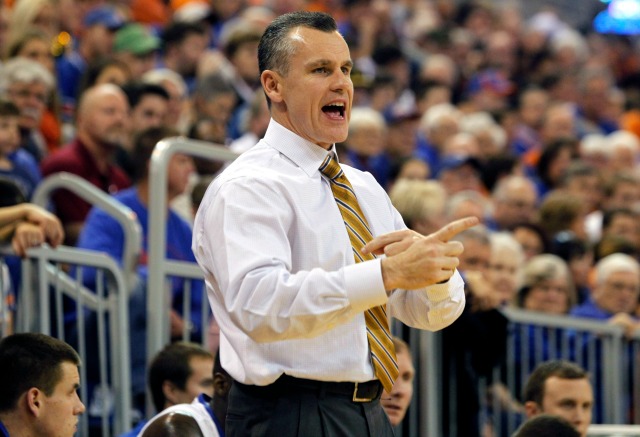 This is the classic case of two teams with two different mindsets. The Gators operate like a pro team with a professional approach. Kentucky? It's a group that seems to play to the ability of its competition and has yet to reach the level that many expected this season. Florida has yet to lose a game this year when it has had a fully healthy roster and will be one of the favorites to win the national title at the start of the NCAA Tournament. College basketball is a better sport when Kentucky has a chance to do damage in March and we'll all have a better idea if that is possible after we see how the Wildcats perform on the road in Gainesville.
Arizona at Oregon (Saturday, 4 p.m. ET, CBS)
These were supposed to be the two best teams in the Pac-12 at the start of the season. While the Wildcats have owned the top spot in the league standings for most of the year, Oregon has just recently started to regain palpable momentum after struggling for much of the season. Arizona has already won the Pac-12 regular-season title and likely clinched a top seed in the NCAA Tournament, but the Ducks could use a marquee win over a quality opponent to cement their place in the field of 68. If Oregon beats the Wildcats on Saturday in Eugene, it'll be awfully hard to see the Ducks left out of the bracket.
Providence at Creighton (Saturday, 8 p.m. ET, CBS Sports Network)
The Friars need to keep winning to make the NCAA Tournament and they'll hope to continue that trend against a Creighton team that's coming off back-to-back road losses at Xavier and Georgetown. This will be Doug McDermott's last home game as a college player and you can be sure he'll want to give the fans in Omaha a memorable performance. Providence already has one win over the Bluejays this season and a second victory would enhance its NCAA chances greatly. Keep an eye on Ethan Wragge, who was only 1 of 6 from the field in Creighton's loss to Georgetown on Tuesday. If the Bluejays don't have Wragge regularly making shots, they can't win meaningful games in March.
New Mexico at San Diego State (Saturday, 10 p.m. ET, CBS Sports Network)
The Mountain West regular-season title will be decided when the Lobos visit Viejas Arena to take on the Aztecs. San Diego State was mightily impressive in the second half of its win over UNLV on Thursday and got big plays late from both Dwayne Polee and Winston Shepard. Steve Fisher's team is longer and more athletic than New Mexico, but the Lobos have a pair of big men in Cameron Bairstow and Alex Kirk who can extend the defense and bring a shot- blocker like Skylar Spencer away from the rim. The team that has the more productive front court will wind up winning the conference title.
Syracuse at Florida State (Sunday, 2 p.m. ET)
The Orange are reeling a bit after Tuesday night's loss at home against Georgia Tech and need to get sophomore forward Jerami Grant (back) healthy if they hope to make a deep run in the NCAA Tournament. Jim Boeheim's team has lost four of its past five games and will now face a Florida State team that needs another quality win if it hopes to get off the bubble on Selection Sunday. The Seminoles will need a big game from senior forward Okaro White if they're to pull the upset. The skilled senior will be a prime candidate to operate at the high post against Syracuse's vintage 2-3 zone and has always had a penchant for finding seams in the defense. He'll need to do just that if Florida State is to keep its NCAA hopes alive with a win.
The NCAA formally notified MSU of its investigation into Nassar on Tuesday

The Sooners' freshman, pilloried for his recent performances, showed a different side Tues...

Young is leading the NCAA in both scoring and assists per game
Our advanced computer model simulated Tuesday's UNLV vs. Fresno State game 10,000 times

Our advanced computer model simulated Tuesday's Kansas-Oklahoma game 10,000 times

Our advanced computer model simulated Tuesday's Virginia vs. Clemson game 10,000 times