Observations: Virginia Tech already feeling the Buzz Effect
The Buzz Williams era is only two months old, but the signs for the future are promising. Not so helpful is the transfer epidemic that is plaguing college basketball.
• 6 min read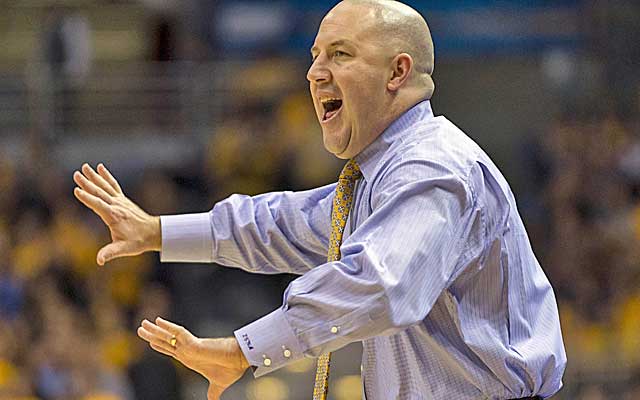 Latest in hoops: NBA Early Entries | Latest News | Coaching Changes
1. It's taken all of two months for Buzz Williams to make a major dent at Virginia Tech.
Many wondered why Williams left Marquette after taking the Golden Eagles to five NCAA Tournaments in six seasons, but the tough-minded head coach is proving already he's got what it takes to get the personnel he needs to be competitive in the ACC. In all of two months on the job, Williams has drastically upgraded the Hokies' overall talent and landed an impact transfer in Maryland's Seth Allen (13.4 points in 2013-14). The 6-foot-1 Allen is a combo guard who must sit out next season but has the potential to be an All-ACC guard down the line for Virginia Tech. The addition of Allen combined with the commitments of former Marquette signees Ahmed Hill and Satchel Pierce gives Williams a foundation to work with.
The Hokies will also retain shooting guards Justin Bibbs and Jalen Hudson, a pair of shooting guards who signed with Virginia Tech prior to the firing of former coach James Johnson. I'm not expecting the Hokies to be a major factor in the ACC next season, but the pieces are in place for Williams to make things very interesting in Blacksburg by his second year. Known for doing more with less when he was at Marquette, Williams has the perfect DNA and mindset needed as he attempts to a build a program with minimal tradition in a league with powers like Duke, North Carolina, Louisville, Syracuse, Virginia, Pitt and Notre Dame.
An important thing to watch this year for Virginia Tech? The development of sophomores Devin Wilson and Ben Emelogu along with junior Joey Van Zegeren. Both Wilson (9.2 points, 4.8 assists) and Emelogu (10.5 points) played major minutes at guard last season for Virginia Tech and both have the ability to be quality players at the ACC level if they tighten certain areas of their game under Williams. The Hokies also need to get mileage out of the 6-10 Van Zegeren, who averaged 6.4 points, 5.0 rebounds and 1.7 blocks in 22 minutes last season. Virginia Tech was 9-22 overall in '13-14.
2. SMU has drastically upgraded its non-conference schedule. The Mustangs aren't going to be penalized by the NCAA in 2015 like they were in 2014. Larry Brown's squad deserved to be in the field of 68 last year but had to settle for the NIT after the committee made claims about SMU's level of competition not being at a high enough level outside of conference play. That won't happen again next season. The Mustangs have put together a challenging non-league slate that features games at Big Ten opponents like Michigan and Indiana along with an early-season voyage to Gonzaga. SMU will also host Arkansas and Wyoming, which should be one of the better teams in the Mountain West. The stakes are high for the Mustangs in Brown's third year and the schedule reiterates that very sentiment. SMU now has the national forum needed to showcase a returning core that should have played in the NCAA Tournament last March along with one of the best freshmen in the country in 6-3 point guard Emmanuel Mudiay.
3. West Virginia has gone from potential Big 12 contender to major question mark. The Mountaineers looked like a top-15 team when the season ended, but have since lost two of their top players -- Eron Harris and Terry Henderson -- to transfer. A pair of wings, Harris and Henderson combined to make 136 3-point shots last season and averaged a combined 28.9 points. Bob Huggins looked like he was primed to bring West Virginia's program back to where it was a few years ago on the national level, but these defections drastically affect the Mountaineers' outlook moving forward. Huggins still returns the likely Big 12 preseason player of the year in point guard Juwan Staten (18.1 points, 5.6 rebounds, 5.8 assists) and has several quality frontcourt players returning in Devin Williams, Nathan Adrian and Remi Dibo along with newcomers Jonathan "Sponge" Holton and Elijah Macon. But this team still needs someone to make shots to return to the NCAA Tournament for the first time since 2012 and that's going to be significantly harder without Harris and Henderson.
4. Indiana transfer Remy Abell should be a major factor next season for Xavier. The 6-4 guard was a rotation player for two years as the Hoosiers advanced to back-to-back Sweet 16's in 2012 and 2013 and should be a starter for the Musketeers next season. A strong perimeter defender, Abell will look to be a defensive stopper for Xavier in its second year in the new Big East Conference. Chris Mack's team lost its top player from last season in versatile guard Semaj Christon, but the addition of Abell and a top-flight recruiting class makes the Musketeers a team more than capable of competing for a second straight bid to the NCAA Tournament. Look for Abell and freshman Trevon Bluiett to start for Xavier on the wings next season with veterans Dee Davis and Matt Stainbrook anchoring the point guard and center positions, respectively. Six-foot-9 sophomore Jalen Reynolds figures to round out the starting lineup at power forward. Abell averaged 4.0 points two years ago at Indiana and shot 48.5 percent from 3-point range.
5. The transfer epidemic is hurting college basketball. Players leave schools for different reasons, but the amount of athletes who transfer on an annual basis has officially become an alarming thing for college basketball. Some players shouldn't be recruited at the level they initially commit to and transfer down. Others face too much competition for their position and opt to go somewhere where it's easier to play. And then you have certain kids who are either starting or being featured regularly on the offensive side of the floor and then just choose for some bizarre reason to continue their collegiate careers at a different school. Part of the issue is the culture in which these kids deal with at both the AAU and high school level. Many of them change where they play prior to college several times without hesitation and that sets the ground work for them to leave their original college destination a few years later. Fighting through adversity and using hard work to gain success is now a rarity of sorts in college basketball. It's sad, but it's definitely true.
This and that
• 2014 shooting guard Elijah Stewart (Westchester High School, Los Angeles) will visit USC this weekend, sources told CBSSports.com. Cincinnati and Oklahoma State are also in the mix. The 6-3 Stewart is one of the top unsigned prospects remaining in the Class of 2014.
• Oregon State transfer Hallice Cooke will visit Dayton this weekend. The 6-3 guard has already visited Saint Joseph's and Iowa State. Cooke averaged 8.2 points last season and made 41 3-point shots as a freshman. He will have three years of eligibility remaining.
• USC transfer Byron Wesley will not visit Pitt this weekend as expected, multiple sources told CBSSports.com. Wesley has already visited Gonzaga and Oklahoma State. The 6-5 wing averaged 17.8 points and 6.4 rebounds last season and will immediately be eligible after graduating this summer.
• Temple coach Fran Dunphy told CBSSports.com that he plans to again apply for a waiver with the NCAA this summer regarding former UMass guard Jesse Morgan. The 6-5 Morgan transferred to Temple after a few seasons in Amherst but was denied eligibility last fall. Morgan will graduate this summer from Temple and right now only will be eligible for the first semester of next season. If the NCAA were to grant Morgan a waiver for the entire 2014-15 campaign, it would drastically change the outlook for the Owls, who finished 9-22 last season in their first year in the American Athletic Conference. Morgan averaged 13.4 points during the 2012-13 season at UMass.
• Houston transfer Danuel House will visit UNLV next week, sources told CBSSports.com. House visited UCLA recently and has also been to South Carolina. LSU is in the mix as well. The 6-7 guard averaged 13.6 points last season and will have two years of eligibility remaining.
Was there contact? 'Everybody saw it,' UK coach John Calipari said

After losing its second game this week, a deep NCAA Tournament run looks far-fetched for U...

Coach K shows he is on on top of his game by landing the best three prospects in the Class...
The Buckeyes and Boilermakers continue to assert their dominance in the Big Ten

The 5-star phenom was thought to be headed to Clemson, but was swayed to the Blue Devils

The nation's No. 3 player will commit Saturday and here's his impact on each of his finali...