Observations: Why Minnesota will be in Big Ten mix next season
A JC transfer helps make Minnesota a contender behind Big Ten favorite Wisconsin and Colorado State's veteran-heavy class fuels its Mountain West case.
• 5 min read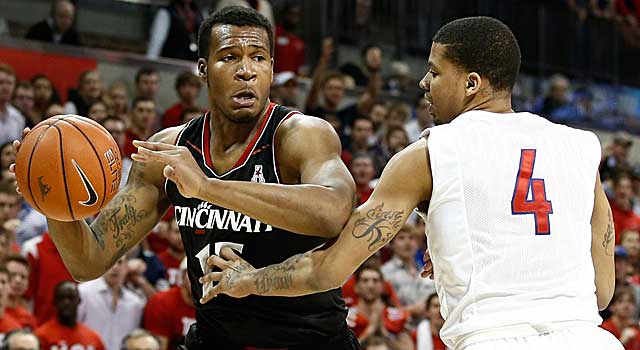 Latest in hoops: NBA Early Entries | Latest News | Coaching Changes
1. Carlos Morris is Minnesota's most important newcomer: The junior-college transfer has a chance to play immediately for the Gophers, who return three of their top four scorers from a team that won 25 games and the Postseason NIT title. "We need him to have a Deandre Mathieu-type impact," Minnesota coach Richard Pitino said of the 6-foot-5 Morris while referencing Mathieu, a 5-9 point guard who averaged 12 points and 4.2 assists last season after transferring from junior college. "We need a replacement for Austin Hollins and at 6-5, Carlos is maybe the only true small forward we have on our roster." The Gophers were a surprise last season, and a returning backcourt of Mathieu and Andre Hollins (13.6 points per game) means an NCAA bid is the goal in Year Two under Pitino. Minnesota returns solid role players in Maurice Walker, Elliott Eliason, and Joey King while adding a quality piece in rugged freshman power forward Josh Martin. The Gophers should be in the mix of Big Ten contenders behind favorite Wisconsin.
2. Even without Chane Behanan, Colorado State will be tough to beat: The former Louisville star would have been among the Mountain West's top players if he hadn't opted for the NBA Draft, but Larry Eustachy's team should be fine without him. Colorado State returns its top four scorers from last season's 16-16 squad, including a potential first-team all-league player in versatile forward J.J. Avila (16.6 PPG, 7.4 RPG, 3.4 APG). The Rams added three quality rotation players in transfers Dantiel Daniels (Southern Illinois), John Gillon (Arkansas Little-Rock) and Stanton Kidd (NC Central), all of whom sat out last season. The 6-7 Kidd is a big-time talent who was first-team All-MEAC in 2012-13 when he averaged 14.5 points and 6.9 rebounds. That trio should help form a strong core with returners Avila, Daniel Bejarano (16.3 points, 8.3 rebounds), Jon Octeus (13.4 points) and Joe De Ciman (8.6 points), giving Eustachy a unit more than capable of challenging in the MWC. Fort Collins has never been easy to place to play and that won't change next season.
3. Remember the name Kyle Kuzma: Utah's 6-9 forward may well be the best Pac-12 newcomer nobody is talking about. He redshirted last season and has all the requisites to be a quality piece for coach Larry Krystowiak. The Utes are a trendy pick as an NCAA team next March and Kuzma could be a major reason why. Skilled and versatile at both ends of the floor, Kuzma should help take some of the pressure off Utah's two stars: Delon Wright and Jordan Loveridge. Nobody is talking about this kid now, but that won't be the case by January or February.
4. Jermaine Sanders needs to be Cincinnati's next JaQuon Parker: What was Parker when the Bearcats reached the Sweet 16 two years ago? An undersized warrior at power forward. The 6-5 Sanders has been a solid role player his first three years, but next season has an opportunity to be a major piece to Cincinnati's puzzle. Mick Cronin's squad loses its top three players from a 27-win team in Sean Kilpatrick, Justin Jackson and Titus Rubles. Shaquille Thomas is the only returning player who looks like he's a lock to start. The door is open for Sanders to have a memorable senior season if he plays within himself at both ends. Sanders has the strength to play power forward defensively, as did Parker, and can create mismatches on offense with his ability to extend the defense. The New York native made 35 three-point shots (hitting 37.6 of them) and could regularly pose mismatch problems against teams with traditional "4-men" because of the spacing he creates offensively. Sanders averaged 5.7 points in 21.3 minutes last season.
5. UAB will be the forgotten team at the Battle 4 Atlantis: It's easy to see why in a field featuring Butler, Florida, Georgetown, North Carolina, Oklahoma, UCLA and Wisconsin. But that doesn't mean the Blazers aren't going to be a nuisance for one of those seven in the opening round. UAB returns its top two scorers in Chad Frazier (17.7 points, 3.3 rebounds, 4.3 assists last season) and C.J. Washington (13.0 points, 6.9 rebounds) and adds high-level newcomers in Virginia Tech transfer Robert Brown and freshman power forward William Lee. The 6-9 Lee chose the Blazers over several SEC schools and should be have an immediate impact. Brown is an anchor at shooting guard who averaged 6.8 points two years ago at an ACC school. Don't be surprised if UAB winds up putting fear into the hearts of a couple of BCS programs during Thanksgiving weekend. The Blazers have a chance to challenge Louisiana Tech in Conference USA.
This and That:
• Xavier transfer Justin Martin will visit SMU this weekend, sources said. The 6-6 wing averaged 11.7 points and 5.2 rebounds last season and will be immediately eligible next year because he's already graduated. Martin visited Florida State last week and plans to visit West Virginia in early June.
• James Madison transfer Charles Cooke will visit Dayton this weekend, sources said. Rhode Island, Duquesne and Penn State are all in the mix. The 6-6 Cooke averaged 14.3 points last season and has two years of remaining eligibility.
• Providence, Boston College and Auburn are in the mix for Niagara transfer Antoine Mason, sources said. The 6-3 guard averaged 25.6 points last season and will be immediately eligible to play in 2014-15 after graduating.
• Georgia Tech transfer Robert Carter will visit South Carolina this weekend, sources said. The 6-8 forward has visited St. John's and is expected to visit Maryland next week. Carter averaged 11.4 points and 8.4 rebounds last season and will have two years of remaining eligibility.
• Manhattan's non-conference schedule next season is loaded. The Jaspers play at Pittsburgh, Florida State and UMass and have home games against Harvard and George Mason. Steve Masiello's squad will also play neutral site games versus Fordham (Barclays Center) and Rutgers (Madison Square Garden). That's seven games against higher level opponents for a mid-major program that lost its top three players -- Mike Alvarado, George Beamon, and Rhamel Brown -- from last season's team that went to the NCAA Tournament and nearly beat Louisville in the Round of 64.
• Matchups are set for the Las Vegas Invitational. Memphis will play Baylor and Illinois will play Indiana State on Nov. 27, with the winners and losers playing the following day.
• Oklahoma State transfer Kamari Murphy will visit South Florida on Sunday, sources said. Miami is also in the mix. The 6-8 forward averaged 6.1 points and 6.3 rebounds last season and will have two years of remaining eligibility.
Zack Cimini has been on a roll in college basketball and locked in a play for Texas-West V...

Zack Cimini is on a college basketball heater and just locked in a strong pick for Saturda...

Our advanced computer model simulated Saturday's Arizona-Stanford game 10,000 times
'If you want it, you're world champs,' A-Rod told the Spartans, which isn't exactly correc...

The players have the right to appeal the decision within three business days

Young is coming off his worst game as a Sooner and will try and bounce back vs. the Cowboy...