Observations: With a third title, Donovan would join elite company
If Florida wins the national title, Billy Donovan will have accomplished a feat that only the likes Wooden, Rupp, Knight and Krzyzewski share.
• 3 min read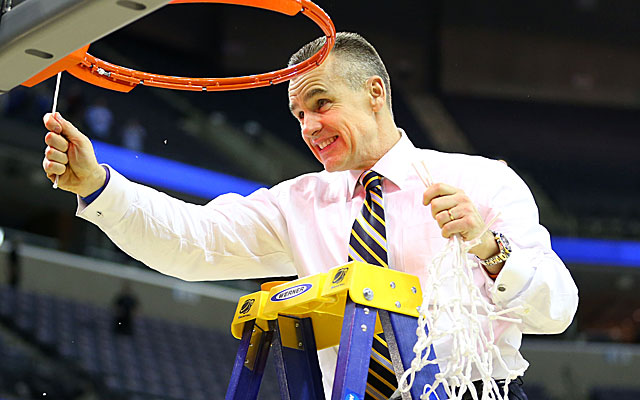 More NCAA hoops: Tournament bracket | Complete coverage of NCAAs
1. Billy Donovan can join some elite company with two more wins this weekend in Dallas.
The veteran coach is already on his way to the Naismith Hall of Fame, but two more victories in the NCAA Tournament would push Donovan to a completely different level in terms of his legacy in the sport. The former Providence star won back-to-back national titles with the Gators in 2006 and 2007 and a third championship would immediately put Donovan among the best to ever coach college basketball. With two more victories, Donovan would join John Wooden, Adolph Rupp, Bob Knight, Mike Krzyzewski and Jim Calhoun as the only coaches to win three or more national championships. The scary thing about Donovan? His youth. The New York native is still just 48.
2. Chane Behanan's mistakes should reiterate an important lesson for college athletes everywhere.
Behanan had an opportunity that most never get --- a chance to play for a Hall of Fame coach in Rick Pitino at Louisville. He couldn't handle it. The 6-foot-6 power forward -- who was one of the key reasons why the Cardinals won the national title a year ago -- couldn't control himself and was dismissed from Louisville's program for a number of off-court issues during the middle of this past season. He partied too much. He experimented with drugs. It cost him a chance at the NBA. It cost him a chance at another national championship, one that would have been within reach if Behanan stayed in line and played in the Cardinals' front court next to Montrezl Harrell.
Behanan gave away that opportunity but he was fortunate enough to get another one when Larry Eustachy agreed to take him for one season as a transfer at Colorado State. Behanan went to Texas and got help from John Lucas. He vowed to make a change and was primed to have a great season next year in the Mountain West and potentially take the Rams back to the NCAA Tournament. Now we don't know if Behanan will get that opportunity. Why? He was cited by Louisville Metro Police for marijuana possession early Wednesday morning, according to the Courier-Journal. This kid was the starting power forward on a national championship team a year ago. Now there's no way to be sure he's going to get the bounce-back opportunity he was supposed to have at Colorado State. A word to college athletes everywhere -- never take opportunities for granted.
3. Iowa State could be on the verge of landing another impact fifth-year transfer.
And that's UNLV's Bryce Dejean-Jones. The talented shooting guard led the Runnin' Rebels in scoring last year, averaging 13.6 points, and will be able to play immediately next season since he has already graduated. Fred Hoiberg has had a terrific track record with impact transfers like Royce White, Korie Lucious and most recently DeAndre Kane. Dejean-Jones could well be next on the list. The 6-5 wing will visit the Cyclones' campus during the weekend of April 11-13.
4. Memphis needs a point guard for next season.
That statement was only enhanced when the news came down on Wednesday that Rashawn "Pookie" Powell had decided to transfer from the Tigers' program. Members of the Memphis staff were convinced that Powell -- a redshirt freshman -- would be the Tigers' starting floor general in 2014-15, but his departure raises questions for Josh Pastner's team at the most important position on the floor. The Tigers lose four senior guards -- Joe Jackson, Michael Dixon, Chris Crawford and Geron Johnson -- from this past season's team and their perimeter for next year will be extremely green. Nick King and Kuran Iverson got sporadic playing time as freshmen, but they look like safe bets to man the wings next season. But this team's point guard situation for next season is a mystery. The smart money is on 6-3 freshman Dominic Magee, a Louisiana native who had several high major offers coming out of high school.
5. Houston's hiring of Kelvin Sampson augments the profile of the American.
Whether he was fired at Indiana for NCAA violations in 2008 isn't relevant. What is relevant? Sampson is a terrific basketball coach. Sampson took Oklahoma to the Final Four in 2002. Sampson won at Washington State, Oklahoma and Indiana. He's a proven coach in a league that needs another team to emerge as a perennial contender. Houston's hiring of Sampson gives the Cougars program the ability to do just that. Houston finished 17-16 this past season and has several quality returning pieces in TaShawn Thomas, L.J. Rose, Chicken Knowles and Danuel House. Expect this team to be a nuisance to play by the time league play rolls around in 2015.
Calipari threw major shade at Duke and the coaching staff's recruiting pitch

Brown is the No. 2 center in the Class of 2018 and a big get for the Bruins

The Sooners are on a two-game losing streak but still rising on one AP ballot
Vegas legend Kenny White has nailed 3 straight UNC picks and just made a play for Monday's...

Josh Nagel has almost two decades of handicapping experience and locked in a play for Monday's...

The Wildcats stumbled to an 0-2 record this week and fell out of the top 25