OK State's title aspirations take blow with Michael Cobbins' injury
Injury will force Okie State to make changes, and Louisville will have a new look at times because of a dismissal. Are their seasons in trouble?
• 6 min read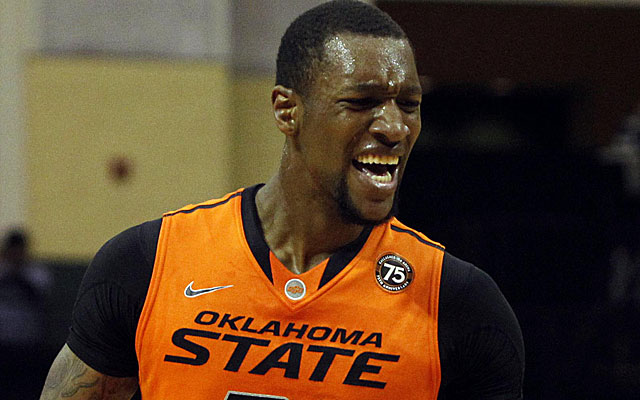 Which role players are emerging? And what are some quick observations from the first day of action in the new Big East? All that and more in this week's edition of the Triple Threat.
Three quick hits
1. Can <span data-shortcode= State" data-canon="Oklahoma Sooners" data-type="SPORTS_OBJECT_TEAM" id="shortcode0"> still win the Big 12 without Michael Cobbins?
It's possible, but certainly not as likely. The Cowboys will still have one of the nation's elite back courts with Marcus Smart, Markel Brown, and Phil Forte, but last year when this team beat Kansas and Baylor it was Cobbins who was the X factor (9.0 PPG, 8.0 RPG, 3.5 BPG in both victories last season). Sophomore Kamari Murphy will be the likely candidate to step into Cobbins' starting role and while he's played well, it's tough to see Oklahoma State having enough depth up front to win a league that's been much better than people anticipated. We feel for Oklahoma State and Cobbins, who will have season-ending surgery Thursday on his Achilles.
2. Which player may not be a known star now but could be in a month?
Rayvonte Rice. The transfer from Drake will be one of the leading scorers in the Big Ten and has immediately become Illinois' alpha dog. The 6-foot-4 guard is a lethal penetrator and knows how to absorb contact and get to the free-throw line. Rice scored 29 points in Tuesday's win against Indiana and got to the stripe 15 times. He's currently averaging 19.0 PPG.
3. Louisville will play smaller with more regularity due to Chane Behanan's dismissal. Which Cardinal will immediately benefit from this style change?
Freshman Terry Rozier. Rick Pitino told reporters immediately after Behanan was dismissed that he would likely use a smaller lineup more frequently and possibly use Wayne Blackshear at power forward. That move will open up more perimeter minutes for Rozier, a first-year guard that could really give the Cards a jolt in reserve. In Louisville's conference opener at Central Florida, the 6-1 Rozier scored 11 points, grabbed five rebounds, and handed out five assists in 22 minutes off the bench.
Three games I'm looking forward to
1. SMU at Cincinnati (Wednesday, 6 p.m. ET): It's time to get defensive. Points will be a rarity in this game, but you're going to get a battle between two hard-nosed teams that don't give anything away easily. Cincinnati has held its opponents under 70 points in 20 consecutive games and SMU looks like an elite defensive team on the interior thanks to the freakish length of Markus Kennedy, Yanick Moreira, and Cannen Cunningham. The Bearcats have been pressing on every possession this season in an effort to wear down their opponents but that won't work against the Mustangs. Larry Brown is currently playing 11 players on a regular basis and has 10 guys averaging double-figure minutes.
2. Michigan at Minnesota (Thursday, 7 p.m. ET): Are the Gophers a real threat in the Big Ten? We'll find out after they take on the Wolverines. Richard Pitino has done a terrific job instilling a culture of playing hard and competing at Minnesota, but now comes the hard part -- winning in the Big Ten. Michigan is still trying to find its way with a young back court along with a frontline that will be without Mitch McGary for the foreseeable future due to a back injury. Don't be surprised to see both teams go small during this game in an effort to get their best players on the floor.
3. Oregon at Utah (Thursday, 8 p.m. ET): This is the first true national stage for Utes guard Delon Wright, who could quietly become one of the best players in the Pac-12. The 6-5 Wright is averaging 14.9 points, 7.0 rebounds, 5.9 assists, and 2.6 steals per game for Utah and is also shooting over 70% from the field. This is one of the best players in America people don't truly know about but he'll be going against one of the best perimeters in America that people do know about. The Ducks are beyond loaded in the back court and it will be interesting to see how they respond on the road in their conference opener.
Three thoughts from day one in the Big East
1. Butler looks like, well, Butler: The Bulldogs may change the names in their program but their culture remains intact. Butler showed tremendous resolve against Villanova and nearly upset the Wildcats before losing by three in overtime. Brandon Miller continues to impress in his head-coaching debut and sophomore shooting guard Kellen Dunham looks like an all-conference caliber player. The Bulldogs will be a nuisance to play all season.
2. Georgetown needs a third option after Markel Starks and D'Vauntes Smith-Rivera: The Hoyas' back court duo is terrific and combined for 33 of Georgetown's 61 points in its win over DePaul. But who else on this team is going to be able to get a bucket when it counts? Josh Smith has shown flashes in the low post, but he's always a question mark because of what he gives up on the defensive end. Either Jabril Trawick, Aaron Bowen or freshman Reggie Cameron needs to take a step forward offensively at some point for the Hoyas to compete for a league title.
3. Xavier has a gem in freshman Brandon Randolph: He's not going to dazzle you with game breaking speed or elite athleticism, but Randolph embraces his role and makes winning plays. The 6-1 guard played 12 minutes in the Musketeers' win over St. John's and made all three of his field-goal attempts, finishing with seven points and two rebounds. A quality ball mover, Randolph immediately augments Xavier's continuity as soon as he steps foot on the floor.
Three emerging role players
1. Jevon Thomas, Kansas State: Jet quick point guard has played just two games for the Wildcats and has dished out 10 assists without committing a single turnover. Ineligible for the first semester for academic reasons, Thomas' presence should only enhance Kansas State's perimeter that already features Will Spradling, Shane Southwell and freshman Marcus Foster.
2. Jarquez Smith, Florida State: The 9-3 Seminoles have been one of the season's early surprises in the ACC and they have a chance to be even better down the road because of what Smith will be able to bring defensively. The 6-9 freshman is a terrific athlete and adds legitimate length to Florida State's front court. Leonard Hamilton has gradually increased Smith's minutes over the past few games in an effort to get him more comfortable prior to the start of conference play.
3. Shaquielle McKissic, Arizona State: Herb Sendek has been searching all season for a starter at small forward and he finally found his answer with McKissic. A freak athlete, the 6-5 wing is averaging 14.0 PPG over his last four games and could really be a threat in transition alongside Jahii Carson.
Three mid-major players you should know
1. Alan Williams, UC Santa Barbara: Williams may be small for a center, but he produces regardless of the opponent. The 6-7 junior torched Cal for 24 points and 12 rebounds and has posted four double-doubles in 10 games this season. Williams is currently averaging 23.5 PPG and 10.6 RPG for the Gauchos.
2. Javon McCrea, Buffalo: The 6-7 forward may be the best player in the MAC. A gifted scorer in the paint, McCrea knows his role and excels in it. The senior is currently averaging 17.7 points and a career-best 9.6 rebounds per game for first-year Bulls coach Bobby Hurley.
3. Taylor Braun, <span data-shortcode= State" data-canon="North Dakota " data-type="SPORTS_OBJECT_TEAM" id="shortcode0">: Lethal scorer has great size for a guard at 6-7 and gets to the free-throw line more than nine times a game. An efficient scorer, Braun is shooting 48.7 percent from the field and averaging 18.9 points, 4.4 rebounds, 3.9 assists and 1.9 steals per game for the Bison.
Oklahoma and Arkansas are new additions to Sunday's Top 25 (and one)

Gary Parrish and Matt Norlander discuss a wild Saturday of college basketball

Ball left the program earlier this month and has since signed with a Lithuania professional...
Sooners beat third-ranked Shockers while Florida and FSU lost in upset fashion to unranked...

The Hoosiers grow up before our eyes, and Miller has his first signature victory as Indiana...

Trae Young, a freshman and the nation's top player, has a 21-point first half at Wichita S...