Oklahoma State's Marcus Smart is enjoying a 'priceless' season
Marcus Smart might've cost himself some money by returning to Oklahoma State. But what he's doing now is "priceless."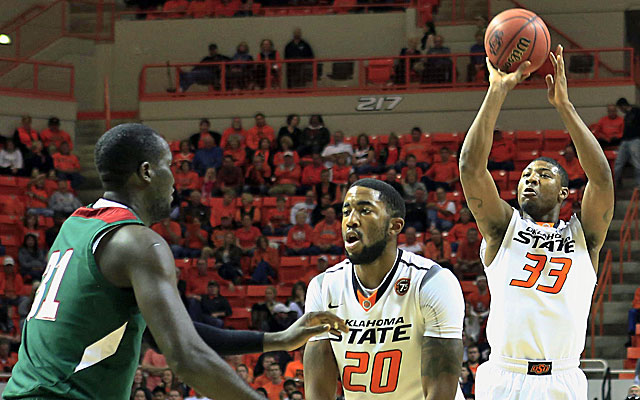 LAKE BUENA VISTA, Fla. -- So many conversations about Marcus Smart begin and end with his decision to pass on the opportunity to play in the NBA this season, and seemingly everybody has an opinion about how that decision either did or did not cost him money.
Problem is, the topic isn't nearly as simple as most try to make it.
An intelligent man, I'm certain, could explain in great detail that, regardless of what happens going forward, Smart absolutely cost himself money by returning to Oklahoma State because he's not currently making the roughly $4 million that he'd be making if he had entered last June's NBA Draft. That's 12 months of earning that he'll never get back, and Smart will now be a year older than he would've otherwise been when he gets his second professional contract, and, well, you get the point. So, yeah, Smart might've cost himself some money. On the other hand, how many marketing opportunities is Smart creating with this season of college basketball? He's now a household name and undeniable star who will enter the NBA with the kind of fame that could bring millions of dollars in the form of endorsement deals that wouldn't have been there for him had he left school after one season. So it's theoretically possible that this second year of playing in the Big 12 for something less than a salary is actually better for Smart's long-term portfolio.
In other words, who knows?
Smart might've cost himself money.
Or maybe he didn't cost himself a penny at all.
Again, who knows? Also: who cares?
"These are times you don't get back," Smart said. "What I'm doing now is priceless."
****
Marcus Smart took 15 shots, made eight and finished with 17 points in OSU's 69-67 win over Butler in Friday's semifinals of the Old Spice Classic at Wide World of Sports Complex. It was not his best game of the season. It was not even his best game of this tournament. But it was still impressive in various ways, and the result was a win for his Cowboys who are now 7-0 and ranked fifth nationally in a season Smart told me is "priceless."
I love that he used that word.
It's the perfect word to end all conversations about his decision.
And I really have done a complete 180-degree turn on this subject.
I used to think all prospects who delayed millions to stay in school were careless bordering on stupid. Why do something for no paycheck when you can do it for a considerable paycheck? I asked that question many times. I always thought the answer was clear.
Now, I'm not so sure.
In fairness, I think I'd still take the pro contract, and I think I'd still probably advise my child to take the pro contract. But what I've learned over the years is that there is no way to properly put a value on the types of things Smart is enjoying now or accurately assess how much creating memories and just genuinely having the time of your life is worth.
Why?
Because, like Smart said, that can be priceless.
And that's why I'll never again criticize or even question prospects for returning to school even when they're projected lottery picks. As long as they're properly educated on the risks involved -- and Smart most certainly was -- then I'm cool with it because, in some cases, the trade-off is worth it in ways that have nothing to do with money.
That's what Marcus Smart has taught me.
"I could've easily left after last year," Smart said. "And I'd be playing right now for a not-so-good [NBA] team with 100 or 200 people in the stands."
Translation: Does that sound like fun?
Now contrast that hypothetical scenario with Smart's current reality of living with his best friend, dominating college basketball, playing in full arenas and developing into a star ... all while seemingly improving as a player and possibly leading his school to a Final Four.
Is that worth $4 million -- especially if you're gonna make $50 million someday anyway?
The answer is still debatable, I guess.
But Marcus Smart has answered pretty definitively.
So you can keep questioning him, if you want.
But he's too busy smiling to even notice.
Gary Parrish and Matt Norlander discuss the latest in college basketball

The university also maintains that Pitino was appropriately fired

Price only made it nine games into his third season
The Wildcats won't play another currently ranked team until Jan. 10

The BC fan has a ton of apparel and gear headed his way after this putt

Durant's made a habit of making sure his alma mater is set with the latest customized gear