'Old man' Jaylen Brown separates from pack -- not just with his game
Jaylen Brown rose to No. 2 in the class of 2015 rankings this spring and summer, and his uniqueness both on and off the court is a major reason.
• 4 min read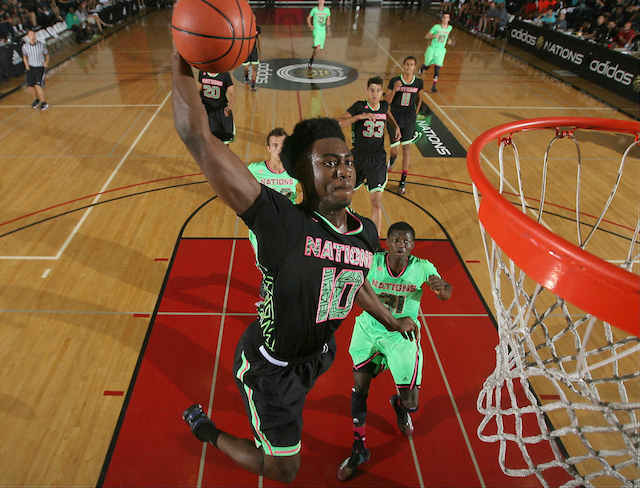 MORE: Latest News | Recruiting Updates | 247Sports Coverage
When Jaylen Brown went to Italy for the Adidas Eurocamp, he made an effort to learn Italian. While it probably helped him talk to a long list of people, the main reason he wanted to expand his vocabulary?
Referees. He wanted to be able to talk to them during the games.
"If you get them in a good mood, it will help," Brown said late last month in Las Vegas.
For most kids, that would sound weird. Heck, if most high schoolers go to a foreign country, the main reason to learn a foreign language is to talk to people your own age. But as one interacts more and more with Brown – in English – it's quickly learned that he's not your usual high school basketball player.
He does hot yoga, he likes to play chess, he likes to play table tennis. He even gave away an Xbox that he received as a gift. Not because it was too distracting, but because he never played it.
Brown's mother calls him "old man" – and he likes it.
"Slow motion, man," Brown said. "I move slow, I talk slow."
On the court, you would never notice that. Brown is one of the most aggressive players in the class of 2015, and his ability to score against any defender has pushed him to the No. 2 spot in the senior class. At this time last year, Brown was still a touted prospect – but his stock certainly wasn't this high.
Instead of a top-three player, he was in the teens or closer to 20.
Brown credits the rise to staying in the weight room and working on his conditioning.
"I couldn't really get off at a high level because I wasn't strong enough," Brown said. "I didn't have a body like this. I was probably like 200 pounds, now I'm 220. I couldn't finish. I couldn't shoot the ball like I wanted to. It elevated my game completely."
There are few players in high school basketball with the same skillset as the 6-foot-7 Brown. He averaged 23.5 points and 7.5 rebounds on the Adidas Gauntlet circuit with Game Elite, then went out and averaged more than 20 per game at the Adidas Super 64 and was the second-leading American scorer at the Adidas Nations event.
The Wheeler (Ga.) product is not content with his ranking right now, continuing to work on his game – he says he has a "long list of things" to improve. More importantly, he wants to watch other players in order to help his game; he wants to learn from the best.
"I try to play a little bit like Kobe Bryant," Brown said. "The way he scores in the post, his whole offensive arsenal. It's brilliant. He's the most offensively talented player ever. I take a little bit from everybody I see. I see a move, I add it to my game, and make my game unique."
It's working. Colleges are lining up to vie for Brown's commitmetnt, including the likes of UCLA, Kentucky, Ohio State, Kansas, Georgia, Georgia Tech, Florida and Texas A&M.
Prior to heading out to Adidas Nations, the only two schools Brown had visited were the in-state schools: Georgia and Georgia Tech. One thing helping those two colleges is the recent decision by LeBron James to return to Cleveland.
"After LeBron with the coming home campaign, it looks real good," Brown said. "Georgia Tech said they would do the same campaign, and UGA said the same. Those two are in my top five automatically."
While in Long Beach for Adidas Nations, Brown also visited UCLA – a school that has done well with Georgia products in recent years.
"Coach [Steve] Alford is real cool, real down to earth, he's been through the process," Brown said prior to going on the visit. "He's been to the NBA, he knows what we go through. He's had Atlanta players on his team. Jordan Adams, Tony Parker. I know them really well. I talk to them a lot, and they have nothing but good things to say about him.
"I was already checking them out. When [Adams and Parker] would come home, they would say how much they were having. They've always been on my list."
The next step for Brown will be trimming his list by the end of the summer.
It might not be a quick process, though. As we've seen, that's just not how Brown operates. 
Coaches should know better, but players are the real victims in the corruption that rules college...

Shareef O'Neal, a 4-star recruit who signed with Arizona in November, has changed his mind

Despite not being on the sideline Saturday, Miller states he is "confident that I will be...
Bridges was mentioned in Friday's report, but has been cleared to be on the court

Miller may actually be owed $10 million if he is fired for cause and $5 million if he is fired...

The Bearcats cling to a one-game lead in the AAC heading into Saturday