Ole Miss still in good spot despite last week's losses to UK and UF
Ole Miss rebounded nicely from recent losses to Kentucky and Florida with a victory over Mississippi State on Wednesday night that indicates the Rebels are still headed toward an NCAA tournament berth. And who wouldn't want to see Marshall Henderson in the tournament?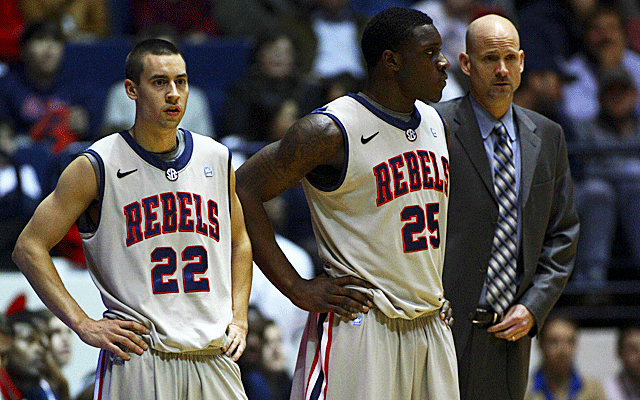 Ole Miss is now 7-2 in the SEC heading into Saturday's game at Missouri.
(US Presswire)
OXFORD, Miss. -- It was eight nights ago when Ole Miss found itself at the center of the college basketball world because its high-scoring and controversial guard was coming off a jersey-popping incident, and John Calipari's Kentucky Wildcats were in town.
The game was hyped nationally.
The Rebels were favored.
But they lost.
Then they lost at Florida over the weekend.
So they dropped from the AP Poll and off the national radar almost as quickly as they got on it because you only get one shot to seize the moment when you're a program like Ole Miss, and if you don't we simply move on to the next hot story. (Speaking of, how about those Miami Hurricanes!) I'm not saying it's fair. I'm just saying it's so. But the reality of the situation is that the Rebels still entered this week with an an opportunity to produce a historic season despite the two-game losing streak that stripped momentum.
Marshall Henderson is still the SEC's leading scorer.
Ole Miss is still in all bracketologists' projected Fields of 68.
So things are still OK down here on this beautiful southern campus, football recruiting included. And it is with that mindset that a fifth straight sellout crowd of 8,299 filed into Tad Smith Coliseum late Wednesday to watch the Rebels cruise to a 93-75 win over <span data-shortcode= State" data-canon="Ole Miss Rebels" data-type="SPORTS_OBJECT_TEAM" id="shortcode0"> that improved them to 18-4 this season.
"Had to stop the bleeding," said Ole Miss coach Andy Kennedy, "and I made that point to my team -- that we still control our own destiny. We just have to reel off some wins."
And who better to start a new winning streak against than Mississippi State?
For two reasons:
Mississippi State is a rival. Everybody loves beating rivals.
Mississippi State is totally rebuilding. Incredibly shorthanded, too.
"Our bigs got into foul trouble, and so we were out there playing with five guards," State coach Rick Ray. "You're just not gonna have any success playing that way."
No, you're not.
Mississippi State only has seven scholarship players healthy, and two of them -- both starting forwards -- fouled out against Ole Miss in less than 25 minutes on the court. The Bulldogs are so limited that they need 20 minutes per game from Tyson Cunningham, a 6-foot-3 guard who -- get a load of this -- was a practice-squad player for the Mississippi State women's program two years ago. So if you're into praying, throw one up for Rick Ray. He inherited a difficult situation that has grown worse because of injuries. He has lost seven straight games. He's in a tough spot that won't get better until new recruits enroll.
But let's get back to Ole Miss.
Because Ole Miss is the story, and things are OK with Ole Miss.
The Rebels are 7-2 in the SEC heading into Saturday's game at Missouri. Worth noting: Ole Miss already handled Missouri once (though Laurence Bowers didn't play for the Tigers in that game). Also worth noting: Ole Miss is finished with Florida and Kentucky until at least the SEC tournament, meaning the Rebels should be favored in every regular-season game they play after this trip to Columbia.
So they might really finish with a 15-3 league record.
KenPom.com projects 14-4.
RPIForecast.com projects 14-4, too.
And guess what?
That 14-4 would almost certainly be enough to secure a spot in the Field of 68 regardless of what happens in the SEC tournament, which means Ole Miss is on track to make its first trip to the NCAA tournament since 2002, which means we're on our way to an NCAA tournament that should include Marshall Henderson, and who doesn't want that?
Seriously, who doesn't want that?
The trash-talking/beer-drinking junior got 31 points on 18 shots against Mississippi State and is averaging 20.1 points. He's too much for some folks' taste, and I get that. But a Round of 64 game on that first Friday night of the NCAA tournament featuring Henderson dropping 30 with seven ridiculous 3-pointers would make for amazing television. And I love amazing television. So I'm rooting for that. And you should, too.
Will Henderson spend the weeks between now and then on a big stage?
No.
That stage came with the Kentucky game and left with the Kentucky loss, and the national audience (and media) has mostly moved on. But let the record show that things are still OK down here on this beautiful southern campus, football recruiting included. Last week's setbacks might've stripped momentum and moved the spotlight, but everything the Rebels wanted to achieve is still in front of them and attainable.
Fall is being shut down after dealing with shoulder injuries and will undergo surgery soon

The Wildcats' resume doesn't seem too impressive right now

Was there contact? 'Everybody saw it,' UK coach John Calipari said
After losing its second game this week, a deep NCAA Tournament run looks far-fetched for U...

Coach K shows he is on on top of his game by landing the best three prospects in the Class...

The Buckeyes and Boilermakers continue to assert their dominance in the Big Ten