Once on the hot seat, Mick Cronin is now consistently winning at UC
The Bearcats' 42-year-old coach could make the Sweet 16 for the second time in three years ... and grab a conference title on his way.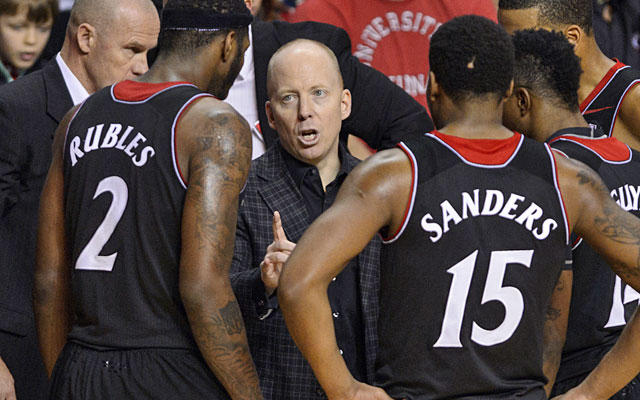 Latest in hoops: Top 25 (and one) | Bracketology | Bubble Watch
The college basketball season can't be previewed, best I can tell, without a comprehensive list of coaches on the so-called hot seat. So each and every October, without exception, those lists start popping up all over the Internet, and most of the lists look fairly similar.
For instance, last October, they all included Washington State's Ken Bone.
And Wake Forest's Jeff Bzdelik.
And Texas' Rick Barnes.
For what it's worth, as the final weekend of the regular season approaches, it appears Bone and Bzdelik are still working with warm behinds while Barnes' backside has cooled. Whatever. The point is that these lists are very much a part of the sport, for better or worse, and can you believe Mick Cronin headlined most of them in October 2010?
It seems crazy now, I know.
But it's true.
Never mind that Cronin inherited a mess at Cincinnati before the 2006-07 season -- specifically a roster that featured not a single player who was on Bob Huggins' final UC team. And never mind that Cronin had to essentially start from scratch during a period when Cincinnati's league at the time, the Big East, was regularly regarded as college basketball's toughest and deepest conference. Still, as the narrative went, Cronin wasn't living up to expectations because, you know, the bottom line is the bottom line, and the bottom line, according to most Cincinnati fans, was that a program that made 14 straight NCAA Tournaments under Huggins shouldn't be missing four straight NCAA Tournaments under Cronin
"I knew how hard it was going to be," Cronin told me Wednesday when I asked about the challenge of replacing an iconic coach at a nationally relevant program.
And then he laughed.
Because it's easy to laugh when you're ranked in the top 15 of the Associated Press poll, essentially tied for first in a league with five nationally ranked teams, headed toward a fourth consecutive NCAA Tournament and so far removed from the hot seat that other schools now annually gauge your interest in trying to rebuild their programs. And that's where Mick Cronin is sitting heading into Thursday night's nationally televised game with Memphis.
****
Mick Cronin made headlines last week because of his animated back-and-forth with referee Ted Valentine that was caught by television cameras during a loss at UConn, and that's fair. I mean, it was a wild scene -- one that restarted the debate about how coaches should conduct themselves on the sideline, and how officials should handle aggressive coaches. I've been asked about it multiple times in radio interviews this week. It's an interesting conversation. But to focus solely on that is to miss the really cool thing about what's going on at Cincinnati, and that's that Cronin has returned the Bearcats to their proper place in college basketball.
He doesn't have Kenyon Martin. But he does have Justin Jackson. He doesn't have Nick Van Exel. But he does have Sean Kilpatrick. Consequently, Cincinnati could later this month make the Sweet 16 for the second time in three years, at which point some school somewhere will probably again make a phone call to see if Cronin has any interest in a new address.
So what's the lesson here?
The lesson is that sometimes a school can have the right guy for the job even if the right guy doesn't get off to the type of start fans want and demand, and that athletic directors need to be smart enough to realize that. And, no, it doesn't mean every coach deserves five years to make the NCAA Tournament like Cronin got five years to make the NCAA Tournament because coaches don't "deserve" anything. I can't stress that enough.
Billy Gillispie is a good example.
He was fired at Kentucky after two years, and that was undeniably the correct move -- not because Gillispie went to the NIT in his second season, but because he was so clearly the wrong guy for the job. Once UK AD Mitch Barnhart realized that, he wisely pulled the trigger. So don't interpret this column as me insisting all coaches deserve five years, no matter what, because that's not my point, and I don't subscribe to that theory. My point is that it's possible to have the right coach even if he delivers the wrong results early on, and there might be no better recent example of that than the coach who's now just two wins away from bringing another conference championship to Cincinnati.
Gary Parrish and Matt Norlander discuss Louisville's punishment from every angle

Those Cardinals were fun to watch, but those memories are forever tainted

Josh Nagel is a Reno-based handicapper who has his finger on the pulse of Nevada basketbal...
Zack Cimini is a contrarian thinker who's tailed throughout the handicapping industry

The Seahawks could be back in the NCAA Tournament next year if Cacok returns for his senior...

Kenny White used to set lines for the biggest casinos. Now, he's locked in a Syracuse vs. UNC...