One of these Final Four teams is about to kill a popular narrative
No matter who wins it all -- Florida, Connecticut, Wisconsin or Kentucky -- something lots of people suggest can't happen is going to happen.
More Final Four: Doyel: Donovan has evolved as a coach | Saturday's X-factors
ARLINGTON, Texas -- I usually have a pretty good idea, or at least I usually think I have a pretty good idea, about who will and will not win the national championship by the time we get to the Final Four. More specifically, I think I can usually identify the team or two that probably has no shot, for a variety of reasons. And yet this year I'm basically stuck.
For the record, I'm picking Florida.
(The Gators haven't lost in more than four months, you know?)
But I can easily envision a scenario where Connecticut, Kentucky or Wisconsin instead wins this championship, meaning nothing that happens over the next four days should qualify as surprising -- if only because the favorite (Florida) has already lost to the two biggest underdogs (Connecticut and Wisconsin). Either way, it's going to be great. Because regardless of which team cuts nets late Monday, a popular college basketball narrative will be dispelled.
Unfamiliar with those narratives?
Let's go through them one by one ... 
1. You can't win a national championship without a future first-round pick or three.
In fairness, this theory is typically true; most national champions do have a future first-round pick or three. But the idea that you must have one or three (or more) will be put to rest if Florida wins this title with a bunch of role players who have developed, over time, into important pieces for the nation's top-ranked team.
I mean, Chris Walker might be a first-round pick someday.
I suppose Patric Young could be, too.
But there isn't a guaranteed future first-round pick on the roster. So if the Gators win this it'll serve as proof that future first-round picks aren't necessarily a prerequisite.
2. You can't take over a national program with no head-coaching experience.
The obsession some athletic directors have with "previous head-coaching experience" during the hiring process is so stupid because the truth is that such is rarely the reason somebody fails or succeeds at the high-major level. Stars are stars. And if you're smart enough to identify one then you ought to hire him regardless of the circumstances.
I've long believed that.
Which brings me to Kevin Ollie.
Ollie was an NBA player four years ago.
He was Jim Calhoun's assistant two years ago.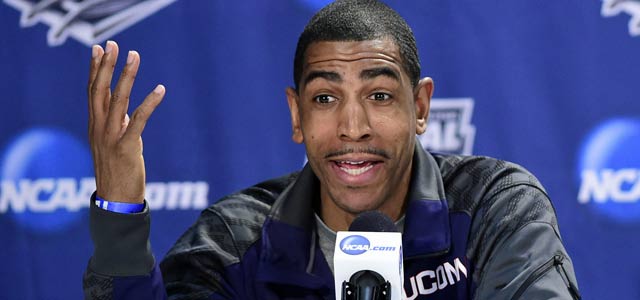 He got the head-coaching position at UConn just 19 months ago and with no head-coaching experience, and I think it's safe to say that decision has turned out OK. Ollie is now two wins away from a title in only his second season as a head coach, meaning he's already made every AD with an opening who limits his pool of potential candidates to men with "previous head-coaching experience" look silly. And if Ollie wins it all? Forget about it.
3. You can't win it all by recruiting players to fit a certain system.
I can't tell you how many conversations I've had about Bo Ryan that started with me praising how consistently good he's been at Wisconsin and ended with somebody trying to explain to me why Ryan will still never get to a Final Four. Obviously, that counter-argument is now buried forever, and it'll really be something if the Badgers win two more games.
Can you imagine?
Granted, Wisconsin winning a championship will never make it advisable for a coach to try to win big with a roster mostly filled with three-star recruits. But Wisconsin winning a national championship will prove that it's possible, and that's the point.
4. You can't fill the trophy case with a roster of one-and-done recruits.
It seems wild, in hindsight, but this was a popular opinion as recently as a month ago -- even among Kentucky fans. They loved signing elite prospects, as any fanbase would. But they had basically determined, after the season seemed to be headed in the wrong direction for the second straight year, that there has to be some balance to the roster, that you have to have a junior or a senior -- you know, somebody like Darius Miller from that 2012 title team -- to provide guidance for the young stars. Folks were yelling for John Calipari to recognize this and adjust accordingly. Some wanted him to change his entire approach to recruiting.
But now look.
Five freshman starters are two wins from a championship.
Six of the top seven (healthy) players at UK are first-year players.
So do you need roster-balance?
In most cases, probably, yes. But if UK wins two more games that popular narrative will be gone forever. And no matter who wins two more games some popular narrative will be gone forever, which is great because narratives that leave no room for exceptions are dumb.
Shareef O'Neal, a 4-star recruit who signed with Arizona in November, has changed his mind

Despite not being on the sideline Saturday, Miller states he is "confident that I will be...

Bridges was mentioned in Friday's report, but has been cleared to be on the court
Miller may actually be owed $10 million if he is fired for cause and $5 million if he is fired...

The Bearcats cling to a one-game lead in the AAC heading into Saturday

The second-ranked Spartans travel to Wisconsin for their regular season finale on Sunday vs....