Optimism waning as it pertains to a possible P.J. Hairston return at UNC
Those close to the North Carolina program used to talk about when P.J. Hairston might return, not if. Now their optimism has apparently waned, and the Tar Heels are preparing to play without him for a while and possibly forever.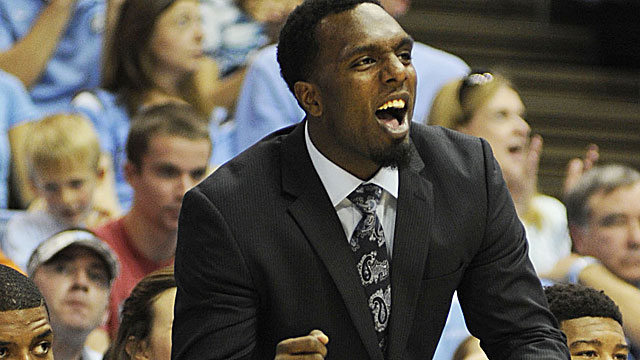 UNCASVILLE, Conn. -- When I spoke to people associated with North Carolina back during the summer, or anybody close to the program in the preseason, they were consistently optimistic that P.J. Hairston would, at some point, play for the Tar Heels this year.
They knew those rental cars were questionable.
They knew he probably messed up.
But they thought, for whatever reason, that Hairston would be back.
Fast-forward to Saturday afternoon, here at the Mohegan Sun, where the Tar Heels beat Richmond 82-72 in the semifinals of the Hall of Fame Tip-Off, and I can tell you that the tone, if nothing else, surrounding Hairston's situation has changed. Nothing is official, of course. And trying to predict exactly what the NCAA will do is almost always, at best, a guessing-game. But there's no denying that optimism has waned as it pertains to Hairston.
With this in mind, I asked UNC coach Roy Williams a very simple question.
I asked if he thinks he'll ever coach Hairston again.
"I think I will," he said. "There's no doubt in my mind that I think I will. But I don't know."
To understand the weight of that quote you need to understand that Williams would never rule anything out until it's officially ruled out. He's forever positive and hopeful. But it should be noted that even the Hall of Fame coach has changed his position since the preseason. Back then, Williams admittedly seemed unsure about how much time Hairston might miss, but he never publicly entertained the idea that Hairston would not play for the Tar Heels again. Now, Williams acknowledges, that he just doesn't know, and that public uncertainty can be interpreted as serious doubt.
Again, nothing is official.
I cannot stress that enough.
But the prevailing theory among sources around the North Carolina program is that Hairston might not have been completely honest with investigators about the extent of his use of rental cars connected to a convicted felon named Haydn "Fats" Thomas that were seemingly occupied by Hairston in violation of NCAA bylaws. If that's the case, well, Bruce Pearl and Dez Bryant can tell you how misleading the NCAA typically goes over.
Even Johnny Manziel would have a tough time beating this rap.
So what to make of North Carolina?
Man, I don't know.
Few teams could lose their leading returning scorer (and best perimeter scorer) and be OK, which is among the reasons I'm not sure UNC will be OK relative to UNC standards. To be clear, I think the Tar Heels will be OK in general and likely make another NCAA tournament. They still have talented prospects, and more than most. But, if Hairston never returns, there's almost certainly going to be a ceiling on this team that wouldn't otherwise exist, and Richmond coach Chris Mooney indirectly summarized why on Saturday.
Mooney was overly complimentary of North Carolina.
Please don't get it twisted.
But at one point, while talking about the game he'd just coached, Mooney said he never thought there was a time in those 40 minutes when he felt his team was "overmatched," and that's telling because, let's be honest, a North Carolina roster should, in theory, be able to overmatch a Richmond roster. North Carolina was obviously bigger than Richmond. But the Tar Heels never really overwhelmed Richmond, and if they can't overwhelm Richmond then they're going to find themselves susceptible from time to time just like they found themselves susceptible last Sunday in that home loss to Belmont.
Marcus Paige could help change that, though.
He was really nice on Saturday.
The sophomore point guard turned combo guard finished with 26 points on 13 shots in an effort that suggested he's capable of being a high-level scorer from the wing. It was encouraging to watch, and, afterward, I spoke with Paige about the change of mindset that's been forced upon him because of Hairston's NCAA troubles.
"Our best perimeter scorer is out ... and coaches keep reminding me that I have to be able to provide offense from the outside," Paige said. "I can't just be a pass-first point guard. I have to be attacking and trying to create shots for others and myself."
And Paige's thoughts on Hairston's future?
"It would be nice to have him back," Paige said with a smile. "But we're just worrying about what we can do to be prepared without him. If we get him back ... it's gravy."
Kentucky losing this game probably cost it a shot at earning a high NCAA Tournament seed

Freshman had 12 turnovers and 20 points; the Wildcats rattled him and kept OU on its heels

Kentucky and UNC are just behind the Blue Devils and Jayhawks
Cal's form wasn't pretty, but when it works, it works

Josh Nagel has his finger on the pulse of Purdue basketball and locked in a play for Tuesd...

Gary Parrish and Matt Norlander discuss the latest in college basketball