Orange AD: Syracuse-Georgetown series just needs Hoyas sign-off
Though they can't play each other in the upcoming regular season, there's hope that the two schools will soon rekindle their famous rivalry.
• 1 min read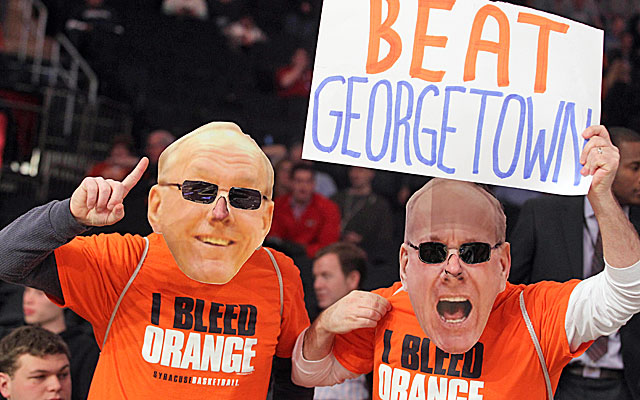 The fracture of the old Big East this summer split up a few rivalries, most notably Syracuse and Georgetown's, one of college basketball's most famous clashes. Syracuse left the league it helped form more than 30 years ago and is now playing in the ACC. Georgetown is part of the restructured, non-football, 10-team Big East.
As last season played out there were many questions over if and when the series would continue. Syracuse coach Jim Boeheim and Georgetown coach John Thompson III wouldn't/couldn't shed light -- because they simply didn't know. These scheduling tactics are usually coordinated by athletic directors, and then head coaches sign off on potential series.
The good news for Orange and Hoyas fans who want the rivalry to proceed: We appear to be one step closer. According to SU AD Daryl Gross, he's signed a 10-year contract and is waiting for Georgetown brass to seal the deal. Gross passed along the news during his radio show on Syracuse's TK99 on Wednesday night. Other details remain unknown, like when the series would begin and who would host the first game.
This news will gain more traction and attention in both schools' circles on Thursday. One would have to think a microphone or reporter's pad will be placed in front of Georgetown athletic director Lee Reed in the coming hours/days, so we could have an answer soon.
What's certain is that Syracuse and Georgetown will not play each other in the regular season in 2013-14. The teams' nonconference schedules have already be settled.
Northern Colorado will be on probation through 2020 due to academic and recruiting violati...

You might not see a projected NCAA Tournament bracket quite like this one anytime soon

The Wildcats, once written off after a three game skid, appear poised to enter Pac-12 play...
The Ducks are riding a three game winning streak yet are slight underdogs against the Bulldogs...

The Hurricanes are one of only a handful of unbeaten teams left in college hoops

The Bearcats are fresh off a convincing win over previous unbeaten Mississippi State