Oregon coach Dana Altman defends use of transfers as team struggles
Oregon has been getting transfers left and right over the past few years, and Dana Altman found a need to defend that philosophy on Saturday night.
• 2 min read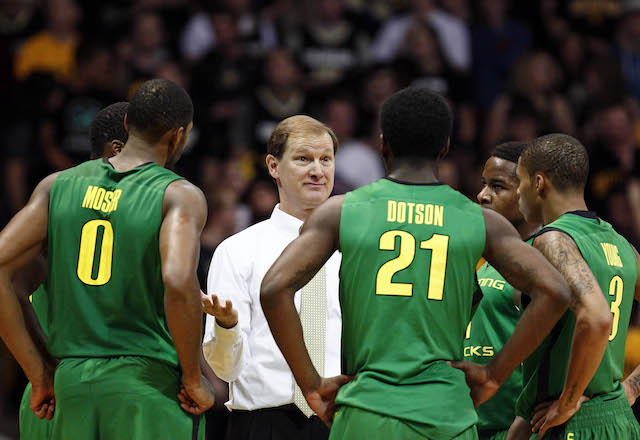 Oregon has become one of the major transfer destinations since Dana Altman took over the program in 2010, signing numerous players looking for a new home. The roster this season includes a handful of Division 1 transfers, including Joseph Young (Houston), Mike Moser (UNLV), Jason Calliste (Detroit) and Richard Amardi (Iowa State).
And he has another one in the fold for next season, with Providence transfer Brandon Austin making the move recently.
With the team struggling in Pac-12 this season, moving to 3-6 after a win over USC on Saturday, there has been some complaining about the way Altman is doing things in Eugene -- lack of continuity and consistency, becoming "Transfer U", players coming in and moving on after only a year or two.
After Saturday's game, Altman discussed his transfer philosophy and why he likes taking fifth-year players and transfers.
"I've taken some crap for taking fifth-year guys, I'll tell you what, if you want to send me Jay-R Strowbridge, Arsalan [Kazemi], Olu [Ashaolu], Devoe [Joseph], Jason [Calliste] where would be without those five guys? When we started we had a lot of work to do. Jay-R Strowbridge, we would not have had a very good first year. We didn't have a great year, but we finished okay because of Jay-R being a big part of that. The next year, Devoe and Olu, we don't go to the NIT and have a chance to go to the NCAA Tournament without those two guys. Arsalan last year, I mean, the problems we are having this year we would have had last year if we didn't have Arsalan. So now with Jason and Mike, they've done a great job at the university, they've gone to class, they are great with our younger players, other than the fact that they are with us for one year they've represented our program and our university really well ...

Again, I don't think it's something we are going to continue to do. I think we have some good young players in the program, but for where we were three years ago, four years ago, we've been able to compete at a decent level, not where we want to be because we want to be better, but at a decent level because of those guys."
While Oregon is mired in a slump right now, there is enough talent on the roster to turn it around and get to the NCAA tournament. And that talent is there due to transfers.
The Ducks head to Arizona on Thursday. 
Quickley played for John Calipari this summer with USA Basketball

A revamped Erwin Center is part of a $4.25 million upgrade to the Longhorns' hoops facilit...

Nov. 10 will be here before you know it so here's what you need to know
The league would be wise to treat that series like the ACC treats Duke-North Carolina

Pacific is penalized after the NCAA found academic rules were broken

Arizona, for no good reason, doesn't have to play at USC or UCLA this season