Oregon continues to reshape roster through one-year transfers
Oregon looked to be in some trouble when the season ended -- but Dana Altman has worked his magic to land four transfers who could be eligible immediately.
• 2 min read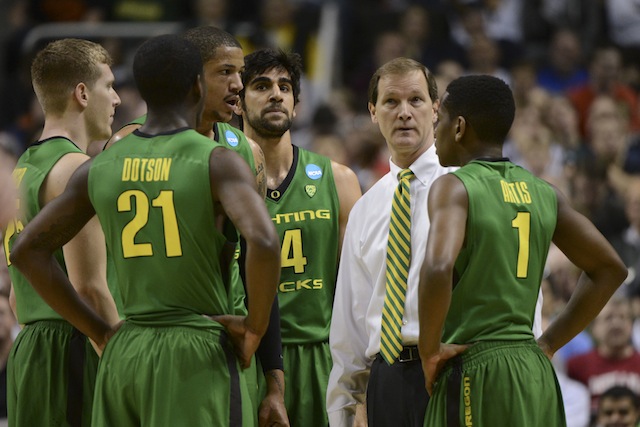 When Oregon's season ended in March, it looked like the Ducks were poised to take a step back in the Pac-12 during the 2013-14 season. Four of their top six players were on their way out the door, and the incoming recruiting class wasn't filled with impact players.
Since the beginning of May, though, Dana Altman and his staff have been among the most active programs in the country. The Ducks landed UNLV transfer Mike Moser in early May, then followed that up with junior college forward Richard Amardi and Houston transfer Joseph Young in June.
It continued over the weekend, when Detroit transfer Jason Calliste decided he was heading to Eugene as well.
The one common denominator in all four transfers? They all could be eligible to play immediately. Moser, Amardi and Calliste will definitely suit up this season, while Young is waiting on the NCAA to make a decision.
It's impossible to find a team that has changed its outlook as greatly as Oregon has done over the past three months. Calliste or Young will likely start immediately at one of the guard positions, with both players bringing ample scoring pop and perimeter shooting to the table. Sophomores Dominic Artis and Damyean Dotson will also return as starters on the perimeter, with Altman suddenly having one of the best three-guard lineups on the West coast.
Replacing E.J. Singler, Tony Woods and Arsalan Kazemi up front isn't easy, but the prospects look much better than they did just a few months ago. Moser will start as a matchup problem at the four, and Altman has a variety of options to use as his partner. Ben Carter and Waverly Austin both showed flashes a season ago, while Amardi and freshman Jordan Bell will also help.
Since arriving in Eugene, Altman has had no problem bringing in one-year transfers. Olu Ashaolu and Devoe Joseph came from Louisiana Tech and Minnesota, respectively, during Altman's first season, while Kazemi left Rice for Oregon prior to last season. And it's worked out very well for the Ducks, with the three players combining to average 34.7 points and 18.3 rebounds during their one season in the program.
Oregon surprised many last season, winning 28 games, the Pac-12 tournament and then reaching the Sweet 16. The scary thing is the Ducks could have more talent on the roster this season.
There are obviously questions about how the players will mesh, but the Ducks are undoubtedly in a better position to compete for a league title than they were three months ago.
There are places NBA prospects can develop if they pass on college and don't want to play...

Duke's Grayson Allen, Notre Dame's Bonzie Colson and UNC's Joel Berry make a pretty good ACC...

Finding the best basketball situation should be the only motivator for budding stars
We asked more than 100 coaches to give their predictions on how the NCAA will judge two massive...

After leaving Western Kentucky, five-star recruit's future in college basketball seems slim...

Hollywood, 19, redshirted last season