Oregon gets suspended Artis, Carter back Tuesday; will come off bench
Oregon returns suspended Dominic Artis and Ben Carter back Tuesday, and it may provided the 9-0 with the nation's deepest perimeter rotation.
• 1 min read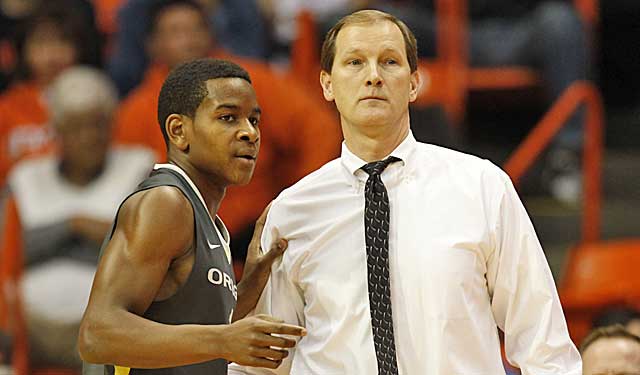 Dominic Artis was one of the main reasons why Oregon advanced to the Sweet 16 last season.
The Ducks were 23-5 last season with Artis in the lineup and 5-4 when he was out with injuries.
Dana Altman's team is off to a 9-0 start without Artis and Ben Carter, who were suspended in early November for selling shoes that were provided to them by the university.
The duo will return for Oregon on Tuesday night against UC Irvine, and both will come off the bench.
"We'll work them in," Altman said Monday morning. "We've set a rotation early on but we've only played nine games so nothing is set in stone. We're hoping that now we'll have a bit more depth so we can pressure the ball even more defensively."
Artis was arguably the Ducks' most important player last season, but during his suspension senior Jonathan Loyd performed at an elite level.
"He's doing a good job," Altman said of Loyd, whose averaging 11.1 points and 7.3 assists. "The way he's moving the ball has been good. He's pushing it every chance he gets."
Artis' return may give Oregon the deepest perimeter in all of college basketball.
With Artis, Loyd, Joseph Young, Jason Calliste and Damyean Dotson, the Ducks have five potential double-figure scorers in the backcourt along with Mike Moser (14.9 PPG, 7.6 RPG) up front.
"We've got a lot of guys who can finish a play," Altman said. "It's going to be a matter of sharing the ball."
And while most will focus on Oregon's overall firepower on offense, Altman is mostly concerned with the other end of the floor.
"We've got to get better defensively and I think Ben Carter will really help us in that area," Altman said. "He can give us another presence down low. We've got a long ways to go defensively but it is only December 16th. I hope on January 16th we're better defensively than we are now and then on February 16th we're better than we were in January. Then on March 16th I hope we're playing our best."
Oklahoma's star freshman has a father who has been there and done that

Kentucky now is at risk of slipping out of the Top 25 (and one)

Cherry's commitment gives ASU a top-20 recruiting class and its highest rated pledge since...
Matt Norlander is on a 11-7 run in college basketball picks and shares his best bets for W...

Kentucky losing this game probably cost it a shot at earning a high NCAA Tournament seed

Freshman had 12 turnovers and 20 points; the Wildcats rattled him and kept OU on its heels