Oregon must offer real explanation about suspension timeline
Oregon says it delayed its suspension of three men's basketball players accused of a sexual assault at the request of the police. That explanation may not be accurate, and it's definitely not acceptable.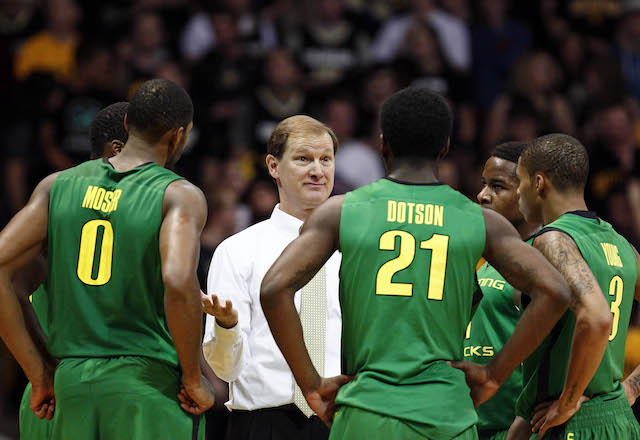 When a 24-page Eugene Police Department report detailing an allegation of sexual assault against Oregon basketball players Dominic Artis, Damyean Dotson and Brandon Austin was released late Monday, the first question I had was this: When did university officials initially realize that three of their student-athletes had been accused by a fellow Oregon student?
Answer: March 9, according to Oregon officials.
Which obviously raised more questions.
Like ...
Why did Artis and Dotson play for the Ducks in the Pac-12 Tournament on March 12 and March 13, and again for the Ducks in the NCAA Tournament on March 20 and 22? There are examples in college basketball of players -- Michael Dixon at Missouri, Dez Wells at Xavier -- being removed from teams for sexual assault allegations that never even led to criminal charges. So why did Artis and Dotson -- Austin was sitting out anyway as a transfer from Providence -- continue playing after the allegations as if nothing had happened?
Oregon's answer on Wednesday: Because the Eugene PD asked the school not to take administrative action for fear of jeopardizing the integrity of the criminal investigation.
When I read that statement from Tobin Klinger, the university's senior director of public affairs and communications, I was further confused because I didn't undersand how Oregon suspending two players for an undisclosed "violation of team rules" within hours of learning of the disturbing allegations could possibly compromise a criminal investigation. On the other hand, I've never personally handled a criminal investigation. So what do I know, right? I figured Oregon had simply done what the police requested Oregon to do.
But then Portland columnist John Canzano tweeted this late Monday:
Eugene PD tells me they only asked UO to pause their internal investigation. Gave no instruction about alerting players or playing time.

— John Canzano (@johncanzanobft) May 8, 2014
And then this ...
Spokesperson from Eugene PD: "Police are not going to be concerned about who participates in a sporting event."

— John Canzano (@johncanzanobft) May 8, 2014
So now Oregon has some explaining to do.
In fairness, perhaps there was a communication breakdown between the Eugene Police Department and Oregon officials, and that isn't the most difficult thing to believe. But it also should be noted that, according to the Oregonian, Dana Altman and his staff have bonuses in their contracts for making and winning games in the NCAA Tournament (in Altman's case, $50,000), and a cynic might suggest that their motives for using two rotation players who had been accused of heinous acts were rooted in the possibility of personal financial gain. Or, at the very least, in the desire to win regardless of the circumstances. No coach wants to enter the postseason down two key players. So maybe that's why the school opted to allow Altman to continue using Artis and Dotson while the allegations were being investigated.
I don't pretend to know the truth.
That's why I requested comment from athletic director Rob Mullens and Altman on Thursday morning, because I wanted to see if they could provide clear answers. Both declined the opportunity to talk via a university spokesperson, and that's fine. But every minute without clarification is another minute filled with speculation, and the speculation is rarely positive when two student-athletes are allowed the privilege of playing a combined 46 minutes in a Pac-12 Tournament game three days after they allegedly raped a fellow student.
The players have the right to appeal the decision within three business days

Young is coming off his worst game as a Sooner and will try and bounce back vs. the Cowboy...

The Wildcats face a surging Stanford team that has risen as a potential Pac-12 contender
The reeling Mountaineers look to get back on track against Texas at home

The first-ranked Wildcats travel to UConn to face a middling Huskies team that is 3-3 in league...

The Boilermakers top two scorers share a last name, but aren't related