OSU's Marcus Smart gets call-up for USA Basketball minicamp
The Oklahoma State point guard, Marcus Smart, will be the only college basketball player training among 27 pros in Las Vegas next week.
• 1 min read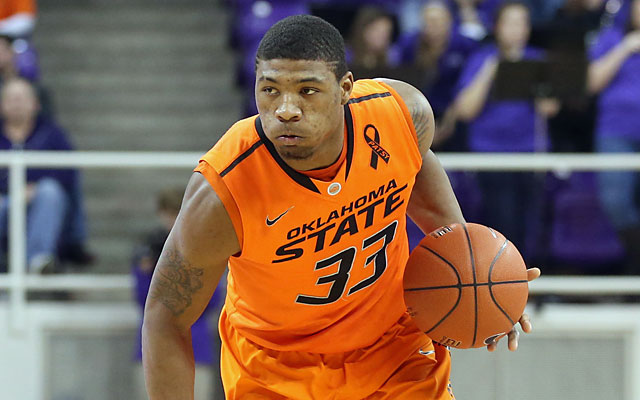 As of now, it seems clear Marcus Smart made the right choice in going back to school. He passed up on a chance to be a top-five draft pick in June, but the Oklahoma State sophomore point guard is getting a lot of offseason reps against a lot of good competition.
And it's clear his reputation in basketball circles only continues to grow. That was evidenced most recently on Tuesday, when Smart was the lone college selection for USA Basketball's minicamp. Creighton's Doug McDermott has since been added as well. Smart and McDermott will go up against the likes of Kyrie Irving, Harrison Barnes, Anthony Davis, Klay Thompson, Mike Conley, Jr. and John Wall.
George Hill of the Indiana Pacers and Michael Kidd-Gilchrist of the Charlotte Bobcats were announced jointly with Smart in Tuesday's release. That camp will be held July 22-25 in Las Vegas. Here is the full roster. The point of the minicamp is for USA Basketball coaches/officials to start seeing which players could play on behalf of the country in future international competition.
"It is a great honor to be invited to participate with the USA Men's National Team," Smart said in a statement. "The other players at the minicamp are NBA professionals who I look up to and respect. I'm excited to learn from them and to compete against them."
Most recently Smart was a member of the USA Basketball U19 team that won gold at FIBA World Championships in Prague, Czech Republic. It was just the third time in three decades that a United States U19 team won that tournament. Smart averaged 10 points, three rebounds and more than two steals and assists in nine games, playing less than 16 minutes per game
Kansas will probably be the preseason favorite to win the Big 12, but Smart should be considered the Player of the Year favorite -- though KU's Andrew Wiggins may take that, too. It's going to be a very fun year ahead for the Cowboys in that league. And what's really exciting for college basketball fans: knowing that, as good as Smart was last year, he's likely to come back and be even better. After a spring and summer like this, how could he not?
The UConn women's basketball coach stepped in to offer up a solution in an education budget...

Duke and North Carolina players will skip ACC Operation Basketball because of new NCAA pol...

After a close game against Michigan, Air Force is playing San Diego State with some moment...
Quickley played for John Calipari this summer with USA Basketball

A revamped Erwin Center is part of a $4.25 million upgrade to the Longhorns' hoops facilit...

Nov. 10 will be here before you know it so here's what you need to know