Package deals are harder to execute than Okafor and Jones made it look
Class of 2015 stars Malik Newman and Diamond Stone showing why package deals are harder than they look.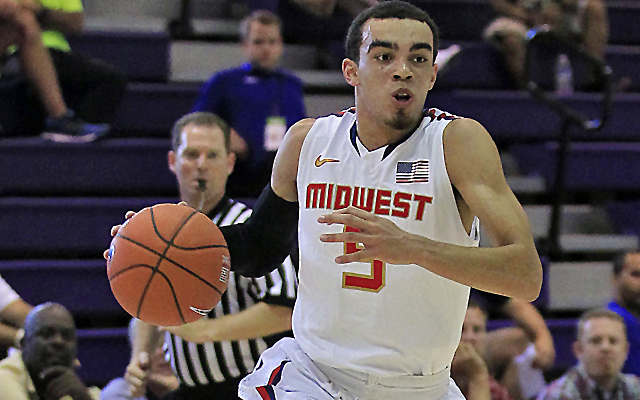 MORE: Peach Jam Notebook | UAA Finals Notebook | Chance Comanche Update
A few months back, at a Nike EYBL event in Minneapolis, Class of 2015 star Malik Newman publicly proclaimed that he and fellow Class of 2015 standout Diamond Stone would be a so-called package deal for one fortunate college basketball program. Never mind that the two prospects are unrelated and from different states. Never mind that they've sometimes played with summer teams funded by different shoe companies. Never mind that different folks with different agendas are heavily involved in the recruitment of both players. Newman still insisted that he and Stone would be a package deal, and he put the likelihood of it eventually happening at "100 percent."
Then came Monday morning.
Then came the following tweet from Newman:
— malik newman (@iammaliknewman) July 21, 2014
Translation: Stone plans to announce his college choice on Nov. 12, which is earlier than Newman plans to announce his college choice. And the school Stone selects will not necessarily be the school Newman selects.
That's Newman's latest position.
So I guess it's time to back off that "100 percent" comment, huh?
Honestly, this latest development -- that Newman and Stone won't necessarily sign with the same program -- is hardly a surprise. I spoke with multiple coaches recruiting one or the other over the weekend, and not a single coach thought Newman and Stone would actually be a package deal even if they would genuinely like to play together.
Simply put, these things are typically too complicated.
Yes, Class of 2014 stars Jahlil Okafor and Tyus Jones executed a package deal to Duke last year, meaning it can be done. And I really do think LeBron James, Dwyane Wade and Chris Bosh deciding to join forces in Miami in July 2010 showed players, even at the high school level, that there can be something really cool about teaming with talented friends in the spirit of chasing championships. But the truth is that this type of package deal -- again, a package deal consisting of two unrelated elite prospects from different states and AAU programs -- is awfully difficult to pull-off because, more often than not, there are just too many factors involved to make the whole thing come together.
Take Newman and Stone, for instance.
One is from Mississippi, the other from Wisconsin, point being that there couldn't possibly be a regional school that appeals to both. Thus, national brands need only apply, which is fine. But what might be good for Newman, in terms of the roster makeup at any given school, might not be good for Stone, and vice versa. Beyond that, Newman has often played with a Nike-affiliated summer program while Stone has competed with a summer program funded by Under Armour, and such things can sometimes influence plans. Beyond that, two different adults -- Newman's dad; Stone's mom -- are mostly handling the recruitments, and odds are their desires don't align perfectly for any number of reasons.
I could go on for a good while longer, but surely you get the point.
I don't doubt Newman and Stone like each other, and I don't dispute that they would, in theory, love to play college basketball together. (And, just so we're clear, I'm not ruling it out; they might ultimately end up at the same school. We'll see.) But the idea that Newman and Stone were ever "100 percent" a package deal was overstated by, well, roughly 100 percent. As it stands, the two can't even settle on a day to announce their college choices, much less a college. So coaches would be wise to recruit them as separate entities because, as Newman himself acknowledged Monday, they're not really a package at all.
Gary Parrish and Matt Norlander spend some time on the SEC, too

Having shocked Kansas at Allen Fieldhouse, Duke legend Bobby Hurley is coaching the Sun Devils...

Jay Wright's undefeated Wildcats are now No. 1 in the Top 25 (and one)
Coach K's Blue Devils are the fourth preseason top-10 team to lose to a sub-75 KenPom team

TCU, which downed Nevada late Friday, continues to flourish under second-year coach Jamie...

The fans rushed the floor and celebrated after Taylor University scored its 10th point of the...