Paige's emergence and Hairston's confidence have Heels rolling
North Carolina has won five in a row, although the Tar Heels needed to make major changes to start winning.
• 4 min read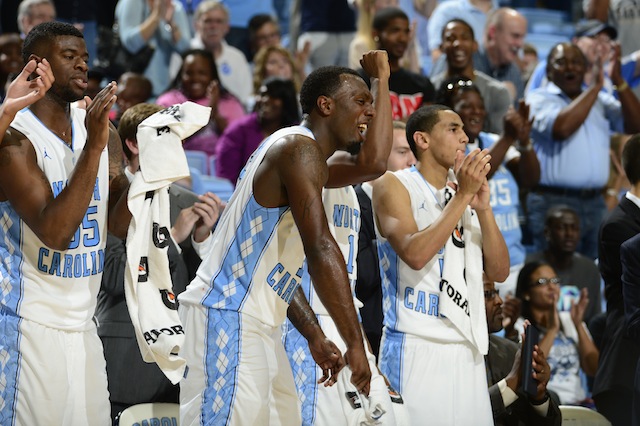 CHAPEL HILL, N.C. -- It was only a couple of weeks ago when North Carolina was squarely on the bubble, looking like a team that could miss the NCAA tournament. After a blowout loss at Miami, North Carolina was 16-7 overall and just 6-4 in the ACC.
The running, transition-dominant, fluid Tar Heels we had been used to seeing near the top of the rankings? The annual Final Four threat? Those Tar Heels were nowhere to be found.
Until head coach Roy Williams decided to play his five best offensive players at the same time -- despite two of them playing out of position. After losing at Duke in the first game, North Carolina has rolled off five straight victories, with the latest coming against Florida State, 79-58.
James Michael McAdoo, Reggie Bullock and P.J. Hairston have all had to adjust to their new roles. But more importantly, they are forcing opponents to adapt.
"It's more free," freshman point guard Marcus Paige said. "Having open driving lanes is leading to easier shots and open looks."
The Tar Heels have completely changed in the past six games, creating matchup problems all over the court. Very few post players are able to guard McAdoo one-on-one, and the ability of Hairston and Bullock to consistently knock down 3-pointers has meant better spacing on the court.
Because opponents can't put two big men near the rim defensively, everything looks easier for North Carolina.
"P.J. stretches the defense so much -- it opens up for other people," Williams said. "James has more space than he did with another big guy in there. We drive the ball to the basket and move the ball, so there's space."
 "When they're hot, they're hot," McAdoo said about Hairston and Bullock. "It makes things easier for me."
Everyone has bought into the change, too. On the surface, playing a face-up power forward at the five (McAdoo) could be a weakness. Moreover, two perimeter shooters (Hairston and Bullock) were suddenly thrust into a more versatile role, with both players rotating the responsibility of having to guard opposing power forwards.
Yet it has been working because players were willing to adjust to the new lineup in order to be successful. McAdoo no longer has to shoulder too much offensive responsibility with all five starters averaging in double figures over the first five games with the new lineup. Bullock has played tougher, getting more involved on the glass.
The biggest beneficiary, though, has been Hairston. He came into the college game as a big-time shooter, but he had struggled during much of his career in Chapel Hill. Since moving into the starting lineup, however, Hairston is averaging 16.8 points and beginning to find his form from behind the arc. He admitted his confidence is skyrocketing as he sees the ball go in the net with regularity.
"The first time I saw him in high school, he had like, 400," Williams said. "He was struggling -- until I put him in the starting lineup. The biggest thing I think is he feels more comfortable."
What has really revved up North Carolina, though, has been the emergence of Paige. Given the ball since day one, he was up and down over the first three months of the season. As he has become more comfortable and confident in his play, the entire Tar Heels' offense has improved. Consistent play from Paige allows Dexter Strickland to be a secondary ball-handler and leader, and it lets Hairston and Bullock focus solely on scoring.
In the first five games in the new lineup, Paige averaged 10.6 points, 4.2 assists and 2.2 steals. He didn't finish effectively at the rim on Sunday, but his ability to find open teammates sliced up Florida State's defense all game.
"I'm just playing the game and not thinking so much," Paige said. "When I'm driving and making plays, it helps me get going. I'm more confident in my ability to go make a play."
The smaller lineup has had its drawbacks, of course. North Carolina allowed too many second-chance opportunities on Sunday, and it could be tough to deal with bigger teams that have a mobile power forward. But the Tar Heels are getting back to what makes them good: getting out in transition and scoring the ball. They are taking better care of the ball and forcing more turnovers while also being more disciplined defensively.
Williams said the Tar Heels have been more active defensively, despite the lack of blocked shots and classic post defense.
Five straight victories have likely propelled North Carolina into the NCAA tournament, although the Tar Heels can send a major message this week, when they visit Maryland and then host Duke in the regular-season finale.
A couple more impressive performances, and North Carolina will have plenty of momentum heading into the postseason. For now, the Heels will have to settle for five in a row.
"Winning kind of solves everything," Paige said.
And in this case, a smaller lineup.
For more college basketball news, rumors and analysis, follow @EyeOnCBB on Twitter, subscribe to our RSS Feed and subscribe to our College Basketball Newsletter. You can follow Jeff Borzello on Twitter here: @jeffborzello
The Big Ten Tournament is a week earlier than usual, so the regular-season schedule may look...

Arizona, Grand Canyon and Tulane are also in Barcelona and have reported to be accounted for...

The Kansas forward is no longer accused of walking out on an $88 tab
Cavaliers basketball coach tapes statement on behalf of his university and his city

Gary Parrish and Matt Norlander discuss all things Marvin Bagley and his immediate future

Which version of Grayson Allen will show up for Duke and other questions for every ranked...