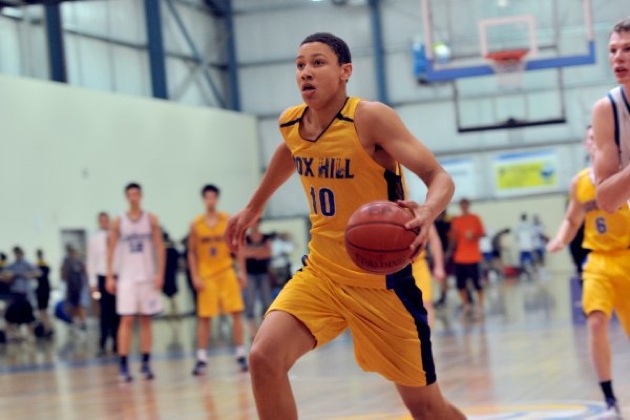 Ben Simmons, a 2015 prospect from Australia, was the talk of the Pangos All-American Camp. (Bendigo Advertiser)
LONG BEACH, Calif. – The Pangos All-American Camp has become one of the elite events of the spring calendar, bringing the top players from across the country to the West coast. Moreover, it gives some of the lesser-known players from the California area a chance to make a name for themselves. While this year's camp did not feature the top-five individual battles of a year ago, there was plenty of talent on hand. There was great depth and the parity at the top meant players were constantly battling in order to get a step up on the competition. Here were some of the top standout performers:
Ben Simmons, 2015: Simmons was the talk of the camp, as the 6-foot-8 Australia native clearly made a tremendous first impression on the scouts and analysts in attendance. Arguably the best prospect at the event, Simmons would likely be the No. 1 player in the class of 2015 if he attended high school in the United States. As it stands, he's an extremely athletic and skilled forward who runs the floor extremely well and knows how to finish at the rim. He's a very good rebounder and is a mismatch for most opponents.
Jarrell Martin, 2013: Martin has been playing well all spring, and he continued that at Pangos. He is an inside-outside offensive player, capable of scoring at the rim or knocking down outside jumpers. He was a beast on the offensive glass, crashing it for second-chance points on a regular basis.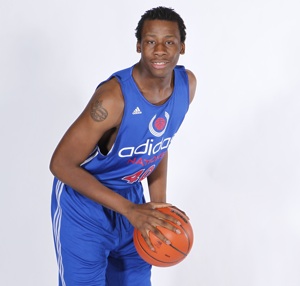 2014 big man Cliff Alexander captured Most Outstanding Player honors. (Adidas)
Cliff Alexander, 2014: The recipient of this year's Most Outstanding Player award, Alexander was dominant down low. His size and strength were far too much for most opponents, and his energy level didn't wane even when he didn't get touches. Alexander knows how to finish inside, and he also has developed a face-up jumper from 15-feet.
Karviar Shepherd, 2013: In a class without too many standout centers, Shepherd continues to rise up the charts. His offensive game is superior to most of his counterparts, as he can consistently hit face-up jumpers from the foul line and jump hooks with his back to the basket. Shepherd is also solid on the defensive end.
Conner Frankamp, 2013: Arguably the most impressive guard at the camp, Frankamp made plays throughout the weekend. Moreover, in a setting where it was easy to simply isolate and go one-on-one, Frankamp made an effort to get teammates involved and facilitate offense. He is a knockdown 3-point shooter and is very shifty with the ball. Moreover, the Kansas commit jumps passing lanes and runs the break well.
Brandon Austin, 2013: The Penn State commit used his versatility and length to create matchup problems. He can play multiple positions and is also a very good defender. Austin created plays for himself and teammates, and knocked down outside shots. In transition, he can find teammates and finish at the rim.
Brandon Randolph, 2013: There are differing opinions about Randolph, but he was certainly impressive over the weekend. His strength enables him to get past defenders and finish at the rim, and he also knows how to pull-up in the mid-range or utilize floaters. Randolph can play both guard spots and is confident.
Mike Young, 2013: Young continued his very solid spring with another high-level performance at Pangos. He has expanded his offensive game to include consistent perimeter shooting, which has made him a matchup problem. Young can go off the dribble and finish, and he was aggressive on the glass.
Kevon Looney, 2014: Looney is still developing his skillset, but he has a long and skinny frame and good athleticism. He can go off the dribble against bigger defenders, and is not afraid to use his skill and touch. Looney is a very good finisher and rebounder, and he can also guard different positions.
Derryck Thornton Jr., 2016: The lone 2016 prospect at the camp, Thornton is going to be an absolute stud point guard in his class. He has a high basketball IQ for someone his age, and he did not show any signs of being timid going against older players. He is confident and smooth, and makes the right pass. Still growing, Thornton is going to be a player to watch.
Other players worth noting: Harvard commit Zena Edosomwan played with energy throughout the weekend. He beat opponents on the glass and in transition . . . Loyola Marymount got an absolute steal in Patson Siame. He's still raw offensively, but the 6-foot-11 big man blocks shots and rebounds . . . Solomon Poole is so explosive offensively, but he also knocked down shots . . . Jonathan Williams III didn't get a ton of touches, but he is a matchup problem offensively and can finish against bigger players . . . 6-foot-4 Chris Sandifer is an intriguing prospect. He can score and handle, and has good size for his position . . . Damontrae Jefferson might have been the most exciting player at the camp. He's 5-foot-7 (yeah, right), but can shoot and create . . . UNLV-bound Christian Wood showed off his deep range, and at 6-foot-9, he's a great pick-and-pop option . . . Stanley Johnson has a unique body and skillset, and he's very productive no matter what role he's playing . . . It's impossible to keep JaQuan Newton out of the lane; he and Kevin Zabo engaged in a great head-to-head battle . . . 2013 prospect Dakarai Allen doesn't have much of an offensive game, but he's physical and a lockdown defender on the perimeter . . . Louisville-commit Anton Gill showed off his offensive game, knocking down outside shots and floaters consistently . . . When it comes to scoring, there are few better in the 2013 class than Isaac Hamilton . . . 6-foot-4 guard Namon Wright is a player to watch in 2014 . . . When Zach Lavine gets going, he's tough to guard . . . We've seen Wayne Selden attack and score for years, but he demonstrated playmaking and ball-handling abilities at times.