Patrick Ewing and agent David Falk donate $3.3M to Georgetown
The Thompson Athletics Center received a significant donation on Monday.
• 1 min read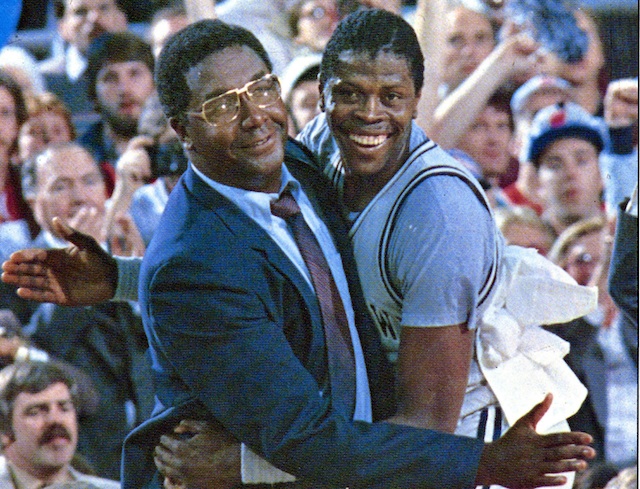 Hall of Fame center Patrick Ewing and sports agent David Falk have donated $3.3 million toward the construction of the John R. Thompson Jr. Intercollegiate Athletics Center.
The building, naturally, is named after John Thompson Jr., who coached Georgetown for 27 seasons -- reaching the postseason in each of his last 24 seasons. Thompson went to three Final Fours and won a national championship in 1984 before suffering one of the biggest title game upsets to Villanova in 1985.
Ewing was part of each of those Final Four teams, while Falk was the long-time agent to both Thompson and Ewing. They chose 3.3 to honor the No. 33 Ewing uniform.
"Coach Thompson was my coach, mentor and friend," Ewing said. "He guided me through a very formative period in my life and helped me prepare for success on and off the court. Giving back to the University in his honor is special."
"This is a very special opportunity for me to honor a man I love and respect," Falk said. "To do it together with Patrick Ewing, who was a dominant figure in both John's basketball program and in my career, makes it even more rewarding."
The Thompson Athletics Center is a $62 million project, a ceremony for the building is scheduled for Sept. 12.
Northern Colorado will be on probation through 2020 due to academic and recruiting violati...

You might not see a projected NCAA Tournament bracket quite like this one anytime soon

The Wildcats, once written off after a three game skid, appear poised to enter Pac-12 play...
The Ducks are riding a three game winning streak yet are slight underdogs against the Bulldogs...

The Hurricanes are one of only a handful of unbeaten teams left in college hoops

The Bearcats are fresh off a convincing win over previous unbeaten Mississippi State