Paul George buys, gives away all tickets for Fresno State opener
Now this is how you really give back to the program. Fresno fans will watch a game for free after George picked up the tab.
• 1 min read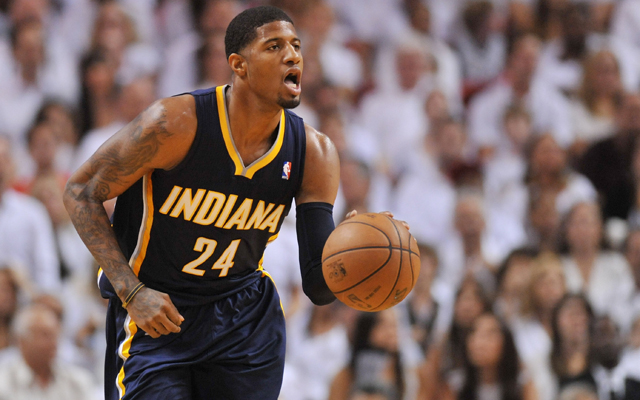 When Fresno State plays its home opener on Nov. 16 against Cal State Northridge, Indiana Pacer star Paul George will be picking up the tab -- for 15,596 people.
George, who's a fledgling -- and maybe that's underselling it -- superstar in the NBA, attended Fresno State for two years. He left following the 2009-10 season and entered the draft, largely, as an unknown commodity by fans since he was seldom on TV while with the Bulldogs. He was picked 10th overall and has ascended ever since.
The Fresno Business Journal first reported last week that George bought out the Save Mart Center for the home debut of his Bulldogs -- and would be giving away all the tickets for free. That means any fan that wants to attend the game need only print this out, show up at the box office and they'll be given a ducat.
"Fresno State at the Save Mart Center is one of the best facilities in college basketball," George told NBA.com. "If you've never seen it, never been to it, it's almost an NBA arena. In my time, we never sold it out so I want those kids to have that experience to get a sold-out crowd and play in front of a full arena. I thought that was the best way to do it."
A rough estimation by the Indianapolis Star puts George's purchase at $265,132. But George told NBA.com the gesture only cost him $7,000. Interesting. All of this was possible (and didn't ding George's wallet too much) because of a recently signed a five-year extension with the Pacers that will eventually wind up getting George between $80 to $90 million, depending on incentives earned.
Missouri freshman will miss the season and likely never play another minute of college bal...

College basketball fans, especially those at Missouri, are robbed of the excitement Porter...

School officials expect the five-star freshman to miss the rest of the season
Cincinnati and Iowa highlight an impressive inaugural field for the Cayman lslands Classic

The Bluejays are 4-0 with some impressive victories, including a win vs. the Bruins on Mon...

The world's most prominent Basketball Dad responded to Donald Trump calling him 'very ungr...