Paulus excited to watch former 'Cuse understudy Nassib in NFL Draft
Greg Paulus came in and literally took away Ryan Nassib's starting quarterback job at Syracuse in 2009, but Paulus said his teammate couldn't have handled the situation any better. Now, four years later, Nassib could wind up being chosen in the first round of Thursday night's NFL Draft.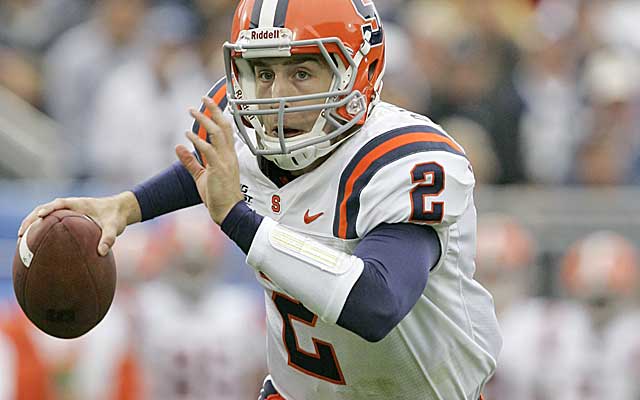 Ryan Nassib was named the starting quarterback as a redshirt freshman back in 2009 until a former Duke basketball player named Greg Paulus decided he wanted to give football another shot. 
Nassib could have been resentful, turned his back on this one-year project and instead decided to do whatever he could to sabotage Paulus' chances to succeed. Instead, he couldn't have been more helpful, more appreciative -- and now three years later, the Orange signal-caller could wind up going in the Top 10 Thursday night in the NFL Draft. 
"He handled it like a professional and was great," said Paulus, now the video coordinator for the Ohio State basketball team. "We were both trying to gain experience and figure it out. I couldn't have asked for a better teammate and friend through the situation. He was all about the team and just did whatever needed to be done for the team to win." 
That included aiding Paulus by whispering the answers in film room sessions, and also giving his teammate insight into specific reads. 
"He was a young kid trying to figure it out," Paulus said. "And there he was trying to help me, even though we were competing for the same job. He handled that situation about as well as anyone could have, and I really appreciate his help. I give him a ton of credit, because that says a lot about him as a person and his character." 
Paulus wound up winning the starting job and throwing for more than 2,000 yards and 13 touchdowns that season while Nassib threw a total of 68 passes in a limited role. But he never complained, instead doing all he could to help Paulus pick up the system and re-acclimate himself to a game he hadn't played competitively since his senior year of high school.
Nassib became the full-time starter when Paulus left and has thrived, throwing for 8,768 yards and 67 touchdowns in the last three seasons. 
"He's really helped turn Syracuse football around," Paulus said. "The first thing I ever noticed about him was his IQ. He's a very, very smart football player -- and his a strong arm. Now he understands how to play in an NFL system after playing for Coach (Doug) Marrone." 
The pair text and talk fairly consistently. Paulus said Nassib would check in often throughout the college basketball season about the Buckeyes, and Paulus intends to send him a text later this afternoon wishing him luck prior to the NFL Draft. 
Some have Nassib going as high as No. 8 overall to Buffalo, primarily because the Bills hired Marrone and also have Nassib's former quarterbacks coach Nathaniel Hackett on staff. Other mock drafts don't have him going until the second round. CBSSports.com has Nassib as the fourth-rated quarterback, behind Geno Smith (West Virginia), Matt Barkley (USC) and E.J. Manuel (Florida State). 
"I'm really proud of him no matter where he ends up being taken," Paulus said. "He's worked hard and handled success so well. I'm really excited to see where he gets picked." 
These teams went to The Big Dance in March, but could take a step back this season

The success of Chris Chiozza and KeVaughn Allen have the Gators ready to compete for SEC t...

FBI investigation suggests Quinerly received improper benefits from a Wildcats assistant c...
Meet the mid-major coach who refused to vote for the teams involved in the recruiting scan...

The player, now at the University of Portland, says he was injured during a workout which broke...