Peach Jam Notebook: Tyler Ulis excels, plus top performers
Tyler Ulis is looking to take visits -- could Michigan State be the favorite? And a look at 12 of the best players at the Peach Jam.
• 4 min read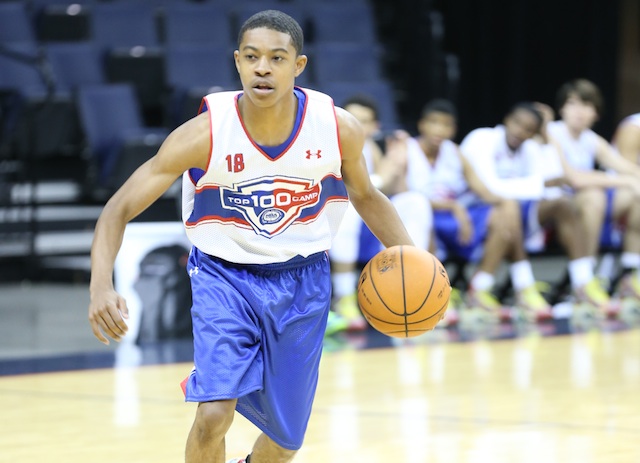 NORTH AUGUSTA, S.C. -- It was the definition of a statement game.
Despite his uneven play at the Peach Jam, Tyus Jones is still the No. 1 point guard in the country -- and the No. 2 player overall in the class of 2014. But Tyler Ulis wasn't about to back down when his Meanstreets team took on Howard Pulley on Friday night.
Pulley eventually came out on top, but Ulis' second-half performance was one of the best outings that we've seen all spring and summer. He completely picked apart the defense, getting into the lane at will and making plays for himself and his teammates. Ulis finished with 22 points and 17 assists, committing just four turnovers in the process.
He stands shorter than 5-foot-9, but Ulis continues to prove himself as one of the top 15 point guards in the country. Ranked No. 54 overall in the 247Sports Composite, Ulis could be making his case for the top 50.
And schools continue to make their case for Ulis' signature.Northwestern Wildcats
Northwestern, Iowa, Michigan State, Memphis, <span data-shortcode= State" data-canon="Florida Gators" data-type="SPORTS_OBJECT_TEAM" id="shortcode0">, Purdue and DePaul are in hot pursuit.
"They're all coming at me pretty much the same," Ulis said.
Ulis recently took an unofficial visit to Michigan State, a school that many consider to be his favorite.
"It was a good visit," Ulis said. "I sat down and had a good talk with [coach Tom] Izzo and the rest of the coaches."
One thing pushing in the Spartans' favor is the family ties that Ulis has to East Lansing. His cousin is former Michigan State guard Travis Walton, who played under Izzo 2005-09.
"My cousin went there, so I've always been around them," Ulis said. "I like Coach Izzo. He's Coach Izzo; he's who he is. He's a great coach. And I like the coaching staff. They're all good people."
He also recently visited Northwestern, which is in the mix for his services. Another school standing out to Ulis is Iowa, which he visited last year.
"I really like Coach [Fran] McCaffery," he said. "They're one of my top schools. I'm really looking into them, and I'm just looking to go back and visit."
Ulis does want to take his official visits before making a commitment, but he hasn't finalized his trip destinations yet.
"I plan on doing that some time after Peach," he said, "when I have time to sit down and really plan. I want to make my list for my official visits, and then I'm going to make my decisions. I have to figure out where I'm going to go visit."
After his performance this week, expect things to heat up a little bit more.
Paul White suffers broken arm
Paul Whitehad been playing some of his best basketball of the past year at the Peach Jam, putting together multiple consistent efforts in impressive fashion.
However, the 6-9 forward from Whitney Young (Ill.) suffered a gruesome broken arm in the opening minutes of Meanstreets' game against Howard Pulley. According to coaches at the game, the injury occurred when White tried to break a fall by putting his hand on the court.
A tweet from the Mac Irvin Fire Twitter account -- a fellow Chicago program -- said White underwent surgery on Saturday and will miss up to eight weeks.
Paul White : @_PW13 is out of surgery & recovering. Recovery time 6-8 weeks, could be sooner. @nikemeanstreets . OneNikeFamily @NikeEYB

— Mac Irvin Fire (@TheMacIrvinFire) July 13, 2013
White is ranked No. 58 in the 247Sports Composite. 
Dozen top performers
Malik Newman, 2015, Jackson Tigers: Arguably the best player in the junior class, Newman is a phenomenal scorer. Dropped 40.
Stanley Johnson, 2014, Oakland Soldiers: When Johnson can get momentum, he's impossible to stop. Strong, really finishes.
Justise Winslow, 2014, Houston Hoops: Does it all. Can guard four positions, handles the ball, can score. Leader on the floor.
D'Angelo Russell, 2014, Each 1 Teach 1: Russell had his shot going in the game that we watched. Smooth lefty is headed to Ohio State.
Phil Booth, 2014, Team Takeover: Despite being in a crowded backcourt, Booth finds ways to make plays whether on the perimeter or off the bounce.
Dedric Lawson, 2016, Team Penny: One of the top sophomores in the country, Lawson is long and is able to finish with ease in traffic.
K.J. Lawson, 2015, Team Penny: Can score in so many different ways, whether in transition or facing up. Older brother of Dedric.
Reid Travis, 2014, Howard Pulley: He's just so consistently productive around the basket. Strong body, finishes well, carves out position.
Kelly Oubre, 2014, Houston Hoops: One NBA scout told me that he was the best wing at LeBron's camp last week. Stock continues to rise.
Angel Delgado, 2014, NY Lightning: One of the best motors in the class, Delgado is an absolute force on the glass. Nose for the ball.
Trevon Bluiett, 2014, Spiece Indy Heat: Strong body and can really score. Has a nice stroke from the perimeter and is tough off the bounce.
Parker Jackson-Cartwright, 2014, California Supreme: The Arizona commit is crafty with the ball in his hands and can get to the rim. 
CBS Sports HQ Daily Newsletter
Get the best highlights and stories - yeah, just the good stuff handpicked by our team to start your day.
Please check the opt-in box to acknowledge that you would like to subscribe.
Thanks for signing up!
Keep an eye on your inbox for the latest sports news.
Sorry!
There was an error processing your subscription.
Duke, UNC, Kansas, Nevada and Wisconsin all placed players on the preseason All-America first...

The CBS Sports Classic and Champions Classic are among the best events in 2018

The Cavaliers got some good news for the upcoming season
Calipari believes only a small portion of elite HS prospects will take the G League route

No. 3 Gonzaga and No. 4 Duke are behind the Jayhawks and Wildcats to start the season

Porter returned for a sophomore season with hopes of developing into a lottery pick for the...