Penn State basketball coach Patrick Chambers not feeling sorry for himself
Penn State is a tough enough job, but now it's even more difficult for men's basketball coach Pat Chambers in the wake of the massive sanctions placed on the football team. However, Chambers isn't feeling sorry for himself at all.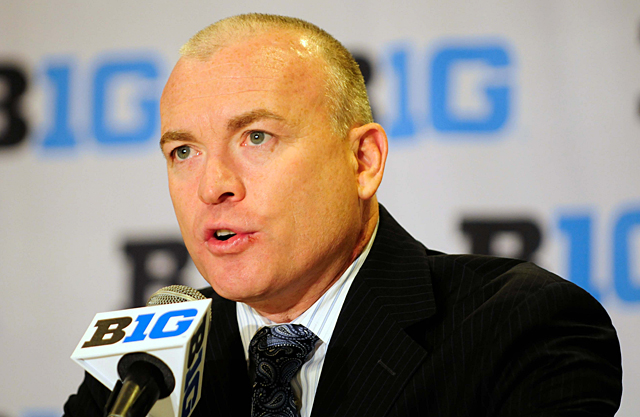 Basketball coach Patrick Chambers hopes to convince recruits that Penn State is still a great school. (US Presswire)
Pat Chambers' voice boomed with passion, intensity and pride as he spoke to CBSSports.com just hours after hearing the news that the Penn State football team would receive a four-year postseason ban that was as severe as anything except the "death penalty." 
"Football has carried this university for years," said the Nittany Lions men's basketball coach. "Maybe we can help football for once." 
This is a men's basketball program that's been downtrodden for much of its existence. Chambers got the job a little more than a year ago when Ed DeChellis, who had a 114-138 career mark, left to become the head coach at Navy. DeChellis didn't just leave; he bolted following an NCAA appearance in Happy Valley. The Nittany Lions went 12-20 last season and 4-14 in the Big Ten in Chambers' first season. 
But Chambers isn't feeling sorry for himself. 
"We're doing great things and we're doing it the right way," he said. "Keep forging ahead. I told my team to be proud of Penn State, don't put your head down. This is a great university." 
"Obviously, it's upsetting," he added. "It's disappointing, but I understand what Penn State and the NCAA had to do. I'm a father and I understand. We have to accept the sanctions and try and move on. The toughest thing is about the kids on the football team. They had nothing to do with it." 
More on Penn State
Related links
More college basketball coverage
Chambers had a meeting with his team on Sunday night and had a strong feeling the sanctions against the football team would be severe, but was also optimistic the other athletic programs would remain unscathed. Except he realizes that, even though there were no NCAA sanctions placed on the program, this will make recruiting more difficult. 
"I have deep trusting relationships and people know my character and where I came from," Chambers said. "I'm going to have to rely on those relationships." 
"I've been very pro-active with my approach," he added. "I approach it head-on. We talk about it with recruits and if it becomes a problem, then maybe that's not the right kid for our program." 
Chambers said he intends to get on the phone Monday night in an attempt to make it clear to all Penn State's recruits that the men's basketball program came out unscathed by the NCAA.
"This is still a great place to go to school," Chambers said. 
Chambers has a nephew on the football team, a walk-on. That, in addition to O'Brien and his staff, were his pressing concern in preparation for Monday morning's announcement. 
"They have one of the best staffs in the country," Chambers said. "If you want to develop as a player and be a part of something, then Penn State is a terrific place." 
It appears he's more than happy to pay up, given the circumstances

Lithuania seems ready for the Ball era to begin

The Sun Devils make a big jump and the Jayhawks slide after ASU pulls the big upset
Arizona's big man from the Bahamas balled out against two talented teams

Coach Shaka Smart doesn't expect him to be out for an extended period of time

Jackson isn't showing the Sun Devils much respect after beating KU