Perry Ellis emerging as important source of offense for Kansas
There's a developing pattern for Kansas: when Perry Ellis plays well, the Jayhawks play well.
• 2 min read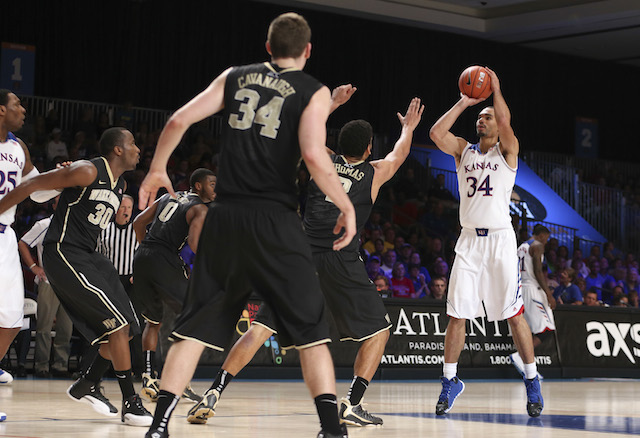 Throughout the first month of the season, Kansas' up-and-down season has gone under the microscope in a variety of ways.
There are the point guard issues: is Naadir Tharpe the answer? Is Frank Mason? There are the questions surrounding Andrew Wiggins, mainly addressing whether he's got the personality to be a dominant go-to player. After that, we've seen columns on Joel Embiid's potential, their lack of perimeter shooting, and other aspects of Bill Self's team.
Each of those issues is legitimate – but one player has been somewhat overlooked when it comes to determining Kansas' success this season: Perry Ellis.
The 6-foot-8 sophomore led the way for Kansas on Saturday night, going for 21 points and nine rebounds to help the Jayhawks to an 80-63 win. He and Embiid combined for 39 points and 15 boards inside, outplaying New Mexico's vaunted interior duo of Cameron Bairstow (24 points, six boards) and Alex Kirk (five points, fouls). Tharpe was undoubtedly a major factor in the victory, dishing out nine assists and going through some terrific stretches in the second half.
But Ellis' performance was another in a developing pattern: when he plays well, Kansas plays well. When he plays poorly, Kansas generally plays poorly.
Check out the splits. In Kansas' three losses, Ellis is averaging just 8.3 points and 5.3 rebounds. In the Jayhawks' seven wins, however, the talented forward is putting up 16.6 points and 7.3 boards. Kansas' two biggest wins this season came over Duke and New Mexico, and Ellis totaled 45 points and 18 boards in those two games.
Ellis, a former four-star recruit out of Wichita Heights (Kan.), was a prime candidate as a breakout player this season. He's an efficient scorer when he's a main option in the offense, drawing contact at the rim and getting to the free-throw line. He doesn't create his own shot with regularity, but he's able to post up and score with his back to the basket. He also makes himself available for dump-offs and passes inside.
When he gets going, he takes the pressure off of the point guards to initiate offense for others, and he also alleviates some of the defensive focus on Wiggins.
It's certainly true that Kansas won't be a Final Four team without consistent point guard play or assertive playmaking from Wiggins – but it's also true that getting production from Ellis is a major key for the Jayhawks. 
Duke's much-anticipated Allen-Duval connection is off to a hot start already

It'll be Miller vs. Miller if the Hoosiers and Wildcats can finalize the proposed series

Wisconsin's Ethan Happ has made only two jumpers in his career, but is adding a long-range...
The deal is part of long-awaited $2.64 billion contract; CBS' hoops-only commitment runs through...

If Wichita State guard Landry Shamet has a breakout season, he could leave early for the N...

Athletic big man finished 3-day trip to Durham, N.C., with trips to USC, Arizona coming up