PHOTOS: How much has the UK job aged John Calipari?
It's the best job in college hoops, but is it the toughest as well? In some ways, sure. And John Calipari said this has aged him.
• 1 min read
Kentucky coach John Calipari gives us blog folk something to post about pretty much twice a week, minimally, during the season. And the season's almost here! So what's Calipari saying now that caught my attention?
Something small, but I wanted to investigate. Larry Vaught of the Central Kentucky News passed along this quote from Cal recently about what coaching Kentucky has to done him -- in a negative way -- since 2009, when he took the job in Lexington.
How has John Calipari changed as a coach since he left Memphis? That was a question posed to the Kentucky coach during Media Day.
"The only thing I'll tell you, we have a video that we take into homes in recruiting, and it has me at the first press conference (at UK). And when I — when people see that picture and they see me standing there, they're like, you've aged more than Obama," Calipari said. "In this job, you age. It's just part of what you do. You're on a treadmill, and I love it. I love the fact that our fans are so active and a part of it. I mean, we have a Media Day, and look at this. It's ridiculous. This is what it is here."
Let's go to the photos, then. Below, Calipari at his introductory presser on April 1, 2009. To the right, Calipari at this year's SEC Media Days. What do you think?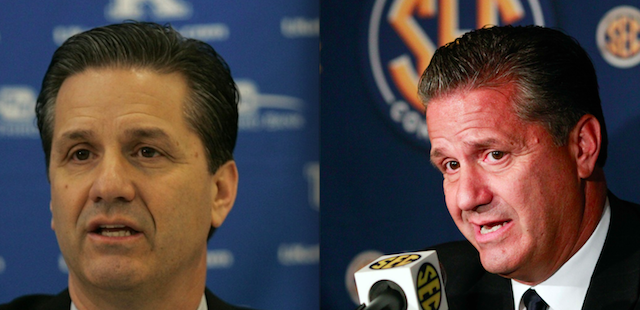 He definitely looks older, and I think he's got a point here about what being the Kentucky Poobah can do. But it's not as though he's graying at a Presidential rate, exactly. Still, dealing with the highest-pressure job in college basketball (all of college sports?) has its drawbacks. All things considered, I'd say he looks fine for a 54-year-old.
And Calipari has said on record he doesn't intend on staying at Kentucky for more than 10 years. (You know you've got it good when you're able to basically dictate when you can leave. It's the ultimate coach's dream.) The 2013-14 season will be year No. 5 for Cal with Big Blue.
Andrew Jones is Texas' second leading scorer

Oklahoma's star freshman has a father who has been there and done that

Kentucky now is at risk of slipping out of the Top 25 (and one)
Cherry's commitment gives ASU a top-20 recruiting class and its highest rated pledge since...

Matt Norlander is on a 11-7 run in college basketball picks and shares his best bets for W...

Kentucky losing this game probably cost it a shot at earning a high NCAA Tournament seed