PHOTOS: Tim Tebow watches Florida beat UCLA in Sweet 16
Tim Tebow was at Florida's Sweet 16 game against UCLA and the Gators won. Coincidence? No way.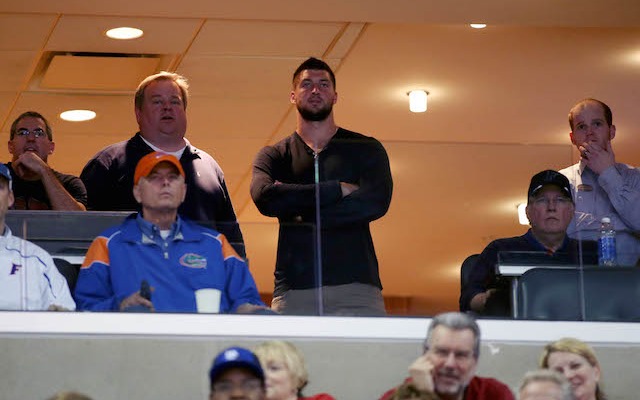 If you're wondering what Tim Tebow's been up to lately besides filming T-mobile commercials, we have an answer for you: he's watching college basketball. 
Tebow was at the FedEx Forum in Memphis on Thursday watching his alma mater Florida play UCLA in the Sweet 16. Tebow proved to be the ultimate good luck charm for the Gators, who beat UCLA 79-68 to advance to Saturday's Elite 8.
Of course, whenever Tebow's around that means people who want to take pictures of Tebow are also around, and apparently, a lot of people at the FedEx Forum wanted to take a picture of Tebow on Thursday. 
In the picture at the top of the page, Tebow's in a luxury box, but he wasn't there the entire game -- and here's the proof. 
This guy is sitting five seats away from Tebow and his picture proves that Tebow can make friends anywhere. 
Hanging with my guy Tim Tebow pic.twitter.com/7RtQHZ2tdS

— Zack Lindsey (@Zack_Lindsey11) March 28, 2014
This girl probably freaked out when she saw how close she was sitting to Tebow. And if she didn't freak out, her friend definitely did. 
I am BEYOND jealous of @HHathcockk right now...my future husband (Tim Tebow) is sitting right in front of her.. pic.twitter.com/nN7lYWu3RN

— Kaylee Peters (@KayleePeters) March 28, 2014
Sweet 16 selfies are trendy right now, just ask Richard Sherman, who took one with Condoleezza Rice. Well, this kid's selfie is a little blurry, but yup, that's Tebow in the background and he seems to be well aware that he's in the picture. 
SELFIE WITH TIM TEBOW! pic.twitter.com/AbugJadyZu

— Billy Rinderle (@Billy_Rinderle) March 28, 2014
The 'selfie with Tim Tebow' might be the next big thing on Twitter. Lets hope for everyone's sake it's not. 
That's right I just took a freaking selfie with Tim TeBow pic.twitter.com/X1mz7Tl2Xy

— Austin Chambers (@theAC24) March 28, 2014
And of course, as this final picture proves, Tebow has friends of all ages. 
Tim Tebow is in the house!! pic.twitter.com/JydHlSFunO

— JerryHines (@JerryHines) March 28, 2014
Finally, lets watch one of those T-mobile commercials because they never get old. 
Marvin Bagley, if eligible at Duke this season, projects as the country's top power forwar...

The Big Ten Tournament is a week earlier than usual, so the regular-season schedule may look...

Arizona, Grand Canyon and Tulane are also in Barcelona and have reported to be accounted for...
The Kansas forward is no longer accused of walking out on an $88 tab

Cavaliers basketball coach tapes statement on behalf of his university and his city

Gary Parrish and Matt Norlander discuss all things Marvin Bagley and his immediate future