Pitt's biggest (and last) chance to quiet its critics comes Wednesday
Jamie Dixon's Panthers are 20-4, ranked 13th in KenPom, 25th in the AP poll and 26th in the RPI. But they're 0-4 against the top 40 of the RPI this season, and that's led to some questioning whether Pitt can beat quality opponents.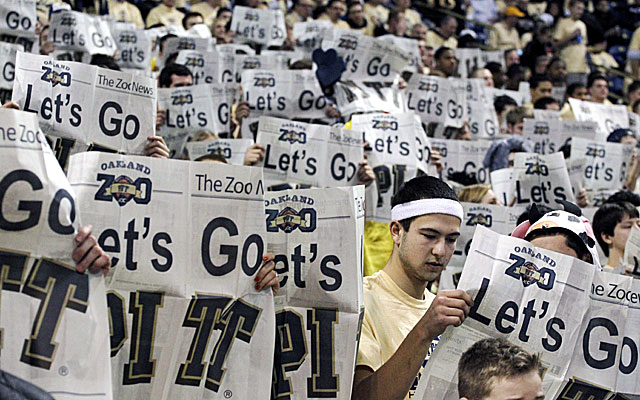 There are two things you need to know about Wednesday's college basketball schedule.
Duke-North Carolina is not the biggest game on the docket.
Pitt is 9-0 all-time against top-five opponents at the Petersen Events Center.
So prepare accordingly, OK?
I'm not telling you Syracuse-Pitt will be better and/or more exciting than Duke-UNC, or that Pitt will beat Syracuse. All I'm telling you is that Syracuse-Pitt is, on paper, more compelling than Duke-UNC, and that it'll hardly be a surprise if the top-ranked Orange take their first loss to a Pitt team that's ranked 25th in the Associated Press poll.
In fact, it won't even technically be an upset.
Kevin Bradley, the Bovada.lv sportsbook manager, told me Tuesday afternoon that Syracuse-Pitt was "looking like a pick'em," and then, when the line officially posted late Tuesday, Pitt actually opened in most sportsbooks as a 1-point favorite. Beyond that, KenPom has a projected final score of 62-61 in favor of the Panthers, meaning nothing that happens inside the Petersen Events Center on Wednesday night will qualify as a  "shock the world" moment even if a Pitt win might surprise casual fans ignorant to computer ratings and gambling.
"If you can't get excited and pumped-up to play the No. 1 team in the country, then there's no point in even playing basketball, if you ask me," Pitt guard Cameron Wright told TribLive.com's Kevin Gorman after a practice earlier this week.
So let the record show that Wright is excited and pumped.
And he should be.
Because Wednesday presents an interesting and unique opportunity for the Panthers, and not only because they're hosting an opponent that received all 65 first-place votes in this week's AP poll. That's part of it, sure, because it's always cool when the nation's No. 1 team visits your campus, especially when that team is coached by a Hall of Famer. But this is also big because it's Pitt's final opportunity before the ACC tournament to record a win over a school currently ranked in the top 25 of the AP poll or top 35 of the RPI, and if the Panthers don't record that win then the narrative surrounding them will intensify in a negative way.
You know the narrative, right?
It's that Pitt can't beat good teams.
In fairness, it's an unfair narrative considering Pitt has A) historically been terrific at beating good teams, and B) already played No. 1 Syracuse, No. 10 Cincinnati and No. 17 Virginia to the final minute and could've theoretically won any or all of those games. But details don't matter much when it comes to narratives -- just ask, say, Peyton Manning -- and, either way, the bottom line remains the bottom line, and that bottom line is this: Pitt won't change the minds of its skeptics until the Panthers record their first top-40 win of the season.
"Now you're saying top 40; last week you were saying top-50," joked Pitt coach Jamie Dixon when we spoke by phone Tuesday, his point being that the standard apparently shifted once the Stanford team his Panthers beat in November recently moved to 44th in the RPI.
"I know the game you're playing," Dixon added with a laugh. "But I'm aware of the numbers."
Which brings me back to Wednesday.
This is Pitt's opportunity to change the numbers and the narrative.
Yes, Syracuse will enter banged-up -- Baye Moussa Keita has a sprained right knee -- and could be forced to play without a single true center, but nobody doubts the quality of the Orange. It's mid-February; they're still undefeated. So a Pitt win over Syracuse would quiet every intelligent Pitt critic, and history, if nothing else, suggests it's a win that's likely to happen because, in addition to being 9-0 all-time against top-five opponents inside the Petersen Events Center, the Panthers are 13-1 all-time against top-10 opponents inside the Peterson Events Center, and Pitt is 6-1 all-time against Syracuse inside the PEC.
"You know why?" asked Syracuse coach Jim Boeheim. "Because they're good. ... They won the most games in the Big East, if you recall, in the last 10 years. ... They're good at home. Not many people win at Duke, either. You know why? Because they're good."
Fair enough, Jim. 
Fair enough.
So, to recap, there's a massive ACC showdown set for Wednesday, and, contrary to what some might tell you, it's going to originate from Pittsburgh, not Chapel Hill. Oh, sure, Duke-UNC will likely be great, and I can't wait for it, either. But the Syracuse-Pitt game that'll tip two hours earlier is actually the one that'll have fans talking because, if Pitt wins, the Panthers will be validated, and Syracuse's quest for a perfect regular season will be over. If Pitt loses, however, those yelling that the Panthers "haven't beaten anybody" all season will almost certainly start yelling louder, and Dixon's team would then be completely out of opportunities to shut them up until the ACC tournament that tips one month from today.
Zack Cimini is on a college basketball heater and just locked in a strong pick for Saturda...

Our advanced computer model simulated Saturday's Arizona-Stanford game 10,000 times

'If you want it, you're world champs,' A-Rod told the Spartans, which isn't exactly correc...
The players have the right to appeal the decision within three business days

Young is coming off his worst game as a Sooner and will try and bounce back vs. the Cowboy...

The Wildcats face a surging Stanford team that has risen as a potential Pac-12 contender