Pitt's defense makes it a contender
Pitt doesn't have flashy scorers or playmakers, but the Panthers play defense and rebound -- which means they might be able to contend in the ACC.
• 2 min read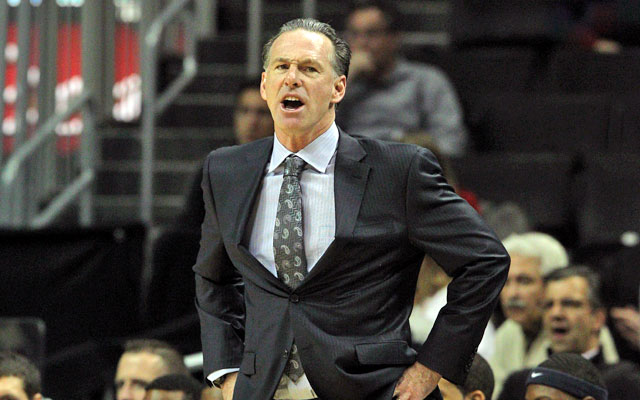 NEW YORK -- When high school prospects commit to Pittsburgh, they know exactly what they're getting. It's not going to be highlight reels and flashy basketball.
The Panthers are going to play defense and they're going to be physical. And the kids know that going in.
"Pitt was known for all that," senior Lamar Patterson said. "That's the stuff I like. Defense is how you separate yourself."
That was never more apparent than in Pittsburgh's 76-53 victory against Texas Tech in Monday's semifinal of the Legends Classic in Brooklyn Patterson led the way with 23 points, but the Panthers forced 17 turnovers and held Texas Tech to 25 percent shooting in the first half.
"We were just doing what we do," Patterson said. "Unselfish basketball, taking open shots, knocking down open shots."
The talent level at Pittsburgh might not be as high-profile as some of its ACC rivals (yes, that still sounds weird to me too) -- but the Panthers are going to be a threat in the league this season.
The top of the ACC has caught a bad rap in the early part of the season for bad losses and poor performances. Syracuse and Duke have barely escaped against mid-major teams, while North Carolina lost to Belmont. Notre Dame dropped one to Indiana State, and even Virginia lost at home to a VCU team that might not be as good as expected.
But Pittsburgh could potentially fill a void if one of those teams struggles in league play -- and make a push for a top-four finish in the conference.
It's not all that different a Pitt team than in past season. They defend, they're physical, they rebound, they share the ball, and they're well coached by Jamie Dixon. Moreover, they're experienced. Patterson and Talib Zanna are both fifth-year seniors, Cameron Wright is a fourth-year junior -- and although James Robinson is only a sophomore, he started as a freshman.
"We're an unselfish team," Patterson said. "We all stick together, we grow together. When you people who have chemistry, it translates to the court."
If the Panthers are to take the next step, though, it could come down to the younger, more inexperienced players. Freshman forward Mike Young has been starting, and at 6-foor-7, he's going to have to stay out of foul trouble and be active on the boards against bigger lineups. Classmate Josh Newkirk has been providing a spark off the bench, and his explosiveness and ability to get to the lane will be an asset as he continues to acclimate himself to the college game. Then there's Durand Johnson, who played fewer than 12 minutes per game as a freshman, but offers scoring pop from the perimeter. He's shooting better than 40 percent from 3-point range this season, and has reached double-figures twice so far.
If the freshmen develop and become consistent contributors, the Panthers will have the playmaking and weapons necessary to hang with the top tier of the ACC.
For Pittsburgh, though, it will be less about scoring and more about what Dixon-coached teams are predicated on: physicality.
"We outscore people by defense," Wright said. "That's how you win the game."
5 bubble teams are in action Tuesday and is Oklahoma on the bubble after falling to Kansas...

Our advanced computer model simulated Tuesday's Northern Iowa-Valparaiso game 10,000 times

Social media was abuzz about the NCAA's decision to force the Cardinals to vacate its 2013...
Meantime, the same AP voter moved Auburn up six spots after a loss to unranked South Carol...

Josh Nagel has his finger on the pulse of West Virginia basketball and released a play for...

The ex-Cardinal player is not thrilled with the NCAA's decision to strip Louisville of its...