Pitt's lackluster performances highlight mediocre resume
Pittsburgh escaped with another overtime win on Saturday, but the Panthers didn't look good. And people are beginning to question whether Pitt is any good at all.
• 1 min read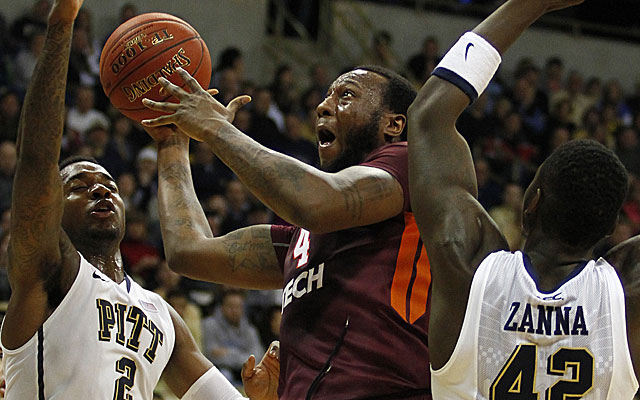 Having a gaudy record can hide a lot of things. If a team is from a major conference and has 20 wins at this point in the season, it's going to look fine from afar.
And that was basically Pittsburgh for most of the season. The Panthers were just trudging along, beating bad teams, losing a couple close games, and were therefore somewhere in the top 25.
The past two weeks, though, Pittsburgh hasn't looked good whatsoever. The Panthers lost at home to Duke and Virginia, and this past week, needed overtime to beat Miami and Virginia Tech -- the latter coming in double overtime on Saturday.
And now, people begin to wonder if Pittsburgh is really that good. And then you look at the resume -- and it's concerning.
The Panthers have a top-25 RPI and a top-50 SOS, but they haven't exactly racked up quality wins up until this point. The best win is over Stanford on a neutral court in Brooklyn back in November. And that's the only top-60 victory on the profile. 
Fourteen of Pittsburgh's 20 wins are against sub-100 teams, and the Panthers are 1-4 against teams in the top 50 of the RPI. There's just nothing much there to really cement Pittsburgh's spot among the top 25 or 30 teams in the country.
There are also aren't too many more chances for the Panthers going forward. They host Syracuse on Wednesday -- and that could be a huge opportunity for Pittsburgh to prove it's legit. A loss there, though, and the toughest games remaining are against North Carolina and Florida State. If the Panthers fall to the Orange, they might head into the ACC tournament with one win over a sure-fire NCAA tournament team, and that's only if they win in Chapel Hill next Saturday.
An 0-2 week against Syracuse and North Carolina could mean the Panthers are in serious bubble trouble come March.
Is Pittsburgh an NCAA tournament team? I would still say yes, given its ability to defend in the half-court and crash the offensive glass. They Panthers are also ranked No. 13 at KenPom, showing they're more than efficient enough to win consistently. And while they didn't look good this past week, they avoided bad losses.
With that said, though, Pittsburgh will continue to be doubted until it picks up a marquee win -- and will that ever happen?
Indiana's Archie Miller and Mizzou's Cuonzo Martin have been killing it on the recruiting...

Duke's much-anticipated Allen-Duval connection is off to a hot start already

It'll be Miller vs. Miller if the Hoosiers and Wildcats can finalize the proposed series
Wisconsin's Ethan Happ has made only two jumpers in his career, but is adding a long-range...

The deal is part of long-awaited $2.64 billion contract; CBS' hoops-only commitment runs through...

If Wichita State guard Landry Shamet has a breakout season, he could leave early for the N...