Pittsburgh raises doubts with ugly loss to Cincinnati
Pittsburgh's soft nonconference schedule has made them a prime target for people doubting their undefeated record. They did nothing to quell those doubts on Tuesday.
• 2 min read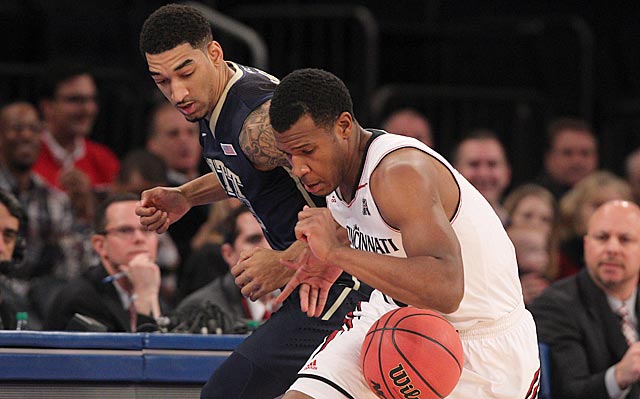 NEW YORK -- People have debated the merits of Pittsburgh and its résumé for the past couple of weeks, but those talks will now be put on hold until at least late January.
Instead of being a 10-0 Pittsburgh team that could conceivably be ranked in the top 25, the Panthers are now just another one-loss team that hasn't done anything of note this season.
That might sound unfair, but the Panthers ugly loss to Cincinnati on Tuesday night means it is going to be tough to take them seriously until they play at Syracuse on Jan. 18.
That's the price the Panthers are going to pay for playing a soft nonconference schedule. Tuesday's Jimmy V Classic matchup against Cincinnati was likely the toughest game on their schedule, and winning it could have gone a long way toward legitimizing the undefeated start.
However, Pittsburgh shot 33.3 percent from the field, gave up 14 offensive rebounds and made only 2 of 11 from 3-point range en route to a 44-43 loss. The Panthers made one field goal in the final 14:54 of the game.
"Our coaching staff did a great job preparing us," Pittsburgh senior Cameron Wright said. "We just didn't do what we were supposed to do."
After Tuesday night, when's the next time Pittsburgh can prove it's a legitimate NCAA tournament team? The Panthers have Cal Poly and Albany at home before ACC play begins with a road trip to North Carolina State. Home games against Maryland and Wake Forest follow, then Pittsburgh head on the road to Georgia Tech and Syracuse.
In theory, Pittsburgh could be 16-1 heading into the Syracuse game -- and if the Panthers lose to the Orange, they will continue to be doubted.
After Tuesday's performance, though, it's hard to see Pittsburgh running through the opening four games of the ACC schedule unscathed.
"We know what we are," Wright said. "That wasn't Pittsburgh basketball tonight."
Unfortunately, we've seen this from Pittsburgh before. The Panthers started 12-1 last season -- with the best win coming against Detroit. Then they went 1-3 in the Big East. Two years ago, it was 11-1, highlighted by a victory against a Tennessee team that lost 15 games. That team started 0-7 in conference play.
Soft non-conference scheduling might not be to blame for the slow starts in conference play, but there seems to be something of a trend.
Pittsburgh will continue to be doubted until it gets a quality win -- unfortunately, that now won't happen for at least a month.
Meet the mid-major coach who refused to vote for the teams involved in the recruiting scan...

The player, now at the University of Portland, says he was injured during a workout which broke...

Please don't start with the 'Being preseason No. 1 didn't work out so well for Duke last season!'...
A look at some of the biggest name coaches in new places in 2017

The Big Ten will start playing 20 conference games a season earlier than the ACC

Pitino appeared on ESPN to discuss his ousting and the lie detector test he passed