P.J. Hairston is a serial knucklehead
Roy Williams has stood by P.J. Hairston to date. But how much more can and should the North Carolina take from his high-scoring serial knucklehead?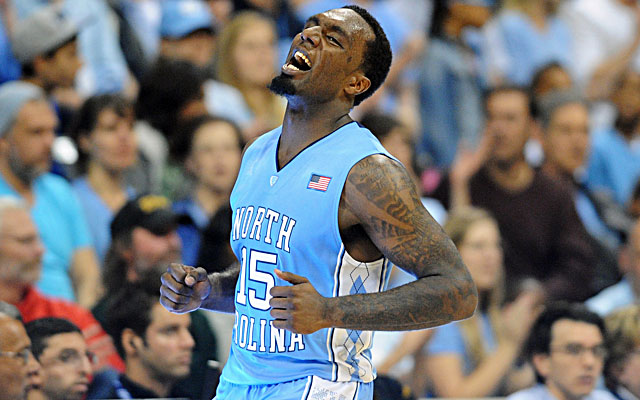 I once had an attorney/friend handle a speeding ticket for me, and, while he was handling it, the clerk told him I had a separate court date a few days away for a totally different speeding ticket. So, clearly, I'm not the best driver, which is why it would be hypocritical of me to criticize another person for speeding and/or driving carelessly and recklessly.
I have a history of such things.
But, that said, are you serious P.J. Hairston?
Here are the weekend details, courtesy of USAToday.com:
North Carolina men's basketball player P.J. Hairston was charged with speeding and careless and reckless driving Sunday after being pulled over for driving 93 mph in a 65 mph zone. Hairston, 20, was driving a 2008 Acura TL southbound on Interstate 85 outside of Webb, N.C., where he was pulled over at 4:30 p.m. by the State Highway Patrol.
Sunday's report represents the latest away-from-the-court incident for Hairston, who would be leading all of college athletics in offseason headlines if not for Texas A&M's non-stop party known as Johnny Manziel. Hairston was stopped at a license checkpoint on June 5 and arrested on charges of possessing marijuana and driving without a license; a gun was also found outside of the vehicle, which was a 2013 GMC Yukon rented by a convicted felon and party promoter named Haydn "Fats" Thomas.
All charges stemming from that arrest were dropped earlier this month.
But that didn't resolve Hairston's situation because, regardless of the legal components of the case, it's still true that the junior wing was driving a vehicle that a source told CBSSports.com will draw scrutiny from the NCAA, and it's still true that there was an illegal drug in that vehicle, a gun outside of it. Under constant pressure to comment, UNC coach Roy Williams acknowledged on July 15 that Hairston has made "serious mistakes" and will face "serious consequences as a result." Williams also used the word "embarrassing." And when things got more embarrassing Sunday, Williams announced just before midnight that he's suspending Hairston indefinitely, his hand clearly forced by a student-athlete who seems incapable of learning lessons he should've learned by now.
How could Hairston drive 93 in a 65 under these circumstances?
What does that say about his level of maturity?
Does he just not get it?
To be clear, there are worse things than going 28 mph over the speed limit. But when you've spent the summer garnering headlines for all the wrong reasons, and you know that any reckless thing you do in a car will garner more headlines for wrong reasons, how in the world could you get behind the wheel on a Sunday afternoon and drive recklessly while approaching 100 mph?
No, it doesn't make Hairston a despicable person.
But it does make you question something about him, doesn't it?
Hairston getting caught doing something stupid in a car a month after he was caught doing something else stupid in a car is, on a much smaller level, just as mind-boggling as Anthony Weiner ending up in a sexting scandal after already getting embarrassed because of a sexting scandal. That's why Weiner won't recover politically this time. Folks can forgive a man -- whether it's Bill Clinton, Kobe Bryant or countless others -- who might've slipped as a husband. But it's hard for people to understand when that same man repeats the same behavior in a way that practically guarantees he'll get busted again, which is what Weiner did by sending graphic messages to women he did not marry after having to resign from Congress for similar actions.
Again, Hairston's shortcomings don't reach the level of Weiner's.
Please don't get it twisted by misinterpreting.
Please don't miss the point.
I realize Hairston isn't running for mayor of New York City, and I know he won't be ridiculed on the cover of tabloids tomorrow. This is not that, I understand. But this is similar in that it's an example of a man further risking his future and embarrassing people (in this case, his coaching staff) who previously stood beside him, and it's difficult for normal people to understand because a normal person would never drive 93 mph just 13 days after his coach was compelled to release a statement calling the offseason "embarrassing."
It's serial stupidity.
And it's seriously stupid.
Auriemma looks to capture his 1,000th win at the helm of UConn's program

Oklahoma joins the Top 25 and is No. 17 after taking down Wichita State on the road

The Tar Heels, No. 4 in the CBS Sports Top 25 (and one), are 10-1 after beating Tennessee.
Oklahoma and Arkansas are new additions to Sunday's Top 25 (and one)

Gary Parrish and Matt Norlander discuss a wild Saturday of college basketball

Ball left the program earlier this month and has since signed with a Lithuania professional...